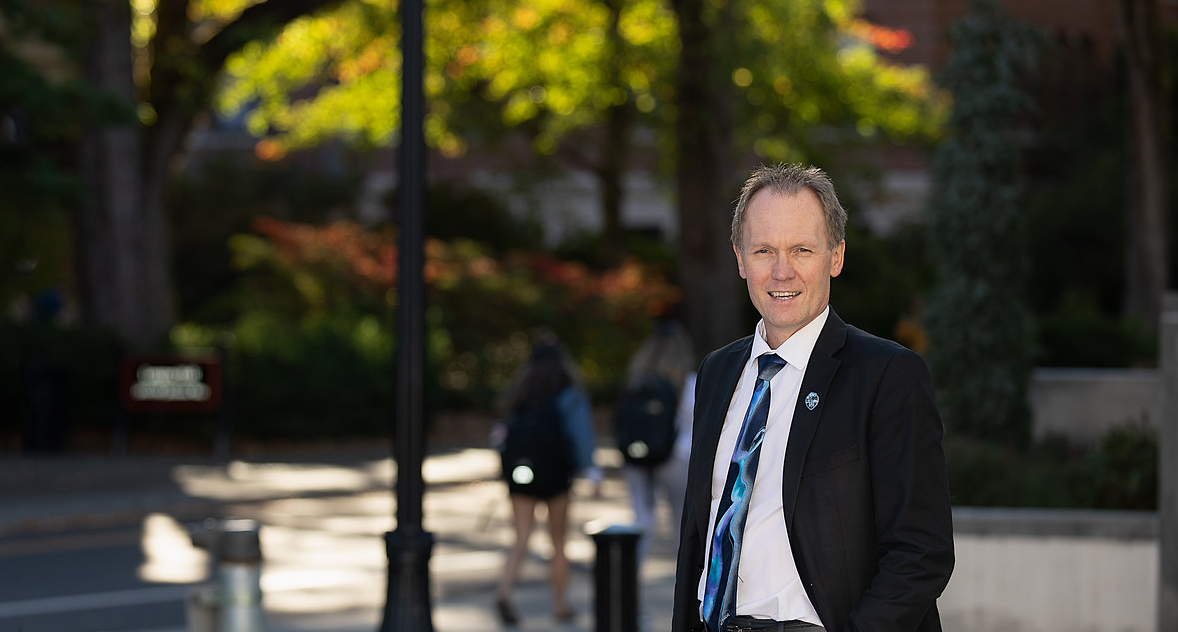 Words from
the Dean
Summer 2021
Dear Colleagues,
Each summer, I set priorities for the coming year, and as I have done a number of times in the past, I would like to share my priorities for the College for 2021-22 with you.
First, I would like the College to begin to implement our new Diversity Action Plan. The plan has five goals:
Embed, integrate and advance inclusive excellence within all aspects of the college, which will include hiring a full-time Program Director for Equity, Access and Inclusion;
Establish holistic, inclusive, and equitable hiring, recruitment, and retention practices;
Create a welcoming college climate to support a sense of belonging, and equitable learning and training experiences;
Provide innovative, inclusive, accessible, and equitable access to learning and research experiences that incorporate global experiences; and
Communicate accomplishments reflecting our commitments to inclusion and mutual respect of all members while enhancing visibility of minoritized communities.
The plan is adaptive, and so feedback and new ideas are always welcome. Please hold Thu., Oct. 7 noon – 1 pm for a presentation to faculty and staff followed by discussion. 
Second, next year, we will write a new Strategic Plan for 2022 – 2027. The strategic plan will be aligned with the OSU SP4.0, will encompass research, teaching and inclusive excellence, and will provide the basis for much of our work and decisions for the coming five years. Associate Dean Bokil has agreed to lead the strategic planning effort. Nominations to serve on the strategic plan are welcome. Development of the strategic plan will be open and transparent and involve many conversations across the college.
Third, we will continue to cultivate faculty excellence and scholarship, building on an award-winning year of wonderful successes even in the midst of pandemic challenges. In FY21, our research awards rose to $24.4M, a 55% increase over the average of the previous three years and our second-highest award level in at least 11 years (FY12 had slightly higher awards at $24.8M). Those increases were distributed broadly across the college, in five different units – look for a story in Impact in the coming weeks. This year, we will launch searches for tenure-track faculty in every department and for several fixed-term faculty. We will increase the investment in the Research Reserve from $800K per year to $1M per year, some of which will be used to fund infrastructure and equipment improvements, and we will continue with the successful SciRIS program to accelerate the pace of research, discovery and innovation in the College. 
We are looking forward to exciting launches of new centers such as NANOGrav led by Xavi Siemens, and to the results that will come from the individual research of many faculty members, such as Holly Swisher's new NSF grant in number theory. I love Dr. Swisher's introduction to her winning proposal, which reads, "One of the beautiful things about number theory is that seemingly simple questions, when deeply investigated, can blossom into rich and intricate discoveries."
Fourth, we must stay focused on student recruitment, retention and success, including expanding opportunities for Honors thesis projects, increasing need-based scholarships, building out the Ecampus Zoology degree (closing in on 300 students total, in two years) and launching the Ecampus BioHealth Sciences degree. This year, we will hire a recruiter to help grow our enrollment.
Fifth, we will continue to improve the fiscal health of the college. While the pandemic definitely hurt all of OSU, we did manage to finish the year with a balanced budget. FY22 may still contain challenges, depending on net tuition revenue, which is still uncertain. However, in FY21 our Ecampus enrollment grew by 36%, much of which is permanent growth, and which is in large measure what will allow us to hire the faculty mentioned above. We are looking for growth in the future from our new BHS pathway and healthier on-campus numbers.
Sixth, we will make significant progress in fundraising. In FY21, we raised more than $7M, bringing us to $37.5M raised since the summer of 2017. These funds pay for our scholarships (nearly $1M per year), endowed professorships, lab equipment, faculty startup, research and many other critical needs.
We anticipate the return to a robust on-campus experience for students, faculty and staff in the fall. This is a step back toward normalcy but with enough caution to keep everyone safe (for the latest, see Beaver Healthy). To kick it off with an exciting science-centric day, OSU will host Holden Thorp (editor of Science), on University Day, Sept. 14. I would like to ask all of you to attend his keynote address, 10–11:30 a.m.
Roy Haggerty
Dean, College of Science
All the news that's fit to print.
Please submit news, honors and awards, discoveries, events, research funding, student news, alumni updates and more. Just use this handy ONLINE FORM by the 20th of each month.
The eastern spadefoot, Scaphiopus holbrookii, is one of the least studied frogs due to a misconception that it spends most of its time below ground
Research Highlights
Research led by biochemist Adrian Gombart suggests a pair of compounds originating from hops can help thwart a dangerous buildup of fat in the liver known as hepatic steatosis. Compounds produced by hops can mitigate diet-induced accumulation of fat in the liver.
Emeritus professor of integrative biology George Poinar Jr., an international expert in studying ancient plant and animal life preserved in amber, has made two recent discoveries: The first is the oldest known specimen of a fungus parasitizing an ant, and the second is a 100-million-year-old weevil that represents a new tribe, genus and species of weevil. The findings were published in Fungal Biology and Cretaceous Research, respectively.
Biologist David Lytle and Ph.D. students Angelika Kurthen and Jared Freedman worked with the U.S. Geological Survey in March to examine the quantity and diversity of invertebrates in the Grand Canyon to better understand Colorado River ecosystems as the river continues to decline.
Integrative biology Ph.D. student Anne Devan-Song's research on the eastern spadefoot toad has upended the conventional wisdom that for a century has incorrectly guided its study. Her study illustrates how confirmation bias can hamper discovery and the development of better theories.
New NSF Center
Astrophysicist Xavier Siemens will lead the new $17M National Science Foundation NANOGrav Physics Frontier Center at OSU. The quest for new knowledge about the universe and gravitational waves will include 200 astrophysicists at 18 universities and 20 graduate and undergraduate students at OSU.
Research Funding
Biologist Felipe Barreto received $598K from the National Science Foundation for a project entitled "Evolutionary genetics of an alternative molecular mechanism of hypoxia response in metazoans."
Biochemist Michael Freitag received $63K from the University of Georgia for a project entitled "Transcriptional repression by Polycomb Repressive Complex 2."
Microbiologist Stephen Giovannoni received $95K from NSF for a project entitled "Dimensions: Collaborative Research: Functional and genomic diversity in vitamin B1 metabolism and impacts on plankton networks and productivity."
Chemist Dipankar Koley received $423K from the National Institutes of Health – Dental & Craniofacial Research for a project entitled "Manipulation of Bacterial Metabolism: A New Approach to Develop Smart Dental Composites."
Biologist David Lytle received $90K from the USDA Forest Service for a project entitled "Wilderness canyon ecosystems: from streamflow to bugs to birds."
Biochemist Ryan Mehl has received multiple federal grants to carry forward his research on genetic code expansion:
He received $1.21M from NSF for a project entitled "Ideal Eukaryotic Tetrazine Ligations For Imaging Protein Dynamics in Live Cells."
Mehl was awarded $1.145M by NIH for his project entitled "Defining Roles of NitroTyrosine in Disease Via Genetic Code Expansion."
Mehl and biochemist Rick Cooley received $1.65M from Amgen for projects on the engineering of antibodies as therapeutics using genetic code expansion.

Read more about his work and the grants.
Physicist Heidi Schellman received $100K from NSF for a project entitled "Experimental Neutrino Physics."
Microbiologist Martin Schuster received $711K from NSF for a project entitled "Self versus group-sensing in bacteria."
Microbiologist Chris Suffridge received $200K from the California Department of Fish and Wildlife for a project in collaboration with UC Davis entitled "Rapid response to understanding causes, impacts and treatments of thiamine deficiency in California salmon."
Mathematician Holly Swisher received $212K from NSF for a project entitled "Modular forms, combinatorial generating functions, and hypergeometric functions."
Biologist Virginia Weis received $598K from NSF for a project entitled "Collaborative Research: Cell biology of cnidarian-dinoflagellate symbiosis: Signaling, regulation and host response pathways."
Research Proposal Support
You can find funding opportunities on ECOS. To access a suite of tools and resources available to faculty, visit the College of Science Proposal Support webpage.

University Honors
Congratulations to microbiologist Maude David for receiving the 2020 Breaking Barriers Award in Education for her excellent and high impact teaching and mentoring that has paved the way for gender equity in higher education.
College Honors
Congratulations to microbiology Ph.D. student Christine Tataru, the 2021-22 Larry W. Martin & Joyce B. O'Neill Fellow. Christine uses computational modeling to understand how gut microbiomes impact their human hosts' health. 
The 2020-21 Larry Martin and Joyce B. O'Neill Fellow was Bryan K. Lynn, a Ph.D. student in integrative biology. Lynn is a dedicated activist and co-founder of OSU's first Out in STEM chapter.
The Martin-O'Neill Fellowship is awarded to a graduate student from any department in the College of Science whose research involves computational modeling.
Student Honors
Nine 2021 SURE scholars and their summer research projects were recently featured on College of Science social media platforms. Check them out on Instagram, Facebook, Twitter and LinkedIn. Congratulations to these students who are among 41 SURE scholars this year:
Alice Lulich, Chemistry
Fangyi Zhu, Physics
Alexandra Monticelli, Biology
Cypress Jones, Physics
Samantha Gregory, Biology
Breanna Repp, BioHealth Sciences
Blake Lee, Biology
Gretchen Fujimura, Biochemistry and Biophysics
Grace Scuderi, Biochemistry and Molecular Biology
Luis Garcias-Lamas, Mathematics

Oregon State University scientists and students conduct research to track hypoxia in the Pacific Ocean off the Oregon coast.
Marine ecologist Francis Chan was quoted in a Washington Post and an Oregon Public Broadcasting story about low oxygen levels off the Northwest coast that are raising fears of marine hypoxia.
Astrophysicist Xavier Siemens was interviewed by the Corvallis Advocate about the new NANOGrav Physics Frontier Center and other interesting questions about our universe.
Chemist Mas Subramanian's discovery of YInMn Blue is featured prominently in science writer Kai Kupferschmidt's new book "Blue: In Search of Nature's Rarest Color," describe by Science Magazine as an "ambitious biography of the color."
Chemist
Marilyn Mackiewicz
will be the keynote speaker at the Society of Environmental Toxicology and Chemistry (SETAC) Women in Science Luncheon on November 14, 2021.

Diversity Action Plan
In June, the College launched a 2021 Strategic Diversity Action Plan to improve outcomes for underrepresented students, faculty and staff. The plan – Embedding Equity, Access and Inclusion – builds on progress that we have made as a College in advancing inclusive excellence, and will be our guide to more progress in the coming four years. The plan outlines a set of five key strategic goals. Each goal contains specific actions and accountability structures to be implemented at different levels of the organization – individual, unit and college.
Faculty News
Oregon State University was selected to host a new National Oceanic and Atmospheric Administration institute focused on collaborative study of the rapidly changing ocean and expanded demands on its use. The Cooperative Institute for Marine Resources Studies will be led by marine ecologist Francis Chan.
Theoretical astrophysicist David Lazzati is the new head of the Department of Physics. Lazzati is well-known for his work in high-energy astrophysics, multi-messenger astrophysics and allied areas.
Statistician Katherine McLaughlin was profiled on the College of Science news website in June for her work serving as the lead statistician for the TRACE project and for a project with the CDC that estimates the size of hidden populations in urban areas.
Alumni and Friends
Chemistry alumna Karen Wooley (B.S. '88), a distinguished professor of chemistry at Texas A&M University, was selected the Southeastern Conference (SEC) Professor of the Year. The award is given to one SEC faculty member each year whose record of teaching and research places him or her among the elite in higher education.
The College of Science received $100K from the Wei Family Private Foundation to support high achieving graduate or undergraduates of Chinese heritage who are pursuing a degree in science or mathematics at Oregon State.
Student News
Biochemistry graduate students hosted a three-day virtual summer camp experience for middle schoolers to teach them more about biochemistry and biophysics. With virtual lab experiences and mail-home kits, students analyzed learned about a range of topics including DNA, PCR, RNA, proteins, enzymes, cellular membranes, microbes and more!
Biochemistry graduate student Heather Masson-Forsythe gave a talk at the Annual Protein Society Symposium in July titled "A Dancing Duplex: The SARS-CoV-2 Nucleocapsid Phosphoprotein's Multivalent Binding to RNA." At the meeting, she also won one of the "Protein Science Anniversary Awards."

Upcoming Events
September 14
University Day
OSU is hosting Holden Thorp, editor-in-chief of Science magazine, as its 2021 University Day keynote speaker.
---
October 7, noon – 1 p.m.
Diversity Action Plan Forum
Save the Date! Diversity Action Plan presentation and discussion for College of Science faculty and staff.