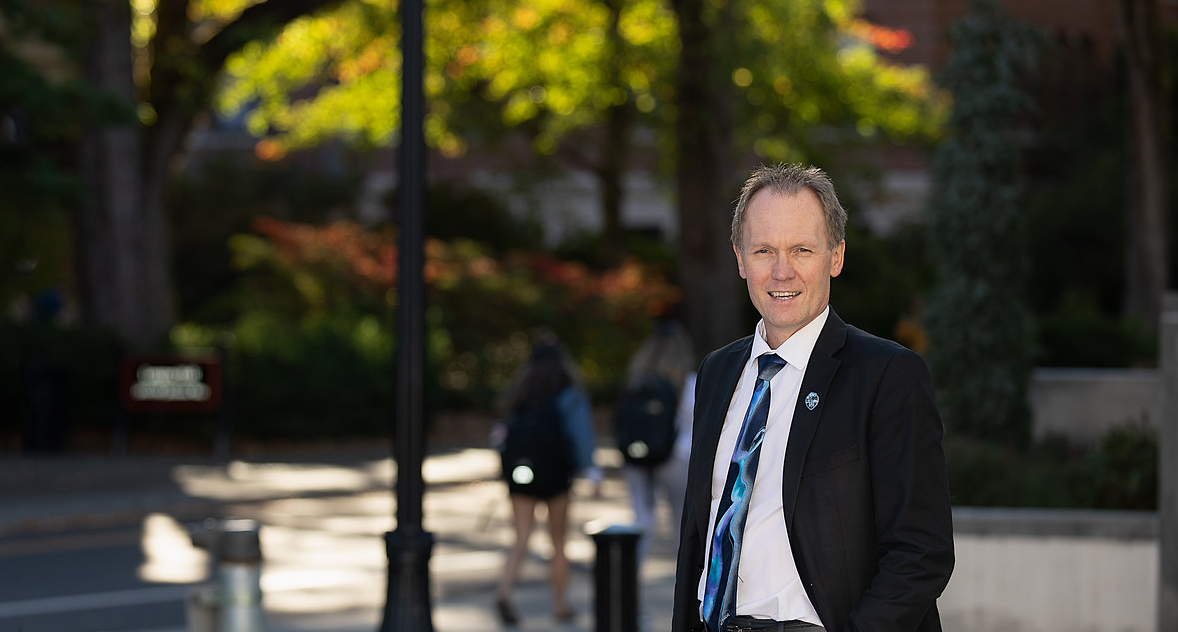 Words from
the Dean
September 2021
Dear Colleagues,
As most of you know, Oregon State University is moving toward a fully in-person experience this fall term. Many of us are gratefully anticipating the return of students, faculty and staff to campus and the opportunity to gather again for learning, teaching, on-site research, meetings and other experiences – even as we follow required measures to keep our community as healthy as possible.
I fully support the decision to return to campus and to take steps to create a sense of normalcy. Students have shared that it is particularly important to them that university activities be held in person this next year. They have been starved of personal interactions for 18 months, and they feel a strong need to resume in-person activities and in-person learning.
For our planning purposes, this means that we should proceed with plans for our fall activities noting that student-centered activities in particular should be in-person. Naturally, we will need to follow all OSU rules for such gatherings, which at least for the first several weeks of fall will mean wearing face coverings in indoor group spaces. I understand that outdoor spaces where social distancing is possible do not require masks, but probably anything we would define as a "function" outdoors would probably not allow 6 feet between all participants – so will require masks as well.
While the pandemic continues to be difficult to predict accurately, and there is always a chance that things could change, given all that we know at the moment, we can fully count on an in-person fall term. With a vaccination rate over 90% among OSU students, and probably similar or potentially even higher for faculty and staff, and with a strong vaccination-or-weekly-test mandate, I believe we will be able to do this safely. I also think that only a very severe turn for the worse would be likely to cause OSU to change course. The most likely scenario for such a turn for the worse would be a variant for which the vaccine is ineffective. At the moment, no such variant exists.
We are in a transition from "pandemic" to "endemic." The endemic phase, which will probably last the rest of our lives, will be a time in which COVID is a mild disease for the vast majority of people – similar to the flu or a cold. We will arrive at the endemic phase when nearly everyone is either vaccinated or has had enough exposure to COVID that their immune systems recognize it and fight it effectively. One of the hallmarks of the transition is a lot of uncertainty, and all of us needing to learn to live with a new virus. Unfortunately, one of the main public health tools at the beginning of the pandemic was fear – everyone was told to be afraid of the virus so that the maximum number of people would take precautions. Now we have to learn how to ratchet that fear back to a level with which we can all live.
I hope you have enjoyed a happy, healthy and safe summer. I look forward to seeing you on campus in just a few weeks – some of you for the very first time!
Roy Haggerty
Dean, College of Science
All the news that's fit to print.
Please submit news, honors and awards, discoveries, events, research funding, student news, alumni updates and more. Just use this handy ONLINE FORM by the 20th of each month.
Afua Nyarko's research works to understand how cells grow and communicate through hippo signaling. Disruption of this pathway can lead to tumor development, particularly in kidney (above) and liver cells.
Research Highlights
Research by biologists Ben Dalziel and Mark Novak shows schools of herring, herds of wildebeest and countless other groups that act in concert can help complex ecosystems maintain their diversity and stability. Their findings were published in Nature Ecology and Evolution.
Biochemist Afua Nyarko received an $820K grant from the National Science Foundation to investigate biological processes important for the regulation of cell growth, memory and kidney function. She hopes that her research will broaden the scope of scientific knowledge, opening new doors for disease treatment.
Mathematician Holly Swisher will use her NSF award to investigate some of the field's most fundamental questions in number theory pertaining to modular and automorphic forms. 
College of Science faculty were awarded $24.4 million in new research grants and awards in fiscal year 2021, a 55% increase over the average of the previous three years and one of the highest award levels ever.
Research Funding
Chemists May Nyman and Tim Zuehlsdorff's proposal, entitled "Passive and enhanced capture and conversion of CO2 by d/f0 molecules and materials," was one of the nine proposals selected by the U.S. Department of Energy for a $6.6M grant to explore new materials and chemical processes with the potential for improved efficiency of CO2 capture from ambient air.
Chemist May Nyman also received $180K from the Department of Energy for a project entitled "Ion association for materials development."
Biochemist Elisar Barbar received $196K from Oregon Health & Sciences University for a project entitled "Multiscale Characterization of a Unique Class of Duplex, Multivalent IDP systems."
Chemist Doug Keszler/nexTC Corporation received $1.1M from the Department of Energy for a project entitled "Developing new technologies to improve solar module performance and lower materials cost."
Chemist Dipankar Koley received $423K from the National Institutes of Health for a project entitled "Manipulation of Bacterial Metabolism: A New Approach to Develop Smart Dental Composites."
Biochemist and recent Ph.D. Isabelle Logan received a $30K grant from the Collins Medical Trust for a project entitled "Cell-surface nitrated proteins as novel tumor-selective immunological targets."
Microbiologist Ryan Mueller received $64K from the University of Oklahoma for a project entitled "Proteomic Stable Isotope Probing as a Novel Approach for Linking Prebiotics with Active Gut Microbiota."
Research Proposal Support
You can find funding opportunities on ECOS. To access a suite of tools and resources available to faculty, visit the College of Science Proposal Support webpage.

Firefighters try to extinguish a wildfire in Athens, Greece, on 5 August. New methods allow scientists to more accurately describe the role of climate change in promoting such extreme events.Michael Varaklas/AP Images
Marine ecologist and deputy director for climate and the environment at the White House Office of Science and Technology Policy Jane Lubchenco was quoted in an article in Science magazine about the new U.N. climate report.

The university has set up a verification site to support its COVID-19 vaccine requirement for all faculty, administrators, staff and students. Please complete this simple process ahead of the September 15 compliance deadline.
The mathematics department recently interviewed alumnus (M.S. '12) and Benton County epidemiologist Peter Banwarth about mathematics, epidemiology and his work on modeling the pandemic in our community.
Resources and tools
Please help spread the word about the College's feedback form. This tool provides a means for faculty, staff and students to offer feedback related to their experiences, including instances of bias and discrimination in the classroom, in advising, with other students or elsewhere. This tool provides a place to share positive experiences, recognize contributions and propose solutions.
Need to update your College of Science directory profile with your latest publications and awards? Simply scroll to the bottom of your profile page and click the "Log In" button. From there, you will see an "edit" button at the top of the page and can make changes from there. You may also send your requested changes to Cari Longman in the College marketing department.

Upcoming Events
University Day featuring keynote speaker Holden Thorp
September 14, 10:30 a.m. – 12:30 p.m.
Join us for University Day's keynote speech, featuring Holden Thorp, editor-in-chief of the Science family of journals. Dr. Thorp will discuss the intersection of science, higher education, and politics and policy in light of lessons learned from the pandemic. The keynote talk will be followed by a conversation moderated by Microbiology Professor Rebecca Vega-Thurber and Dr. Selina Heppel from the College of Agricultural Sciences. Registration required.
Fall Welcome for new Science students
September 21, 3 – 4 p.m., Kidder Hall
Join in on the fun! Our annual fall welcome event will take place at the front of Kidder Hall. This is a great opportunity to welcome our first-year Science students.
Diversity Action Plan – Faculty Roll Out
October 7, 12 – 1 p.m., Memorial Hall
Save the date for this important event. The College of Science's 2021 Strategic Diversity Action Plan, Embedding Equity, Access and Inclusion, is ready to be implemented. The roll out for this community plan will be solely for College of Science faculty and staff to learn more about the plan, ask questions and learn how to get involved in making the College a more inclusive, equitable and welcoming space for everyone. A student-focused session will be held the following week.