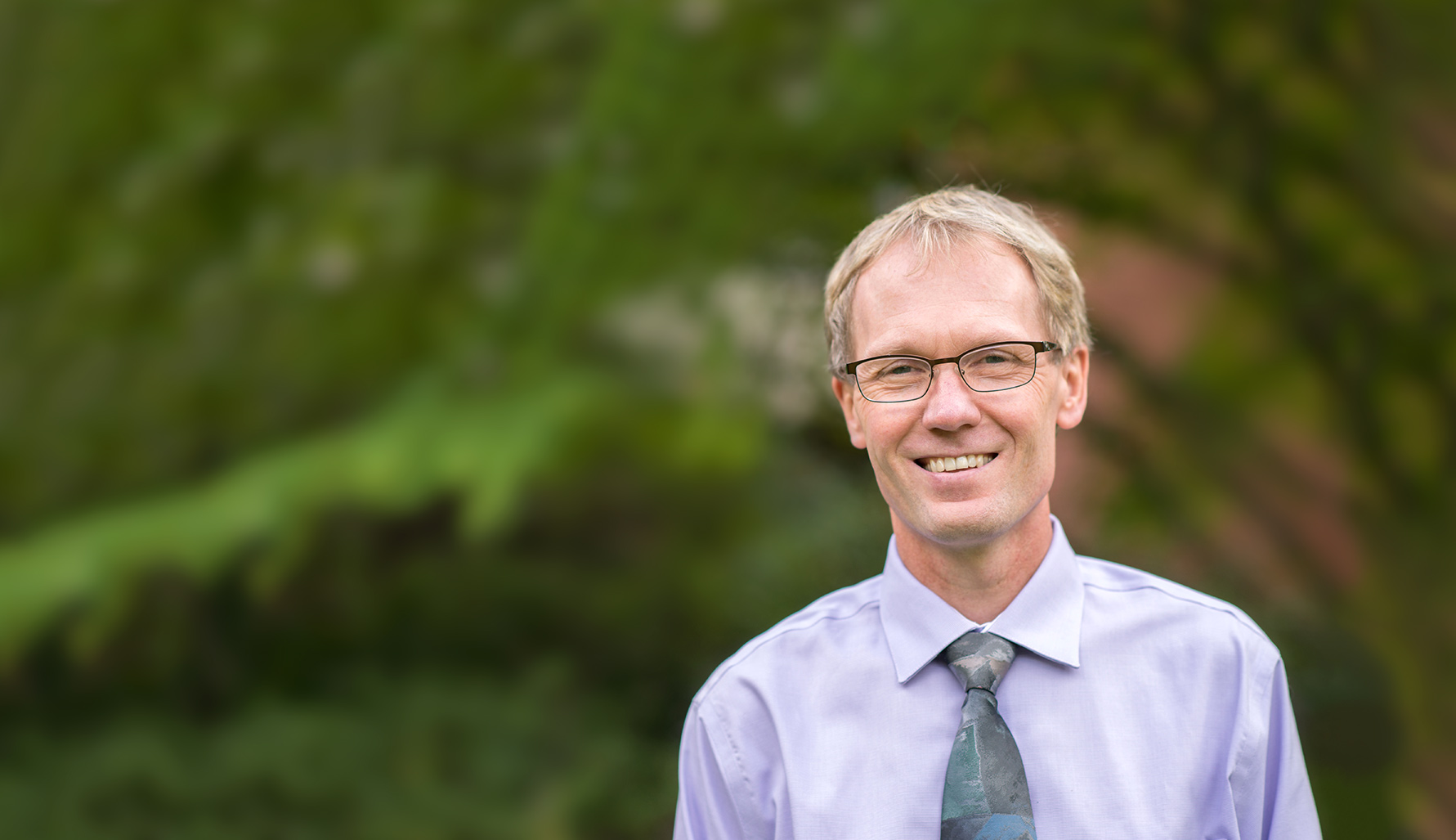 Words from
the Dean
September 2018
Dear colleagues,
Welcome back! I hope you all had a wonderful and productive summer and are ready to use your intellect and curiosity to make new scientific discoveries and give our students a transformative education this academic year. I am eager to share my priorities for the upcoming year and more details about the research investments I referenced in last month's newsletter.
As I completed my first year as dean of Science, I was reflecting back on our many accomplishments that moved us toward our vision. Congratulations to you all. To build on these successes, I have identified five key priorities for AY2018-19 with a focus on research and innovation while continuing our work on student recruitment, retention and success.
Research and innovation development – This area will be front and center this year as our primary focus. I am setting aside $1M to invest in two key areas:  faculty start up packages, including equipment and lab needs; and a faculty seed funding program, called SciRIS—the Science Research and Innovation Seed program—that we are allocating more than $200K this next year. We will be announcing the details at the College's Fall Faculty and Staff Awards on Oct. 11 (see invitation). Gifts from our generous and thoughtful donors will help fund this new program as well. For example, the Betty Wang Discovery Endowment was just established as a result of a $747K gift, with more funds from this estate gift to follow, to provide state-of-the-art laboratory equipment to advance fundamental discoveries in the basic sciences. Doug Keszler, our Associate Dean of Research, will manage SciRIS and establish the criteria to award equipment grants from this new endowment. 
Student recruitment, retention and success – This area remains just as important as it has been in recent years. We will continue to build and invest to support our students in the College and at OSU. Along with many of you, I look forward to mentoring undergraduates in the Faculty – Student Mentor Program pilot we are launching this fall.
Development: Our annual fundraising goal from individual gifts is larger than last year - $4M, which we are well on our way to reaching. We are also working on our priorities for the next campaign, which will include research and education facilities, endowed positions and faculty support, graduate and undergraduate scholarships, experiential learning opportunities and learning assistants, in addition to support for your research and education programs.
Revenue growth:  We will grow our revenue through continuing investments in Ecampus and other initiatives that we have recently begun. These include: launching the online B.S. degree in Zoology next fall, growing the online MS in Data Analytics program and continuing to grow enrollment in the B.S. degrees in Biohealth Sciences and in Biochemistry and Molecular Biology. OSU enrollment is slow overall and so we will need to continue to innovate with attractive programs in order to grow.
Equity, inclusion and justice – We are committed to strengthening the diversity of our science community and to respecting the dignity, value, and uniqueness of all individuals' personal and intellectual growth and success. I am happy to note that most department heads, several faculty and all of the Deans and Associate Deans have completed the OSU ADVANCE program and are working on plans to advance equity, inclusion and justice on our campus. As one example, I will be working on sexual harassment prevention in the College this year. We are introducing training for all faculty, staff and graduate students in November and December.
I wish you a productive and successful academic year as we continue to build on our academic excellence in science. This is an exciting time in the College of Science at OSU. I hope to see all of you at our Fall Awards on October 11 from 4:30 – 8 p.m. in the Horizon Room in the Memorial Union.
Roy Haggerty
Dean, College of Science
All the news that's fit to print.
Please submit news, honors and awards, discoveries, events, research funding, student news, alumni updates and more. Just use this handy ONLINE FORM by the 10th of each month.

The College of Science received a total of $11.3 million in new research grants and awards for fiscal year 2018. Research expenditures for the year totaled $12M. Just a few months into the new fiscal year, the College is seeing strong momentum with funding awards totaling more than $6.4M.
Both Doug Keszler and Bruce Menge, each with expenditures of greater than $1.25M, ranked among the top 20 PIs on campus. The College had 63 science faculty expend more than $25K with median and mean amounts of $196K and $111K, respectively. The histogram below shows the award distribution.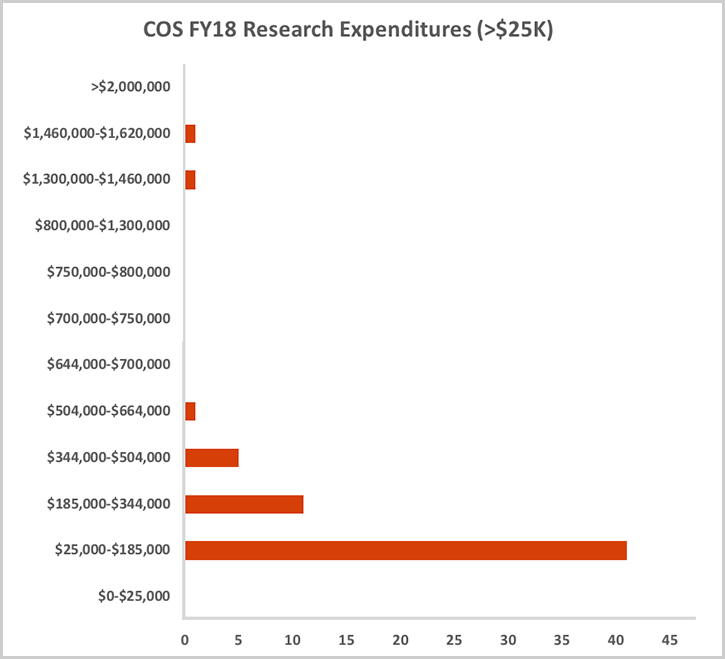 Award distribution / faculty count
Research Highlights
Read more of the most recent research happening on our iMPACT blog site.
New research by biologist Jim Strother and his collaborators shows that manta rays strain their tiny food from mouthfuls of seawater in a novel way that could hold the key to better filtration in a variety of commercial applications. The findings were also featured in The New York Times this week.
In an international collaboration led by microbiologist Tom Sharpton, researchers made a key advance toward understanding which of the trillions of gut microbes may play important roles in how humans and other mammals evolve. The results were published earlier this month in mBio.
Entomologist George Poinar, Jr. discovered that the compounds behind perfumes and colognes have been eliciting olfactory excitement since dinosaurs walked the Earth amid the first appearance of flowering plants.
Statistician Debashis Mondal, collaborating with faculty at the colleges of Agricultural Sciences and Earth Ocean and Atmospheric Sciences, looked at 44 years of seismic data and found that a big earthquake can not only cause other quakes, but large ones, and on the opposite side of the Earth.
Postdoc biology graduate student John Parkinson co-led a global collaboration discovering that corals and algae have existed since the Jurassic Period, 100 million years longer than scientists originally thought.
Research Funding
Chemist Dipankar Koley received a five-year NIH/NIDCR R01 grant for $2.17M to fund his project "Manipulation of Bacterial Metabolism: A New Approach to Develop Smart Dental Composites."
Biochemist Michael Freitag received a 4-year, $840K NSF grant for his project "Control and Function of Chromatin-mediated Gene Silencing in Fungi."
Physicist Heidi Schellman is lead PI on a three-year, $665K NSF grant for her project "Experimental Neutrino Physics."
Chemist David (Xiulei) Ji received a $475K award from the University of California, San Diego for his project "Aqueous Iron-Sulfur Batteries."
Physicist Oksana Ostroverkhova received a 3-year, $450K NSF grant for her project "Designing light-matter hybrid states for high-performance organic (opto)electronics."
Chemist Sandra Loesgen has received a three-year, $428K NSF grant for her project "New Tools to Access the Fungal Metabolome and its Ecological Function."
Microbiologist Steve Giovannoni received a three-year, $424K award from NSF for his project "Regulation of Nutrient Assimilation in Streamlined Oligotrophic Microorganisms."
Chemist Chong Fang received a three-year, $400K award from NSF for his project on "Dissecting Photoconversion in Fluorescent Proteins Frame by Frame."
Biochemist David Hendrix received a five-year, $1.8M grant from the National Institute on Aging for his project "Understanding the Gene Regulatory Mechanisms That Underlie Age-Induced Changes in the Circadian System and Neurodegeneration."
Biochemist Elisar Barbar received a $200K grant from the National Science Foundation for her project "Structural Basis of Phosphorylation of Dynein Intermediate Chain in Regulation."
Physicist Elizabeth Gire won a $299K National Science Foundation grant for her project "Paradigms in Physics: Representations in Quantum Mechanics."
Physicist Heidi Schellman and graduate student Maggie Greenwood are working on the data handling and analysis systems for the Deep Underground Neutrino Experiment, an ongoing global collaboration at CERN (the European Laboratory for Particle Physics). The project begins a new chapter after just recording its first particle tracks.
Biology graduate student Claire Couch and her lab mates are participating in the Wildlife Disease Association crowdfunding challenge for their project "How important are microbiomes in the prevention and treatment of Tuberculosis? Using African buffalo as a model system." Every dollar counts – please contribute if you can!
Proposal Support
Funding opportunities can be found on ECOS. To access a suite of tools and resources available to faculty, visit the College of Science Proposal Support webpage.

National Honors
Congratulations to mathematician Elise Lockwood, who received the John and Annie Selden Prize for Research in Undergraduate Mathematics Education from the Mathematical Association of America, the world's largest community of mathematicians, students and enthusiasts.
University Honors
Congratulations to the eight faculty honored at 2018 University Day! Chemist Xiulei (David) Ji nabbed two awards, the Excellence in Postdoctoral Mentoring Award and the Promising Scholar Award. Microbiologist Michael Kent received the OSU Alumni Association Distinguished Professor Award. And Team Math, including mathematics faculty Sara Clark, Scott Peterson, Lyn Riverstone, Dan Rockwell, Katy Williams and David Wing, won the Student Learning and Success Teamwork Award.
Student Honors
Biochemistry and biophysics graduate student Nathan Jespersen won the annual MacVicar Animal Health Scholar Award for his interdisciplinary and impactful research on the rabies virus.
Seeking Nominations
Think BIG and apply for funding for a multidisciplinary center, national research collaborative, innovative infrastructure or entirely new investment modality at the National Science Foundation's 2026 Idea Machine. The goal of the Idea Machine is to support basic research and enable new discoveries that drive the U.S. economy, enhance national security and advance knowledge to sustain the country's global leadership in science and engineering. Review examples of Big Ideas. Entries are due by October 26, 2018.

Chemist May Nyman's research on "Alkali-Driven Disassembly and Reassembly of Molecular Niboium Oxide in Water," published in the Journal for the American Chemistry Society last August, was featured on the cover thanks to the illustration designed by our own Sharon Betterton!
Caitlin Magel, a graduate fellow in the College of Earth, Ocean, and Atmospheric Science who is co-advised by biologists Francis Chan and Sally Hacker, contributed to a story about how aquatic grass can help shellfish threatened by ocean acidification featured on Oregon Public Broadcasting by Jes Burns. The story was picked up and aired earlier this month on PBS News Hour.
Biologist Francis Chan recently presented on issues facing coastal and rural communities to nearly 700 public officials, business and community leaders across the state at the seventh annual Oregon Coastal Caucus Economic Summit.
In addition, Chan showed the group a NOAA-funded video on ocean acidification that he helped produce, which strongly resonated with the audience and kicked off a vigorous discussion of carbon policy. The video highlights the power of collaboration in the face of climate challenge: citizen scientists help Chan monitor the acidity of Oregon coastal waters, industry leaders respond to the carbonate chemistry catastrophe affecting Oregon's oyster estuaries, Chan himself and Magel investigate estuary seagrass banks' ability to absorb CO2. The video also features a high school student in Port Orford who got involved after a trip to the Hatfield Marine Science Center and sees his generation as having the power to affect change.
In another instance of outreach, Chan (who is fantastic on camera!) was a consultant and guest on a recently aired National Geographic channel episode of "When Sharks Attack" connecting a rare 2006 trifecta of shark attacks on the Oregon coast to the hypoxia event that he discovered that year. Look for Chan on the video at the 38:30 mark.
Microbiologist Tom Sharpton's research on gut microbes' role in mammals' evolution was featured on the National Science Foundation website in the news section last week.
More press on the "bluest blue": Tangled up in YInMn Blue
Chemist Mas Subramanian's YInMn blue starred in a "Soma Blue" art and music festival organized by a Japanese musician to help the children of Fukushima affected by the nuclear disaster.
YInMn Blue also starred as "the best blue" to date in a fascinating New Yorker article about pigments and their colorful histories in Harvard's Forbes Collection.
Ja, Das ist Gut! YInMn makes an Austrian debut on the news station ORF.at.
Outreach and Impact
Honors biochemistry and biophysics alumna Trisha Chau ('18) was part of a team of 31 undergraduate and graduate students and postdoctoral scholars and faculty who embarked on a service learning trip to Puerto Rico in the aftermath of Hurricane Maria.
Discovering the Scientist Within
, a free half-day workshop designed to encourage young women to pursue STEM careers, is a longstanding tradition on campus that continues to be popular – and effective. "I loved everything about today!" wrote one of the 123 participating middle-schoolers.

A warm welcome to alumna Tamara Mitchell ('07) who has taken on a key new position, Associate Director of Learning Experience Design, as part of the Integrated Professional Development (IPD) team. Please stop by her office in Kidder 114 to say hello!
Speaking of IPD, Chris Larson, Chelsea Wolk and Tamara Mitchell report strong results after the program's inaugural year. The first cohort of the Science Professional Pursuits Program (SP3) included 21 students in winter term 2017 with 15 students completing the program in the spring. Students in the first cohort obtained paid opportunities ranging from internships at Providence Hospital in Portland to regular employment at St. Charles Hospital in Bend to sponsored service projects in Botswana.
The SP3 is growing, with 68 students representing every science major registered for this fall. Of those, 40 percent are first-year transfer students. This year we added more active online content, which is a shift toward a full hybrid approach and offering three-credits, rather than two, for the program for three terms during the academic year.
Focus 2 is a new online personalized career and education plan tool for all students. Students can take self-assessments from personality to values to leisure preferences to discover majors and occupations that match their profile.
The College welcomes Melissa Lee to a new position—Transfer Student and Recruitment Advisor—on its central advising team. Joining the College in August, Lee brings passion and expertise for helping transfer students transition smoothly into university life. She will focus on enhancing transfer students' success in science.
The College participated in OSU's New Student Scavenger Hunt that helped new students find their way around campus before classes began. QR codes were "hidden" at campus buildings and spaces that are important for new students to know about, including the Science Success Center, Mole Hole, Worm Hole and more. Students downloaded the OSU150 scavenger app and "snap with the app" to take a photo of the QR codes in hopes of winning a prize.
With far-sighted generosity, physics professor John Gardner gives back by supporting an annual SURE science scholarship, which will enable summer undergraduate student research in science. In 1988, he was at the height of his career in solid state physics at Oregon State when he had to reckon with a looming problem in his life. He not only managed to thrive after going blind, he founded a successful company that makes science more accessible to the visually impaired.

Discovering Venn In The Ionian by Michael Schultheis, acrylic on canvas
Upcoming events
September 28-29
All science undergraduate students, particularly juniors and seniors, are encouraged to register for the Fall 2018 Northwest Regional GEM Getting Ready for Advanced Degrees Laboratory. Co-sponsored by the College of Science, this free event is designed to encourage students to consider pursuing graduate school in a STEM field and to apply for a GEM fellowship. Please share with your students!
October 1-17
OSU150 Land Grant Festival: The final festival celebrating OSU's 150th features tours of unique teaching and research environments, energy innovations and outreach programs like Extension and 4-H that serve OSU's land grant mission. Free reservations required for most events.
October 3 (and February 6, 2019)
Research Ready Workshops: All undergraduate students are welcome to attend one of two free workshops to help them identify a faculty mentor and learn about resources for student research. Features both panels of current undergraduates and faculty. Please share with your students! Register here to receive an email with location information.
October 11
Noon. Linus Pauling Science center, Room 402.
Faculty, instructors, graduate students and postdocs are invited to an info session for the OMSI Science Communication Fellowship. This fellowship is a unique opportunity to help students and faculty master the outreach and communication skills to promote the broader impacts of science to society and to enhance their grant proposals. The deadline for applications for the spring 2019 cohort is November 5.
October 11
4:30 p.m. Registration, 5 p.m. Ceremony; Memorial Union, Horizon Room
The College of Science will host the annual Fall Faculty and Staff Awards followed by a reception to recognize academic and administrative excellence. Dean Haggerty will offer welcome remarks and announce his priorities for the 2018-19 academic year.

October 22
Memorial Union Horizon Room
Graduate Career and Communication Workshops, co-sponsored by the Graduate School and colleges of Science and Engineering, offer the perfect opportunity for graduate students to learn how they can take full advantage of a Ph.D. in science. Attendees will learn ways to improve their career planning and enhance their communication skills. Peter S. Fiske, Director of the Water-Energy Resilience Research institute at Lawrence Berkeley National Laboratory, will conduct two workshops: "Putting your Ph.D. to work," 10 a.m. to noon; and "The science and strategy of science communication," 1:30 to 3 p.m.
Space is limited so register today. If you can't attend in person, you can attend online by registering for the live webinar (unlimited).
October 23
10 a.m. – 7:30 p.m., LaSells Stewart Center and CH2M HILL Alumni Center
The Promise and the Peril of Artificial Intelligence Robotics is a day-long symposium with a keynote presentation by Jacob Ward, science and technology correspondent for CNN and Al Jazeera. Registration is free and open to the public but required for this culmination event of the Land Grant Festival.
LaSells Stewart Center, 4 p.m. light reception, 4:30 p.m. lecture
Jie Shan, professor of applied and engineering physics at Cornell University, will present the first Wei Family Private Foundation Lecture. She will give a talk entitled "Atomic sandwich: Photonics and optoelectronics of two-dimensional materials."
October 24
Linus Pauling Science Center, Tentative time: 6 p.m. reception, 6:30 p.m. lecture.
Join us for the first ART:SCI Lecture "Venn pirouettes: Changing the way the world sees math and art," by
Michael Schultheis
, a painter trained in mathematics and economics who "uses the timeless language of mathematics to explore how geometric models can be a vivid way to understand human stories." His work has appeared in collections by the National Academy of Sciences and U.S. Embassies in Greece and Switzerland. The event is sponsored by the College of Science; the Departments of Math, Microbiology and Physics; the School of Arts and Communication; OSU Office of Research.
Recent Events
August 6-7
Clean and Sustainable Water Technology Initiative Workshop, an inaugural event organized by the College of Engineering, featured the keynote address, "Urban Water Supply Re-invention for Dry Cities," by Richard G. Luthy. He holds the Silas H. Palmer Professor in Department Civil and Environmental Engineering and serves as Director of the Engineering Research Center for Re-inventing the Nation's Urban Water Infrastructure at Stanford University.
August 2-8, Workshop
August 9-11, Conference
The 2018 Genetic Code Expansion Conference attracted scientists from around the world to campus eager to share their research at the frontiers of this rapidly growing interdisciplinary field. Their research encompasses both fundamental research into the biology of life as well as drug discovery and material science with the aim of enhancing life forms and curing disease. The conference and the workshop were hosted by the Department of Biochemistry and Biophysics.

The GCE Workshop was a week-long opportunity for participants to bring their own experiments to Oregon State's Unnatural Protein Facility, which provides current GCE technology as well as theoretical and practical expertise from instructors Ryan Mehl, Kari van Zee, OSU graduate students Joe Porter and Riley Bednar, John Lueck, an assistant professor with joint appointments in the Departments of Pharmacology and Physiology in addition to Neurology at the University of Rochester, and John Perona, a professor of environmental biochemistry at Portland State University. "Bar none this is the most experimentally robust workshop I've seen," wrote one participant.
 
September 11
OSU's annual University Day recognized faculty and staff excellence. A total of eight COS faculty were recognized for their distinguished accomplishments (see Honors, above).

September 13
The 2018 Summer Undergraduate Research Symposium was hosted by the OSU Office of Undergraduate Research, Scholarship, and the Arts. Students from all academic disciplines showcased their research or creative activities.
September 18
The Fall Welcoming Social welcomed new and returning science students to campus for ice cream, sorbet floats, giant bubbles and a photo booth, as well as opportunities to network with faculty, science clubs, and Peer Advisors.