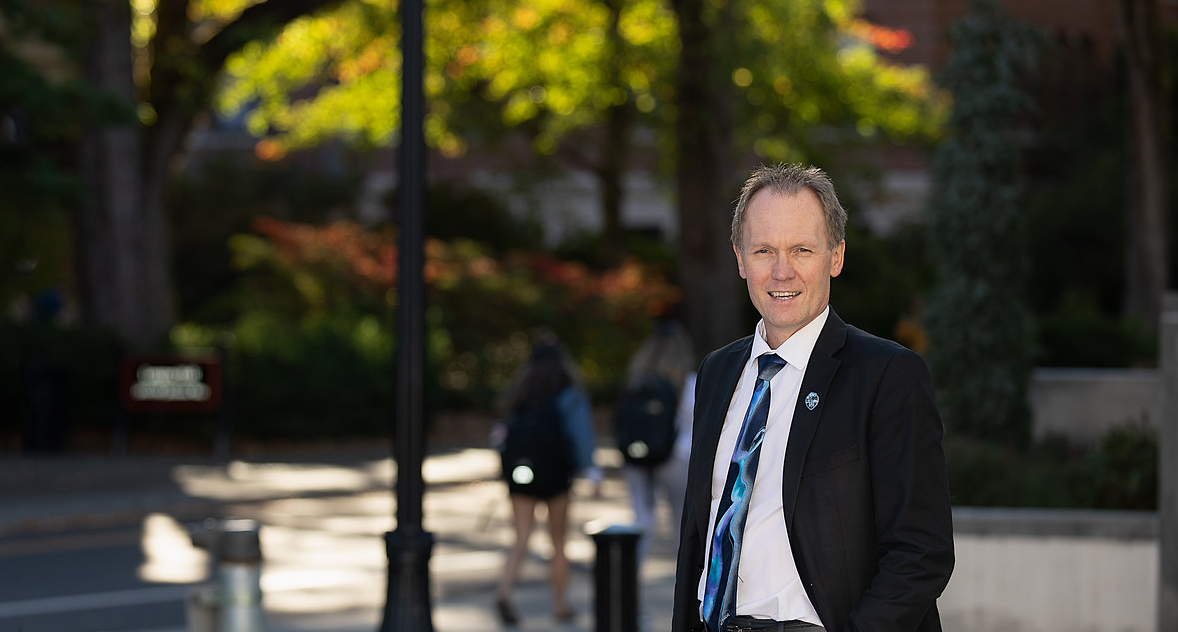 Words from
the Dean
OCTOBER 2020
Dear Colleagues,
Welcome to the 2020-21 academic year. Despite the challenges we face, it is good to begin a new year of advancing teaching, learning and research outcomes. Our Science students bring a new surge of energy, curiosity and drive into our College. I am proud that they are choosing to pursue a career path in Science at Oregon State.
This fall, the College welcomed 1,026 new first-year science students to the class of 2024, a 15% increase from last year. Of those students, 287, or about 28% of the freshman class, are first-generation college students. Seventeen percent are underrepresented minorities. Most of the increase in new first-year science students is due to very strong growth in the Ecampus Zoology major – congratulations Integrative Biology! These numbers are based on the beginning of fall term; OSU will issue official enrollment numbers after week four. Thank you for all that you are doing to make our students feel valued and supported in this unusual time.
The past six months have demonstrated that the pandemic does not change what is most important about the College of Science. Our community has been under considerable strain, but we have faced the difficulties together with determination and care. It's clear, as you read in this newsletter, that College faculty, instructors, advisors and staff remain invested in our mission – advancing science and building leaders, pursuing curiosity-driven research wherever the questions lead, and inspiring solutions to society's great challenges.
Naturally, the mission informs my priorities for the College of Science this year, which are similar to previous years, though areas of emphases have changed. Those priorities include:
We will build on our work on equity, justice and inclusivity, this year developing an action plan together for inclusive excellence.
We will strengthen our efforts in recruitment, retention and the success of our students.
As always, we will advance research and teaching, supporting development opportunities for faculty and graduate students as much as possible. 
We must prioritize the fiscal health of the College.
We will bolster our fundraising efforts, continuing to develop relationships with alumni and friends who support our mission.
The College will serve the University's strategic plan as a whole – serving the state, nation and world with transformative impacts in teaching, research, and outreach and engagement.
You will hear more from me about each of these priorities in the coming months.
As I committed in the spring, I am joining you in the classroom. I teach an Honors section of MTH 251, the first class in the calculus sequence. I am thankful to Mathematics for allowing me the opportunity to teach a great group of students. I'm enjoying the Zoom format more than I thought I would, and giving the lectures and interacting over problems in office hours are the highlights of my week.
The pandemic continues to impact nearly every area of our lives and interactions, and I want to end with a request that you do everything in your ability to keep yourselves and our community healthy and safe. Please consider enrolling in TRACE OSU COVID-19 testing if you haven't already.
Another way to help Science students is by contributing to Equity Promise Scholarships through Beavers Care. These scholarships help students experiencing financial hardship that might hinder their academic success.
Thank you for your ongoing commitment to Science.
Roy Haggerty
Dean, College of Science
All the news that's fit to print.
Please submit news, honors and awards, discoveries, events, research funding, student news, alumni updates and more. Just use this handy ONLINE FORM by the 20th of each month.
OSU biologist George Poinar Jr. has identified four new species of parasitic, cockroach-killing ensign wasps that existed 25 million years ago.
Research Highlights
Chemist Xiulei (David) Ji was issued a patent entitled "Stable bromine charge storage in porous carbon electrodes using tetraalkylammonium bromides for reversible solid complexation." The patent addresses the performance gap between capacitors and batteries, and could lead to new types of storage devices that have higher energy densities than capacitors and can be charged faster than batteries.
Oregon State extended its ongoing TRACE-COVID-19 project to promote a safer and healthier environment for its students, faculty and staff. The expansion will include weekly random prevalence testing of approximately 1,000 OSU community members in Corvallis and Bend and wastewater sampling on the Corvallis and Bend campuses and at the Hatfield Marine Science Center in Newport. Read more.
Biologist George Poinar Jr. has identified four new species of parasitic, cockroach-killing ensign wasps that existed 25 million years ago.
Research Funding
College of Science faculty were awarded $15.8 million in new research grants and awards in 2019-20. Notable awards last year include grants totaling $1.5M from PacificSource Health and the Packard Foundation to support the groundbreaking Trace-Covid-19 project led by ecologist Ben Dalziel and a $627K NSF award to microbiologist Rebecca Vega Thurber to investigate disease in critically endangered corals.
Rebecca Vega Thurber, along with co-PIs Thomas Sharpton, Ryan Mueller, Maude David and Xiaoli Fern from Engineering, received a $3 million grant from the National Science Foundation for a project entitled "Defining the ecological and genomic properties that underlie microbiome sensitivity and resilience."
Chemist Christopher Beaudry received $245K from the National Institutes of Health for his project entitled "Cascade Reactions for Biologically Active Natural Products."
Physicist Davide Lazzati received $45K from NASA for a project entitled "Demystifying the Interplay Between Explosion Dynamics and Electromagnetic Radiation in Gamma Ray Bursts."
Research Proposal Support
You can find funding opportunities on ECOS. To access a suite of tools and resources available to faculty, visit the College of Science Proposal Support webpage.

Nominations Wanted
This year, instead of holding two award ceremonies, we are combining the Fall Faculty and Staff Awards and the Winter Teaching and Advising Awards into one spring awards ceremony. As such, nominations for ALL College of Science awards will be due February 1, 2021.
Learn more about the awards and submit a nomination!
National Honors
Recent microbiology master's program graduate Elizanette Lopez was selected to participate in the Oak Ridge Institute for Science and Education (ORISE) Fellowship program. Elizanette will take up a position at the Center for Disease and Control Biorepository in Lawrenceville, Georgia. As an ORISE Fellowship recipient, Elizanette will soon process SARS-CoV-2 samples and help organize other collections in the biorepository.
University Honors
A number of College of Science researchers received OSU's most prestigious awards for research, service and teaching at 2020 University Day:
The TRACE-COVID-19 team, which includes Ben Dalziel, an assistant professor of integrative biology and mathematics, Jane Lubchenco, Distinguished Professor of Marine Biology, Roy Haggerty, Dean of the College of Science, and Katherine McLaughlin, assistant professor of statistics, among others, received the Beaver Champion Award, the prestigious OSU President's Award.
Biologist Francis Chan received the D. Curtis Mumford Faculty Service Award for his path-breaking research on the effects of climate on coastal ecosystems throughout his career. This award recognizes exceptional, ongoing, and dedicated interdepartmental, interdisciplinary and interinstitutional service to the faculty and to OSU.
Kayla Jara, a Ph.D. candidate in the Department of Biochemistry and Biophysics received the Herbert F. Frolander Graduate Teaching Assistant Award. The award recognizes graduate students who have excelled in their capacity as teaching assistants.
Sarah Gravem, postdoctoral scholar in the Department of Integrative Biology, has been awarded The Excellence in Undergraduate Research Mentoring by a Graduate Student or Post-Doc Award. James Fox, a postdoctoral scholar in the Department of Microbiology, and Manuel Garcia-Jaramillo, a postdoctoral scholar in the Department of Chemistry, received Postdoctoral Excellence Awards for their significant research contributions.
College Honors
Marine ecologist and associate professor Rebecca Vega Thurber has been appointed the Emile F. Pernot Distinguished Professor in Microbiology by the Colleges of Science and Agricultural Science. The endowed professorship recognizes Vega Thurber's distinguished contributions to several fields of microbiology that encompass coral reef ecology, virology, marine disease ecology and metagenomics. Congratulations, Rebecca!

The Klamath River below Iron Gate Dam.
Chemist Mas Subramanian is among six NSF-funded researchers celebrated for "breaking traditional boundaries with their colorful discoveries!" Read more at Science Matters.
OSU's efforts to create isolation spaces for students in order to reduce the spread of COVID-19 was covered in MSN. More than 70 rooms have been set aside for students showing symptoms and awaiting test results, so they can still study online or focus on recovery if they are too sick to study.
Microbiologist Jerri Bartholomew's research on the parasite C.shasta that kills salmon in the Klamath Basin was reported in the Herald and News.

Welcome to Fall Term! As we look ahead to a new (and unusual) school year, Dean Roy Haggerty welcomes all of our students, faculty and staff to the new academic year in a video. Stay safe, stay healthy and have a great fall term!
The latest version of the College of Science magazine, Impact, is out and available for you to read online. The theme of the magazine was biomedical collaboration to solve the world's problems and create opportunities, with the TRACE project featured.
Thanks to a generous gift from the estate of Dr. Samuel Wang ('56 '59), the Betty Wang Discovery Fund was established to support OSU scientists by helping fund state-of-the-art lab technology that advance scientific discoveries. These include a fluorometer and microwave reactors in chemistry and materials science labs.
Culminating a project led by Professor Rich Carter, leaders from 67 universities and 13 national organizations have unanimously voted to approve a set of recommendations for recognizing innovation and entrepreneurial achievements among the criteria for higher education faculty promotion and tenure.
BioHealth Sciences alumna Van Anh Vu graduated early this summer from the Pharm.D. program at the OSU|OHSU College of Pharmacy to take care of patients during the pandemic.
Since the start of the COVID-19 pandemic in the U.S., Chemstores staff have worked tirelessly to produce hand and surface sanitizer for the OSU and Corvallis community. As of the beginning of September, Chemstores had produced 500 gallons of hand sanitizer and 1,817 gallons of surface sanitizer. Way to go, Chemstores staff!
Welcome Class of 2024!
This term, the College of Science welcomed 1,026 new first-year students, a 15% increase from last academic year. Of those students, 287, or about 28% of the freshman class, are first-generation college students. Seventeen percent are underrepresented minorities.
Enroll in TRACE OSU
OSU students, faculty and staff living on or near the Corvallis and Bend campuses, or at HMSC are invited to contribute to a safer community – and learning more about your own wellness – by participating in TRACE OSU COVID-19 testing.
Learn more about the TRACE-COVID-19 project, including who is involved, how it got started, and how the project has evolved since it began in April.

Upcoming
Virtual Town Hall to center Black experiences
Thursday, October 8, 5-6:30 p.m.
On October 8, the College of Science will host a virtual town hall listening to Black students' experiences in the College in a push towards achieving equitable educational outcomes, increasing support in and outside classrooms and ensuring the academic success of our students. Students as well as all College employees – faculty, staff and graduate student assistants – are encouraged to attend this listening session and hear the voices of our Black students. The virtual town hall is being organized in collaboration with the College of Science Student Anti-Racism Coalition, as well as Black staff members from the OSU Educational Opportunities Program and the Lonnie B. Harris Black Cultural Center. Register to attend.
Each Friday of Fall Term, September 25 – December 4 at 3 p.m.
Check out an amazing series of talks by global leaders in ecology and evolution in fall 2020 in
OSU's new seminar Series
, "What can ecology, evolution and conservation biology contribute to understanding global pandemics?"