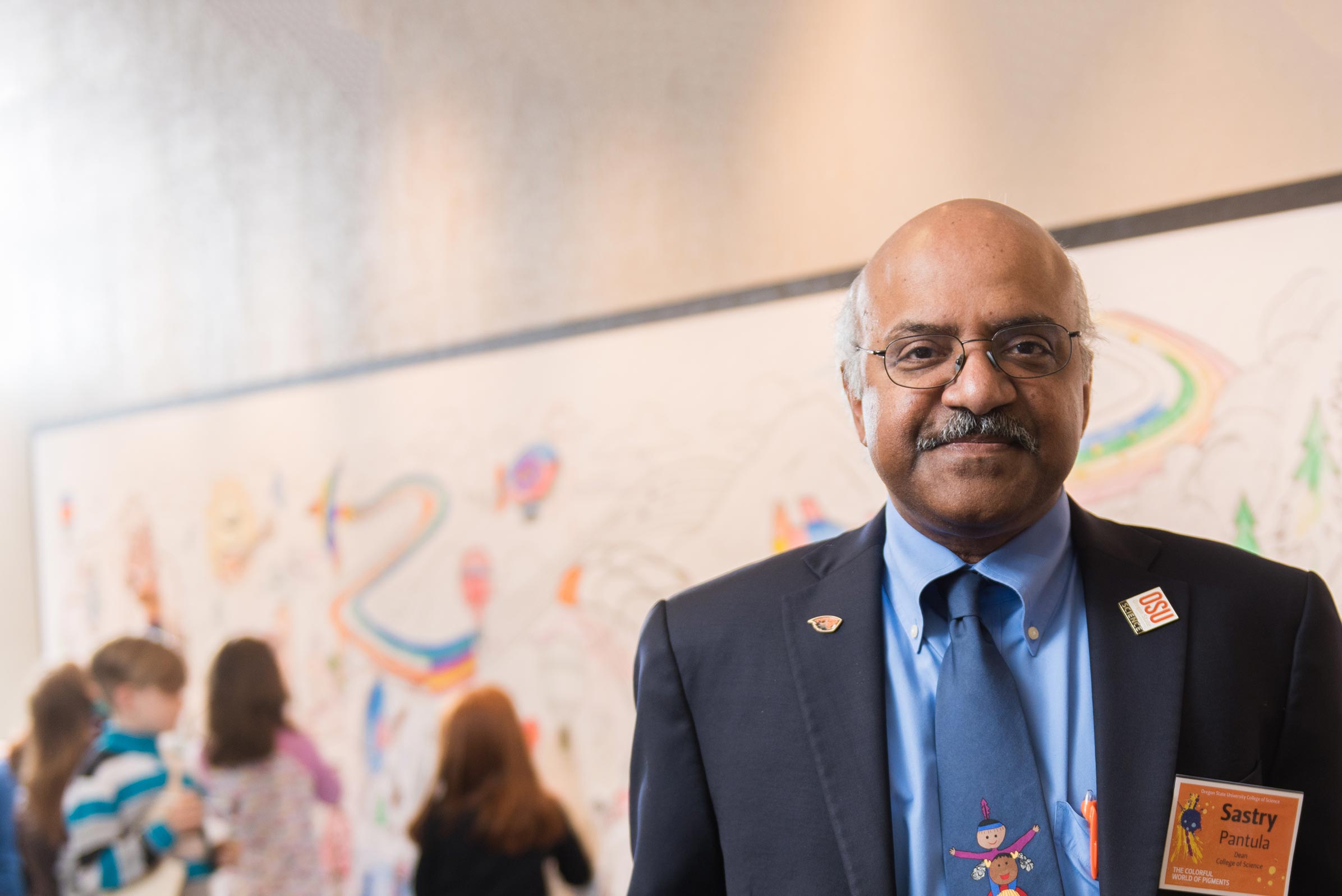 Words from
the Dean
May 2017
Spring term is quickly winding down and we are preparing to graduate a new class of scientists in just a few weeks. It is an exciting time of year, full of milestones, successes, changes and challenges. Before many of you finish your teaching and grading, and head off into different directions—whether traveling to far-off adventures, delving back  into research, or revising and preparing for teaching—I want to share some important news and updates.
First of all, congratulations to the 18 new faculty who were promoted and/or received tenure. I am so proud of you and honored to have such excellent faculty in Science. I am happy to see that our faculty are praised (and valued) by their peers in other universities, and yet are happy to remain a part of Beaver Nation. I am thrilled that all of our nominations for promotions and tenure were approved by the Provost's Office. It is a testimony to the mentoring in our College and the excellent care you put in documenting your successes in a well-prepared dossier. OUTSTANDING!
The success of our faculty is essential to the success of our students. I am proud of the recent accomplishments of our students. Two of our students have received the prestigious Goldwater Scholarships for 2017, the top undergraduate award in the country for sophomores and juniors in STEM. Another received an honorable mention.
Three more science students and alumni have received Fulbright Awards for the 2017-18 academic year, which fund study abroad and help foster international understanding, an increasingly important skill in a conflict-ridden world. Their work across international borders also supports our strategic goal to build global leaders in science.
Thank you for all you do to help all of our students reach their full potential. Our College is making remarkable progress thanks to your hard work and dedication to finding solutions and better, stronger paths forward in student success.
This is a particularly long issue of our newsletter because there have been so many awards, news, community-building events and outreach, research funding and breakthroughs. Please take a few minutes to read the good news happening across our College by your colleagues and our students. You each have a lot to be proud of, and I am so proud of you.
I want to draw your attention to the Budget section. The state budget as well as OSU and our College's budget situation are top of mind to us all. I urge you to read the updates below for the latest information. I will share updates to keep you informed on budget matters. We face some tough challenges and must make some hard decisions, but rest assured that the "sky is not falling." We remain committed to faculty and student success and will continue hiring that is in progress.
I am pleased that OSU is committed to keeping tuition increases (and student debt load) to a minimum, to providing salary increases and to setting aside funds for deferred maintenance (Cordley Hall is at the top of the list!) even during challenging these budget times.
In times like these, we are even more grateful for our loyal alumni and friends who continue to invest in our faculty and student success, and we appreciate the allies in our OneScience Community who share news of our research and the public value of science. I am pleased to report that we have raised more than $4.1 million (120% of our fundraising goal for the year) in gifts, pledges and private grants. Thanks to many of you who conduct community outreach and engage our friends and supporters who are central to our success.
Other good news:  Even with budget challenges, we are renovating the Mathematics and Statistics Learning Center and the Science Success Center in Kidder Hall. We are resolved to making our OneScience community a welcoming and inclusive place for students and faculty, especially those from diverse backgrounds, and to supporting the success of all members of our community.
I am very proud of the work you do every day and of all your accomplishments. I look forward to working with you as we strengthen Science at Oregon State through excellence, diversity and harmony. No matter what, we will continue to be a global leader in scientific research and scholarship, while excelling in outreach, engagement, economic development and increased visibility.
Last but not least, I urge you to apply to three new faculty excellence awards created this year (see News section).  The deadline for two of them is June 2. Our College is committed to investing in faculty success and recognition.
Thank you for working to make our College the best place for Science.
Sastry
Sastry G. Pantula
Dean, College of Science
All the news that's fit to print.
Please submit news, honors and awards, discoveries, events, research funding, student news, alumni updates and more. Just use this handy ONLINE FORM by the 5th day of each month. We will make every effort to publish this newsletter on the 15th of each month.

Research Highlights
Read more of the most recent research happening in our College online.
Population biologist Ben Dalziel's latest study reveals that nearly 3 percent of people infected with Ebola in the 2014-15 epidemic in West Africa were "super spreaders" who were responsible for infecting 61% of all cases.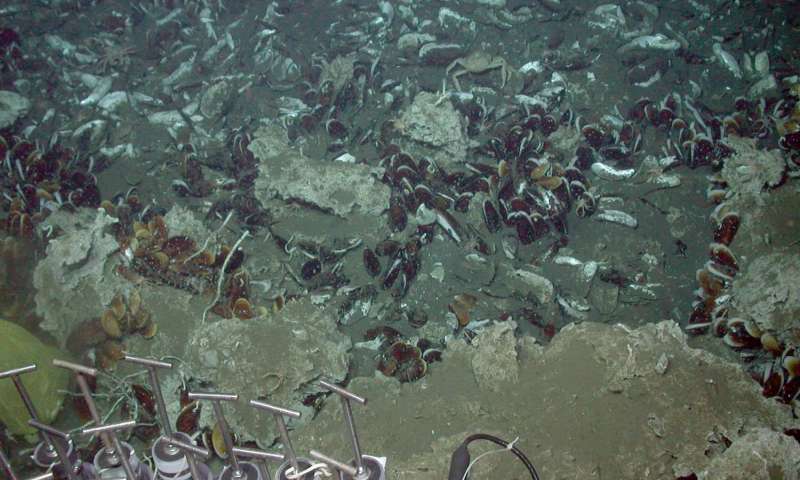 Methane seep environments such as this (from 1000m deep) capture carbon dioxide while consuming methane, a potent greenhouse gas. Their activities are critical to a healthy planet. Credit: Andrew Thurber, Oregon State University
Microbiologist Bruce Geller and his team developed a new weapon in the battle against antibiotic-resistant germs—a molecule that neutralizes the bugs' ability to destroy the antibiotic. The discovery, which may eventually offer a solution to our looming health crisis, has generated worldwide attention and media coverage. Junior Christine Moody was part of the team and was listed as a co-author on her first publication.
Microbiologist Andrew Thurber has co-authored a study which warns that warming temperatures could trigger mass extinctions in the deep ocean floor and sweeping ecological change by the year 2100.
Chemist David Xiulei Ji and graduate student Xingfeng Wang developed a new type of hydronium-ion battery with promise for sustainable, high-power energy storage.
Microbiologist Mahfuzur Sarker and graduate student Maryam Alnoman discovered that Chitosan, a natural carbohydrate derived from crustacean shells, shows potential as an antidote against a food poisoning bacterium.
Biologists Mark Novak, Bruce Menge, Kirsten Grorud-Colvert and graduate students were part of a collaboration that showed that the need for long-term ecological and environmental studies – known as LTEES – far outstrips the amount of funding awarded for it.

Tiny floating particles can grow semi-solid around pollutants, allowing them to last longer and travel much farther than what global climate models predicted.
Environmental chemist Staci Simonich and a team of researchers published results of a new, way of looking at how pollutants travel through the atmosphere, quadrupling the estimate of global lung cancer risk from a pollutant caused by combustion.
Biochemist Ryan Mehl's new technology for attaching proteins to surfaces has many life-changing applications, from capturing carbon dioxide at the point of combustion to better medical and environmental sensors and antibody drugs.
The first fossilized red blood cells from a mammal from 20-30 million years ago, were discovered, preserved on a tick that was fossilized in amber. The blood cells were infected by Babesia microti, a parasite that still plagues humans and other animals today. The discovery was published by biologist George Poinar in the Journal of Medical Entomology.
Entomologist George Poinar has also identified evidence of the oldest orchid fossil ever discovered, from 45-55 million years ago, shattering the previous record. The evidence was found in the form of pollinaria trapped in a fossilized gnat's hind leg trapped in Baltic amber.
Stephen Giovannoni and Zach Landry, his former graduate student, published new research that explains how an ancient group of cells in the dark ocean wrings the last bit of energy from carbon molecules resistant to breakdown. They collaborated with an international team of scientists at the Bigelow Laboratory for Ocean Sciences, the National Biodefense Analysis and Countermeasures Center, the University of Vienna, and Utrecht University.
Biochemist Viviana Perez has discovered a second anti-aging mechanism of the compound rapamycin, a discovery which could provide a new therapeutic approach to neurologic disease, including Alzheimer's. Rapamycin acts directly to improve the toxic, inflammatory environment created by aging cells, helping to protect neurons from damage.
Research funding
With momentum strong in research funding, we are looking to outpacing last year's funding. This fiscal year, we have brought in $16.18M in new awards as of May 24, 2017, led by the Departments of Integrative Biology – $5.73M, Chemistry - $5.47M and Microbiology - $2.10M. The Center for Sustainable Materials Chemistry renewal brought in more than $3M from NSF. Keep up the excellent work!
Congratulations to the following faculty! Below is a sampling of recent awards! Note: This is not the total amount of the award, but rather the amount awarded in 2017.
Elisar Barbar received $225K, part of her continuing five-year NSF grant, for the project "Structural Basis of Phosphorylation and Alternative Splicing in Dynein Regulation."
Mary Beiseigel was awarded a five-year $154K NSF grant for her project "Collaborative Research: A National Consortium for Synergistic Undergraduate Mathematics via Multi-Institutional Interdisciplinary Teaching Partnerships."
Rich Carter and Co-PI Ha-Yeon Cheong won a three-year $161K NSF grant for their project on "Innovative Approaches to Macrocyclic Natural Products."
Bruce Geller was awarded an additional one-year $204K grant from the University of Texas – Southwestern for his project on "Circumventing Antibiotic Resistance with Novel Gene-Silencing Therapeutics."
Matthew Graham was awarded a $349K grant from Apple, Inc.
Douglas Keszler was awarded a renewal NSF grant of $3.1M for the Center for Sustainable Materials Chemistry.
Douglas Keszler was awarded a $250K grant from the Oregon Employment Department.
Elise Lockwood received $293K as part of an NSF CAREER grant for her project "CAREER: Developing Undergraduate Combinatorial Curriculum In Computational Settings."
Walter Loveland received two Department of Energy grants, one for $125K and one for $155K.
David Lytle received $347K from a four-year grant from the U.S. Army.
Bruce Menge was awarded a two-year, $2M grant from the David and Lucile Packard Foundation to support the work of the Partnership for Interdisciplinary Studies of Coastal Oceans (PISCO).
Martin Schuster (PI) received a three-year $569K NSF grant for his project "Intra- and interspecific siderophore cheating in bacteria."
Javier Rojo transferred his three-year, $346K NSF grant for "REU Site: Research for Undergraduates Summer Institute of Statistics" to Oregon State University.
Virginia M. Weis (PI) was awarded a three-year, $1.88M NSF grant for her project, entitled "IOS EDGE: Functional-genomics tools for Cnidarian-dinoflagellate symbiosis." This collaborative grant also awards funding to Florida International University, Stanford and the Carnegie Institution.

National Honors
To alumna mathematician Mary Beisiegel (BS '96) for receiving the national award for distinguished teaching from the Mathematical Association of America! The award recognizes excellence in teaching mathematics which is shown to have influence beyond her own classroom.
To mathematician Juan Restrepo received the Society for Industrial and Applied Mathematics (SIAM) Geosciences Career Prize for his impressive and extensive leadership in mathematical modeling and numerical simulation of oceanography and climate dynamics, which has had substantial impact in the field of computational geosciences.
To marine ecologist and Distinguished Professor Jane Lubchenco for receiving the 2016 Linus Pauling Legacy Award! Presented biannually, the Linus Pauling Legacy Award recognizes outstanding achievement in a subject of interest to the famous scientist and two-time Nobel laureate.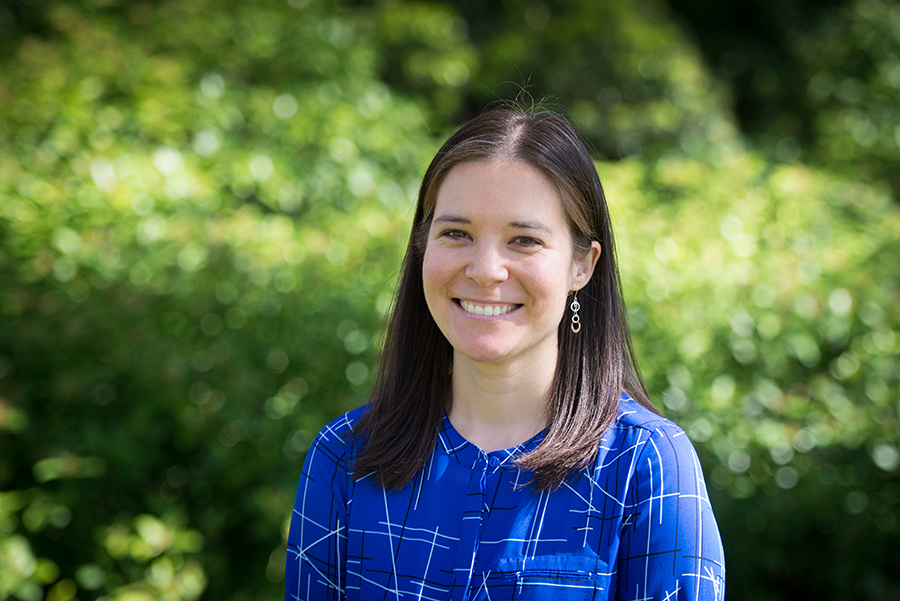 Elise Lockwood, CAREER Award recipient
To mathematician Elise Lockwood for receiving a five-year $800K National Science Foundation CAREER Award, NSF's most prestigious award for early career faculty with the potential to serve as academic role models in research and education and to lead advances in the mission of their department or organization.
To Richard Nafshun for receiving the 2017 Outstanding Educator in Science and Mathematics in Higher Education Award by the Oregon Academy of Science. The award promotes merit in education by recognizing faculty who have made an extraordinary impact in their fields.
Congratulations to senior chemistry instructor Daniel Myles, who has won the very first Oregon State Phi Beta Kappa Society award for Best University Instructor! The award is given to an exemplary faculty member who excels in creating an environment conducive to quality learning and accommodates a variety of learning styles. Our Facebook post about Myles' award generated much enthusiasm with many comments like this one from former students:  "He was the only reason I enjoyed and got through organic chemistry! Definitely one of my favorite teachers."
Congratulations also to Kevin Ahern for winning the Phi Beta Kappa Best Mentor/Advisor award and to Sastry Pantula and Jane Lubchenco for being elected as Phi Beta Kappa Chapter Honorary Members.
To mathematics instructor Sara Clark who received a Digital Learning Innovation Award from the Online Learning Consortium, the leading professional organization devoted to advancing quality in online learning, funded by the Bill and Melinda Gates Foundation. Clark has dramatically improved student success in developmental math by replacing the traditional classroom model with an online adaptive learning program.
Student Honors
To TWO 2017 Goldwater Scholars, the first at OSU since 2013 and both from our College: Gregory "Mirek" Brandt, a mathematics and physics junior, and True Gibson, an honors biochemistry and biophysics junior. Not only do the two share a love of science, but they have been childhood friends. Only 240 Goldwater Scholars were selected based on academic merit in STEM fields from among 2,000 colleges and universities nationwide.
To Delaney Smith, an honors biochemistry and biophysics sophomore, for earning a Goldwater Scholar Honorable Mention!
To three science students and alumni who received prestigious Fulbright Awards for the 2017-2018 academic year: Biochemistry and biophysics alumna Lynda Bradley ('15), biochemistry and biophysics senior Arianna Kahler-Quesada and integrative biology doctoral student Ian Morelan. Arianna also received an Honorable Mention as an OSU nominee for the national Goldwater Scholarship.
To the 26 science graduate students who won 2017 Ford Fellowships! The Ford Foundation seeks to increase the diversity of the nation's college and university faculties by increasing their ethnic and racial diversity.
To the current and former graduate students who won NSF Graduate Research Fellowship Program awards: Rebecca Lucia Maher (microbiology), David Lynn Hubert , Neal Tyler McFadden and Claire Couch (all biology) and Victoria Klein (chemistry).
To Miles Taylor and Sean Tachibana, second-year chemistry graduate students, for winning 2017 NSF East Asia and Pacific Summer Institutes Fellowships! Miles will travel to New Zealand and Sean to Tokyo. 
Thanks to the generous support of our alumni and friends, the College was able to support 31 students this summer with a total of $170,500 in SURE Science scholarships. Each SURE Science scholar will receive $5,500 to conduct summer research across campus to make meaningful, scholarly connections early in their academic careers and help define their professional career paths.

Physics graduate student Bethany Matthews recently won a U.S. Department of Energy Office of Science Graduate Student Research Award. The prestigious award will fund her work on the physics of materials at the National Renewable Energy Laboratory in Golden, Colorado, this summer and fall.
Nicole Hams, a biochemistry and biophysics graduate student, was selected as the 2017-2018 National Western Regional Representative to the National Black Graduate Student Association.
Chemistry graduate students Miles Taylor and Sean Tachibana have received 2017 NSF's East Asia and Pacific Summer Institutes (EAPSI) Fellowships. Miles will conduct research at School of Chemical and Physical Sciences at Victoria University of Wellington in New Zealand. Sean will perform research at The University of Tokyo. Both are students in Chong Fang's Lab.
OSU Honors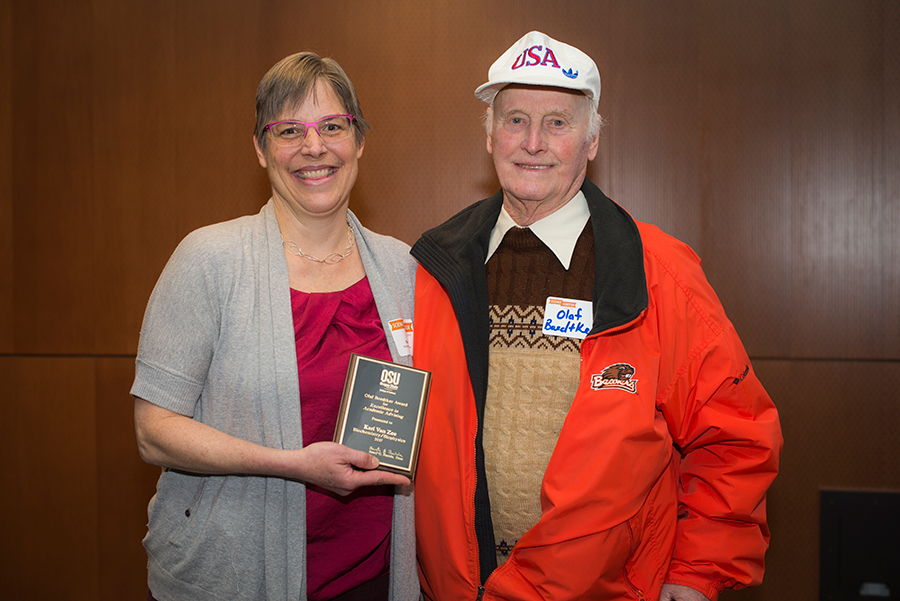 Olaf Boedtker advising award winner Kari Van Zee and former head advisor Olaf Boedtker
To Kari van Zee, biochemistry and biophysics; Juliann Moore and Sarah Emerson, statistics; and Bill Bogley, mathematics: the winners of the 2017 College of Science Teaching and Advising Awards!

Staci Simonich was interviewed on NPR about the dangers of drifting air pollutants. She also wrote an editorial in the journal Environmental Science & Technology Letters about how the current administration's seeming lack of concern for scientific evidence poses a challenge to environmental management.
Distinguished professor Jane Lubchenco spoke hopefully about incentive-based solutions to address the myriad environmental challenges facing the world's oceans at the annual meeting of the American Association for the Advancement of Science. She also wrote an inspiring editorial calling scientists to rise to the occasion in a "post-truth world" and engage the public in open, honest dialogue.
A recent SPARK event, "A Call to Life," affirming "the wonder and worth of the Earth's wild lives and our responsibility to save them from extinction," sponsored by the School of Arts and Communication, featured several COS faculty and students.  Biologists David Maddison and Virginia Weis (and members of her lab) and Ph.D. candidate Kelsey Kean from the Karplus lab participated in a lobby fair, and Mark Hixon was a presenter on a panel.
Francis Chan spoke recently on how marine reserves and local policy efforts are helping to address the challenges of ocean acidification at a public lecture in Manzanita hosted by the Lower Nehalem Watershed Council and Friends of Cape Falcon Marine Reserve.

Budget update: The sky is not falling
As you know, the State of Oregon and public institutions statewide are facing difficult budget times.  The State of Oregon faces close to a $1.5 billion deficit as public employee benefit commitments; program spending and other budgetary items far outpace public revenues. The continuing budget resolution at the federal level, however, brings good news, as it adds new dollars for research.  We are currently working with our state and federal representatives to make the case for strong support of education and research, as we act to counter the President's proposed budget cuts to NIH, NSF and other funding agencies.
Our students also face tremendous burdens of increased tuition costs and student debt caused by enrollment increases outpacing State support. As Valuepenguin.com reports: "In aggregate terms, the total student loan debt outstanding in the country was $346 billion in 2004, and has ballooned to $1.23 trillion as of late 2015. This represents a more than 250% increase in total student loan debt in just over 10 years."
In Oregon, 63 percent of graduates carry an average student debt of $26,697, which is nearly identical to the national student debt of $26,700. Also, according to an editorial in The New York Times, "The cost of a four-year college education, adjusted for inflation, is two and half times as much as it was in the 1978-79 school year, while median family income has increased only 20 percent." This cost burden and debt load certainly concerns all of us.
Universities nationally face significant challenges, and OSU and Oregon's six other public universities are no exception. Given the current state budget and student concerns, OSU elected to limit tuition increases to less than five percent. with an increase of four percent for Oregon resident undergraduate students and two percent for non-resident undergraduates on the Corvallis campus.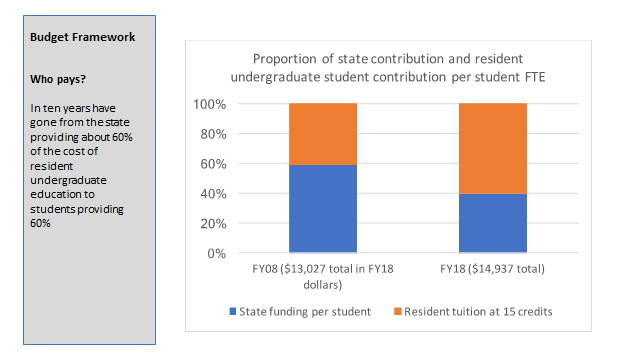 Source: Sherm Bloomer, OSU Office of Finance and Administration
The Governor's Recommended Budget for the 2017-19 biennium essentially keeps spending for Oregon's public universities flat, even as mandated cost increases for employee benefits and other commitments continue to rise. The state's budget for higher education is still under discussion until June.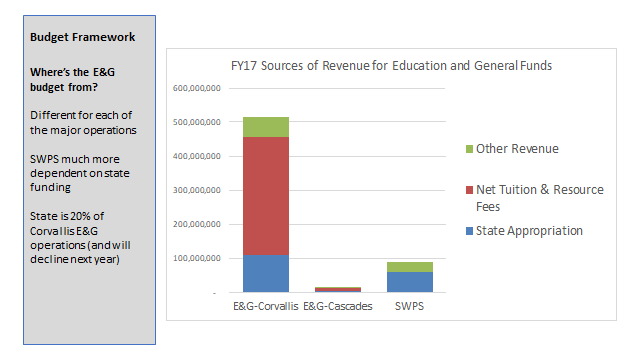 Source: Sherm Bloomer, OSU Office of Finance and Administration
As a result, OSU faces a projected $20 million shortfall. I understand from recent discussions with the Provost's Office and the Office of Finance and Administration that central administration will absorb roughly two-thirds of the anticipated budget cuts to minimize negative impacts on OSU's instructional and research functions. Colleges and units will absorb the remaining one-third. The College of Science expects to receive FY18 estimates of revenues and projected expenses in the coming weeks; they will show a widening college budget deficit—above the $900K deficit for FY17. We must reduce this deficit.   
On a positive note, the University's general budget for next year includes increases for salaries and benefits. It affirms a commitment to maintain a competitive compensation package for our faculty, staff, and graduate assistants. The budget also supports commitments to colleges and departments, and strategic commitments to critical needs (such as major building repairs, some in our college). The plan creates for OSU a $20 million shortfall. Therefore, the University must find ways to increase revenue, reduce spending, or both. All Education and General revenue sources—Corvallis tuition, Ecampus tuition, state dollars, F&A recovery, etc.—are considered in the projections.
I offer my best explanation below to clarify how we will approach OSU's revenue shortfall. I want to assure you that the sky is not falling.
Even though we are currently operating with a budget deficit, we will end FY17 with a positive fund balance, since we have about $4M dollars in 201 accounts. We will continue to make progress toward our strategic goals focused on student and faculty success.
We are developing a three-year plan to increase our revenue and decrease expenses, so that we eliminate the deficit, continue to grow strategically and will be in a much stronger financial position. 
Our College is scrutinizing spending closely, including hires, services and supplies, purchases, and other expenditures. We are committed to our faculty, as you are key to our success.
We are primarily focused on expanding revenue through student retention; increased credit hours, Ecampus and summer offerings; and grant funding and private philanthropy/fundraising. Faculty play an especially important role in student retention. We appreciate your help to keep students in the College, as we guide them through our majors to their chosen career paths.
We are investing in student and faculty success to enhance our reputation, increase student access as part of our land-grant mission and augment our revenue. The College is making specific investments in the following as well as in many others areas:
Start-up funds for new faculty
Marine Studies Initiative
Data Analytics program
Grant proposal submission support from the College
Early-career proposal writing workshop for faculty
Facilities, such as NMR, Mass Spec, X-ray, MaSC, Electron Microscropy
Matching funds for OSU's Research Equipment Reserve Funds (RERF) and Murdock grants
Conferences
Student international travel
Student career and professional development
Advisors
Recruitment marketing to increase size of entering class
Alumni communications and outreach to increase philanthropy
We must reduce costs wherever possible. At the College level, we will make the following cost reductions:
Decrease the number of events that we host and organize. This year, we had additional events, because of SPARK: A yearlong celebration of the arts + science that spark innovation at OSU. We hosted several terrific events that brought much visibility to our outstanding research and teaching.
Limit some rehiring as personnel depart and retire.
Consider efficiencies in our graduate student programs
These actions will produce cost savings in payroll and benefits, the single largest component of our budget.
New College of Science budget model
We are committed, as is the university, to protecting the quality of our research and teaching programs. Our revenue is generated from the work of our faculty in teaching, scholarship, research, and outreach and engagement. As the university works to employ a hybrid budget model, we have implemented our own version of the model to recognize and reward student credit hours, degrees awarded, and entrepreneurial efforts. Key benefits of our College's new budget model include:
It keeps us aligned with University goals and opportunities for growth.
It provides very good incentives to generate revenue through ecampus, summer courses and through return on overhead. 
It recognizes that not all departments have the same opportunity to generate lower division credit hours, so it provides a cross subsidy from a common pool of funds. The cross subsidy provides a base level of support that allows each department to fulfill its mission and to enhance its programs. Because we distribute revenues in a transparent way, we see how our collective success depends on the contributions and achievements of all departments and programs.
We face challenges with revenue generation and budget reductions. We will carefully consider the impacts of proposed scenarios and identify the best areas for reinvestment to promote growth. We will propose a path that affirms our commitments to keep OSU affordable for our students and to address macroeconomic trends in higher education. We all need to work together, as we implement programs to enhance student retention and graduation, to reach out to new learners globally through our outstanding ecampus programs and to enhance our research programs.
I am optimistic that our investments in professional and career development opportunities for our students, increased mentoring and advising, and investments to enhance faculty success through proposal and grant support, conferences and awards will pay off. Together, we will continue to transform student experiences, lead in research, and strengthen the impact of the College across the campus, the nation and the world. 

Congratulations to these 18 faculty who received promotions and/or tenure for the 2016-17 academic year! The success of our faculty is essential to the success of our students. We are proud of you.
Crayola announces that YImMn blue, the pigment discovered by chemist Mas Subramanian, is the inspiration for Crayola's new crayon color! The surprise announcement, made at OSU's "Colorful World of Pigments" event on May 5, has generated more than half a billion media impressions, from Forbes to USA Today, NPR, Fortune, New York Times, and other media around the world. 
Watch the video of Crayola's announcement.
New Faces
We welcome Gabrielle James as Special Assistant in the College of Science. Gabrielle joins us from Willamette University where she worked in the Departments of Chemistry and Biology. She will support the Associate Deans and Directors in the College.
I am pleased to announce that Dr. Matt Andrews will serve as interim head of the Department of Chemistry, effective immediately. His term is expected to end by December 31, 2017, but our goal is to identify a permanent Department Head internally before then. Matt will continue to work with the Chemistry Department and with the executive committee. I appreciate his willingness to lead the Department on an interim basis.
I very much appreciate the Department's interest in working together to identify a strong leader for Chemistry. Currently, Matt and the executive committee in Chemistry are meeting to identify options for new leadership and opportunities that will move the department forward. I am very hopeful that through these efforts, we will find a way forward together. Special thanks to Dr. Kevin Gable for his help as the acting department head during the past several weeks and to the ongoing work of the executive committee.
New College of Science Faculty Awards
Science faculty are encouraged to apply for these new awards. The College is deeply committed to supporting your success. Here's how to apply.
Impact Award
This award of $10,000 seeds an early-stage research or innovation effort that advances the College of Science strategic goals and addresses a pressing, 21st century issue. At least two COS Departments must be represented in an application. Deadline: June 2, 2017.

Dean's Early Career Impact Award
This award of $1,000 recognizes exceptional achievement in research and education by an early-career tenure-stream faculty member in the College of Science. Nominees must be no more than four years beyond the tenure date. Deadline: June 2, 2017.
Faculty Scholars for Teaching Excellence Award
This new endowed, 3-year position supports excellent teaching and learning innovation that advances our retention and completion goals through strategic use of new endowed positions. Faculty Scholars receive $12,500 per year. All instructors and assistant/associate/full professors are encouraged to apply. Due date TBD.

Save the Date
It's been a busy spring! It was wonderful to see many of you at our recent events. Please mark your calendars for a few more as the academic year draws to a close and the summer begins.
May 31: The Robert M. Storm Distinguished Lecture featuring Dr. Harry W. Greene, Professor Emeritus of Ecology and Evolutionary Biology at Cornell University. He will present a talk on " Natural History and Values: Why Should We Care About Nature?" LaSells Stewart Center, 6 P.M. Reception, 7 P.M. Lecture.
June 6: Annual College of Science Scholarship Dessert, Alumni Center Ballroom.
June 7: 4th annual Chemistry is Awesome, or C.I.A., Party welcomes any current student or those who have ever taken a chemistry class, including alumni, faculty and staff. Chemistry demos, food, music, prizes, raffle and even poster session. Gilbert courtyard, 5 - 7 p.m.

June 9: Science Fair and Study Break by the Science Student Advisory Council, 11 am - 2 pm. Come out and support our students with science games, demos, info and career boths and the pink truck with Voodoo Doughnuts. Quad between Kidder and Valley Library.
June 9: The Department of Chemistry's 2017 James D. White Lecture features Mohammed Movassaghi from the Massachusettes Institute of Technology, who will discuss "Complex Alkaloid Total Synthesis." Linus Pauling Science Center 402, 3:00 p.m.

June 16: College of Science Graduation Reception, on the quad in front of Kidder. Come out to support our new graduates and their proud parents.
Aug 20-22: Solar Eclipse Celebration: As a space grant university, OSU is hosting a three-day eclipse celebration!
Past events
Robert Mason gave a wonderful, informative 2017 F.A. Gilfillan Memorial Lecture, "The Garden of Eden revisited: What we can learn from snakes, sex and scents," on April 3. Watch a video of the lecture here.
Science Worth Spreading, a morning of powerful 7-minute science talks on Earth Day, April 22, presented by OSU scientists, mathematicians and policy experts. If you missed this event, watch the video here.
Sylvester James "Jim" Gates, Jr. presented the College's Spring Distinguished Lecture, "Why diversity makes for excellent science" on April 27.
The College sponsored OSU Juntos Family Day, an event that brings Latino high school students and their families together to motivate students to continue their education after high school. Special thanks to our faculty and their labs who made the event successful and meaningful for more than 1,150 people from 23 communities across the state: Viviana Perez, Andy Karplus, Chong Fang, Virginia Weis, Ryan Mehl and Michael Freitag.Thank you!
May 2-3 we hosted the always popular Discovery Days, our outreach program that immerses students in the rich and diverse worlds of science through hands on experiences and demonstrations. This year we welcomed more than 1,500 elementary school children.
Spring Family Weekend , co-hosted for the first time by The College of Science and the Honors College on May 5-6, included many special events including a brunch, art and talent show, and…
The Colorful World of Pigments a celebration of OSU's new pigment, YlnMN Blue and its innovative applications, from heat-resistant paint to a new blue Crayola crayon featured a panel of experts from Harvard Arts Museum, The Shepherd Color Co., HGTV, Nike and Crayola. See news section.
Ed Yong gave a fascinating talk based on his New York Times best-selling book "I Contain Multitudes" at the inaugural public lecture of the OSU Microbiome Initiative on May 11. There was record-breaking attendance at this event of more than 300!
Mi Familia Weekend welcomed Hispanic students and their families to experience campus and enjoy special events during May 12-13. Our College produced a welcome video in Spanish featuring biochemist Viviana Perez – watch here.
April 13–May 27: MICROBIOMES: TO SEE THE UNSEEN EXHIBIT. Opening Reception, April 20, 4–8 p.m. The Corvallis Art Center. A groundbreaking new exhibit brings art into one of the hottest zones of current scientific research, namely: how do microbiota influence life within ourselves and on our planet?
May 15-19: Da Vinci Days, Corvallis's premier community science festival, featured a series of five Science, Tecnology, Engineering, Arts and mathematics (STEAM) events, including talks by biologist Benjamin Dalziel on May 15 and mathematician Tom Dick on May 19.