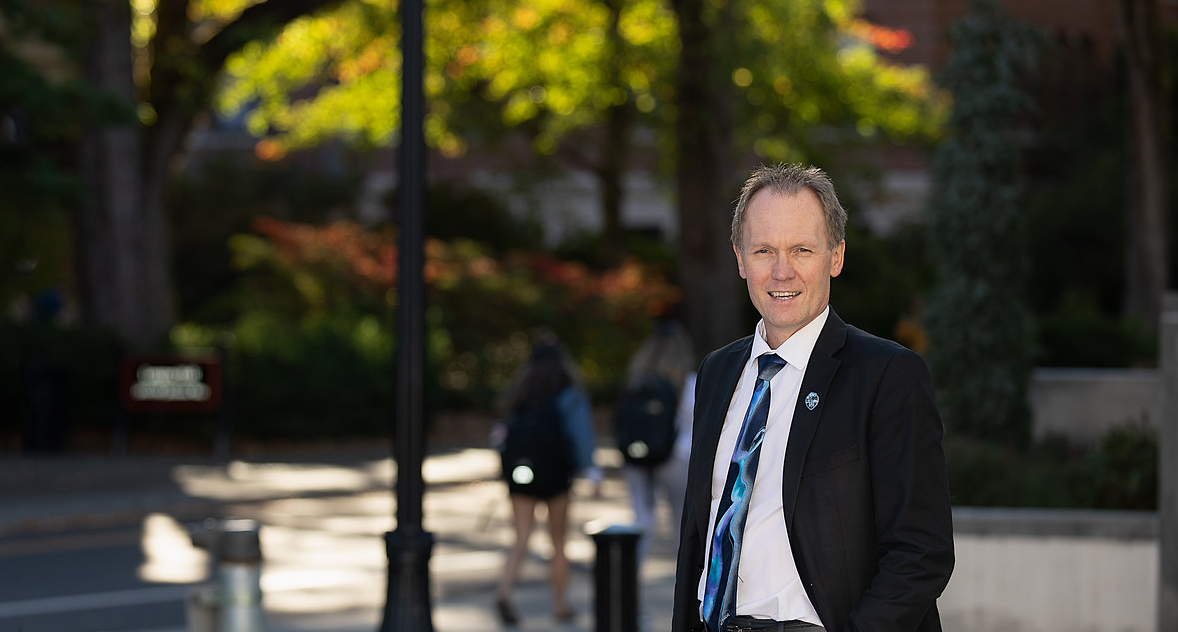 Words from
the Dean
March 2021
Dear Colleagues,
I would like to update you on our investments in research and some of the returns on those investments, as well as discuss further investments next year. Beginning with the FY19 budget, I committed to investing $800K per year of our education and general funds in the research mission – setting it aside in a Research Reserve Fund. The Research Reserve is in addition to significant investments from the Research Office, from gift funds, from the departments, and in core support for facilities such as nuclear magnetic resonance and electron microscopy (check out our new Centers and Facilities webpage!). The other thing I would like to say at the outset is that this investment has been possible because of our increase in Ecampus revenue and support from the Provost.
In the three fiscal years since I made the commitment – FY19, 20, and 21 – we have put $2.64M into the Research Reserve. This is a little more than the $800K per year mentioned above because I have added savings and windfalls from unspent funds. Of that, we have spent or committed all of it. The total is a little more than $2.64M, which I will cover with reserves. Note that in most categories below, except for the College of Science Research and Innovation Seed (SciRIS) Program, there are also additional sources of support such as the Research Office, department  contributions, and gifts. In some cases, those other sources of support exceed those of the Research Reserve.
| | |
| --- | --- |
| Research Reserve category | Amount committed FY 19–21 |
| Startup for new faculty | $1,138,000 |
| Equipment not included in startup | $479,070 |
| Lab renovations | $129,774 |
| Grant proposal and faculty support | $180,818 |
| SciRIS – all stages and SciRIS-ii | $763,000 |
| Total | $2,720,662 |
In this month's newsletter, you will see that we are funding three new SciRIS-ii PI's. In addition, we are also funding two proposals from the Disease Mechanism and Prevention Fund. This year, we funded all SciRIS-ii proposals submitted – a 100% success rate. We are also approaching a milestone – by this spring, in about 2.5 years of operation, SciRIS will have funded more than 25 faculty (several more than once, and spread across all departments) with more than $750K in funding (including funds set aside for the April RFP, see next sentence). 
By the way, proposals for the SciRIS stages 2 and 3 funding are due April 15. Instructions are on the internal SciRIS webpage.
These investments are paying off. For example, Chris Beaudry's SciRIS project (funded from Stage 1 through Stage 3) resulted in an R01 grant from NIH to study "Cascade reactions for biologically active natural products."
In a 1945 publication that changed the history of science, Vannevar Bush wrote, "New products, new industries, and more jobs require additions to the laws of nature…. This essential, new knowledge can be obtained only through basic scientific research." To do our part in advancing the "endless frontier" Bush described and that continues to animate science, we plan to make additional investments in research in the next fiscal year. We would like to do the following:
Open a number of tenure-track faculty searches;
Increase the Research Reserve to $1M per year;
Make facilities investments; and
Add personnel to support research proposal development and manage our facilities. 
Naturally, how many of these we can do is budget-dependent, and will be possible only if enrollments, Ecampus revenue and state support are adequate. Meanwhile, I, along with President King Alexander, Provost Ed Feser, and Vice President Irem Tumer, will continue to stress the importance of research to donors, state and federal officials, and the public.
Roy Haggerty
Dean, College of Science
All the news that's fit to print.
Please submit news, honors and awards, discoveries, events, research funding, student news, alumni updates and more. Just use this handy ONLINE FORM by the 20th of each month.

Research Highlights
Biophysicist Bo Sun's research, published in PNAS, has revealed a crucial mechanism behind one of humankind's most deadly physiological processes: the movement of malignant cells from one part of the body to another.
Research Funding
Biochemist Ryan Mehl received a $323K grant from the National Institutes of Health for a project entitled "Development of an improved core technology for efficient genetic code expansion in biomedical research."
Epidemiologist Michael Blouin received a $55K grant from Western University of Health Sciences for a grant entitled "Identifying schistosomiasis resistance genes of snail vectors in hotspot transmission zones: Translating from laboratory models to the field."
Integrative biology postdoctoral researcher James Fox received a $140K grant from NASA for a project entitled "Global assessment of climate driven trends in marine primary productivity.
Biochemist Maria Franco received a $319K grant from the National Institutes of Health for a project entitled "Redox Signaling in Neurofibromatosis."
Five faculty members received funding from the College of Science SciRIS and Disease Prevention Mechanism funds:
Physicist Oksana Ostroverkhova will work with Pallavi Dhagat from the College of Engineering on a project entitled "Understanding properties of quantum materials for spintronics and magnon valleytronics."
Chemist Chong Fang, along with Sheel Dodani from the Department of Chemistry and Biochemistry at The University of Texas at Dallas, will apply cutting-edge spectroscopic techniques to reveal the working mechanisms of the jellyfish Phialidium sp. (phiYFP), which has a fluorescent yellow protein with the potential to be developed into biosensors.
Chemist Kyriakos Stylianou will explore the sure of novel metal-organic frameworks to detect and remove chemical contaminants from drinking water. 
Chemist Marilyn Mackiewicz received funding from the Disease Prevention Fund (DPF) to carry forward her project on improving contrast agents in imaging techniques to screen and diagnose breast cancer.
Biochemist Adrian Gombart received a DPF award to investigate how anti-infection agents can influence Alzheimer's disease amid a growing interest in the possible role of infections in causing Alzheimer's.
Learn more about the SciRIS and DPF programs.
Research Proposal Support
You can find funding opportunities on ECOS. To access a suite of tools and resources available to faculty, visit the College of Science Proposal Support webpage.

Phyllospadix scouleri, Scouler's surfgrass, is native to the Western coastal areas
Global Honors
Mathematics alumnus Michael Waterman (B.S. '64, M.S. '66) received the William Benter Prize in Applied Mathematics. Waterman, a pioneer in applying mathematics to DNA sequencing and a founding figure of the Human Genome Project, is an emeritus university professor at the University of Southern California and distinguished research professor at the University of Virginia.
College Honors
Congratulations to biology senior Lily Miksell for winning the Alexei Lubchenco Menge Undergraduate Research Fellowship! Lily investigated the coexistence of mussels and surfgrass amid sea star density on the Oregon coast.
The first 360-degree panorama taken by Mastcam-Z, a zoomable pair of cameras aboard NASA's Perseverance Mars rover.
PBS recognized the vital contributions of Briony Horgan (Physics '05) on the science team that launched the NASA Mars rover Perseverance! The Mars rover traveled to Jezero Crater, which preserves evidence of a time when rivers flowed on Mars. Horgan, associate professor of planetary sciences at Purdue University, led a study of the mineralogy of the site that produced results that contributed to its selection. Horgan, who did her senior thesis in the lab of Distinguished Professor of Physics Janet Tate, will give a Physics colloquium talk April 5.
The New York Times announced the availability of YInMn Blue, discovered by Professor of chemistry Mas Subramanian, to artists as a paint and for commercial use on February 5. The pigment also has a home in the archive of the Forbes Pigment Collection at Harvard University.
Microbiology Ph.D. student Corbin Schuster's profile was published on the National Institutes of Health Office of Research Infrastructure Programs (ORIP) website. Schuster works in Professor Michael Kent's lab on zebrafish diseases and is supported by NIH ORIP's Research Supplements to Promote Diversity in Health-Related Research connected with Kent's NIH grant.
Biochemist Adrian Gombart was interviewed by WBBM Radio and Fox 32 Chicago to discuss findings from his study focusing on the apparent link between Vitamin D deficiency and COVID-19 deaths.
Biologist Sally Hacker's book Ecology was selected to be featured at one of two upcoming OSU Authors and Editors recognition events hosted by OSU Provost Ed Feser.

Volunteers for TRACE Redmond
Faced with challenges created by the pandemic, some College of Science lab classes have found creative and effective ways to continue in-person instruction this year. Read about how they are doing it.
New chemistry Assistant Professor Tim Zuehlsdorff relies on supercomputers to uncover the patterns in data that experimental scientists might ignore.
Meet some of our talented science alumni through the latest installments of the "Meet a Science Grad" series. Featured this month:
Samantha Lewis, 2008 zoology graduate and assistant professor of cell and developmental biology at the University of California - Berkeley
Scott Rennie, biology graduate and attorney
Drew Haven, physics and engineering physics graudate and R&D development manager for Saint-Goblin Crystals
February 11 was International Day of Women and Girls in Science. We took the opportunity to highlight the contributions of OSU College of Science women, both alumnae and current faculty and students, to the fight against COVID-19. A panel session is planned for March 8 (see events).
The College of Science pre-med program is helping to meet the growing demand for doctors. The COVID-19 pandemic is creating a surging interest in science and medicine, attracting a new generation of students to a career in medicine.  The College of Science has an excellent track record of successfully preparing students for medical school each year.
TRACE Community COVID-19 sampling in Redmond suggested 32 cases per 1,000 residents at the end of January. "This is one of the higher prevalence estimates we've seen in our work with Oregon communities over the past year," said TRACE project leader Ben Dalziel.

Upcoming
International Day of Women Faculty and Alumni Panel
March 8, 5:30-6:30 p.m.
Join us for a panel discussion to learn from extraordinary College of Science alumni and faculty who are at the front lines in the battle against COVID-19. This event will feature faculty members Elisar Barbar and Katie McLaughlin and alumnae Carrie Manore (Ph.D. '11) and Elizanette Lopez (M.S. '20). All of these extraordinary women were featured last month in Impact. Register here.
---
Gilfillan lecture by Michael Blouin (remote)
April 8, 5:30 – 6:30 p.m.
An evolutionary and population geneticist with strong regional and global impact, integrative biology Professor Michael Blouin will present the 2021 F.A. Gilfillan Lecture. His lecture, "What Darwin couldn't imagine: a personal journey through the ever-changing field of evolutionary genetics," will use examples from his 30-year career to show how evolutionary genetics can be applied to practical questions in fields from conservation biology to human health.
---
Provost's Lecture featuring Ibram X. Kendi (remote)
April 14, 5 – 6 p.m.
The Provost's Lecture Series at OSU presents An Evening with Ibram X. Kendi, in Conversation About How to be an Anti-Racist. Acclaimed author of New York Times bestseller How to Be An Anti-Racist, Kendi's newest book is an edited collection, Four Hundred Souls: A Community History of African America, 1619-2019. Kendi is Andrew Mellon Professor in the Humanities at Boston University and the founding director of the BU Center for Antiracist Research. Ibram Kendi's talk is co-sponsored by the College of Science. The event is free and open to the public. Register here.
---
College of Science Awards Ceremony (remote)
April 22, 4:30 – 6 p.m.
We will celebrate our annual Faculty and Staff Awards and Teaching and Advising Awards at one combined ceremony. We also will recognize the contributions of leaders Jerri Bartholomew, Doug Keszler and Virginia Weis.
Recent events
February 23-25
Science Pro. This three-day careers and professional development online event gave students the opportunity to connect with alumni and professionals in science and mathematics careers.
February 9 and 17
Ask Me Anything sessions for biology, biochemistry & biophysics, microbiology and biohealth sciences. These virtual sessions provided prospective students the opportunity to learn more about the College, specific majors and student life. Several College of Science faculty, advisors and students participated as panelists for these sessions.
February 4
Provost's Lecture featuring Dr. Mae C. Jemison, former NASA astronaut and first woman of color in space, entrepreneur, engineer, physician, social scientist and educator.
February 4
The College of Science hosted OSU President F. King Alexander for a discussion of his vision for OSU and what he sees as the College's role in achieving that vision.