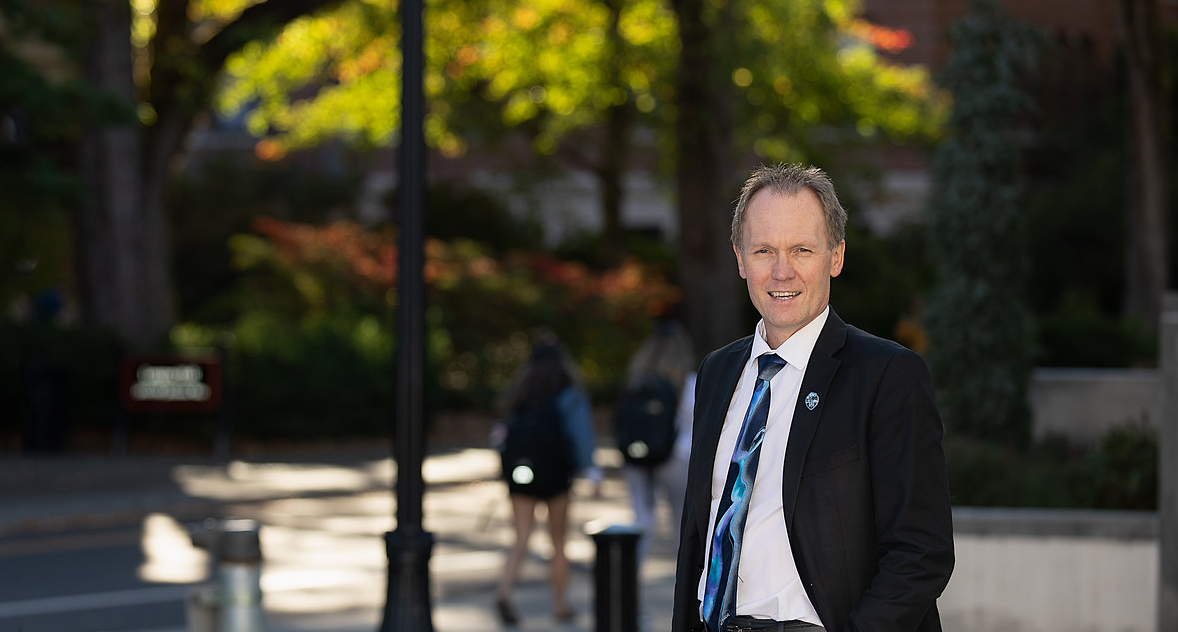 Words from
the Dean
MARCH 2019
Dear colleagues,
While I hope that you are reading this newsletter, I know that many of you are off enjoying spring break. I hope you all had time for some relaxation to recharge before a busy spring term.
As I emphasized last month, it is important for all of us to do everything we can to improve our spring recruitment efforts so we can increase our incoming freshmen class this fall. I appreciate you making the time and giving more personal attention to admitted science students, especially during spring break.
We welcomed dozens of science students and their parents who were visiting campus this week. Our College had the largest number of high-achieving students attend scheduled campus visits during the week—34 students, which includes 10 Honors science students. Last week, we launched our personalized email campaign to admitted students, and I want to thank our advisors for their help responding to inquiries and phone calls from now until May 1. Your role in engaging with students, helping them pay their deposit and registering for orientation is critical.
Thank all of you in advance for helping us increase our enrollment. Research reveals that interaction (or lack thereof) with faculty strongly influences prospective students' perceptions of universities, and therefore affects their decision to enroll. Some of OSU's best successes began with your one-on-one interactions with a student and their parents.
Good news! Mas Subramanian was named an OSU Distinguished Professor of Chemistry and Virginia Weis a Distinguished Professor of Integrated Biology. Please join me in congratulating them on receiving the highest university honor faculty can receive. The College of Science has the most distinguished professors at 22. Newly retired biochemistry professor Kevin Ahern received a Fulbright Award to Malta this fall. I am proud of your many achievements. We are fortunate to have such accomplished faculty.
Please take a minute to look through this newsletter and read the good news and discoveries that are happening across the College for your colleagues as well as our students and alumni. One example among many is chemist Chris Beaudry's new method for making anti-leukemia compounds that until now have only been available via the leaves of an Asian tree.
I look forward to seeing you in spring term. We are finalizing a College of Science Town Hall and reception next term for all faculty and staff where I will be sharing updates on the state of the College, including budget information and other news. I will also be co-facilitating a workshop in spring, "
Confronting Sexism in Science: An Exploration through Case Study
" (date TBD). I hope to see you at one of these events.

Roy Haggerty
Dean, College of Science
All the news that's fit to print.
Please submit news, honors and awards, discoveries, events, research funding, student news, alumni updates and more. Just use this handy ONLINE FORM by the 10th of each month.

Research Highlights
Read more of the most recent research happening on our iMPACT blog site.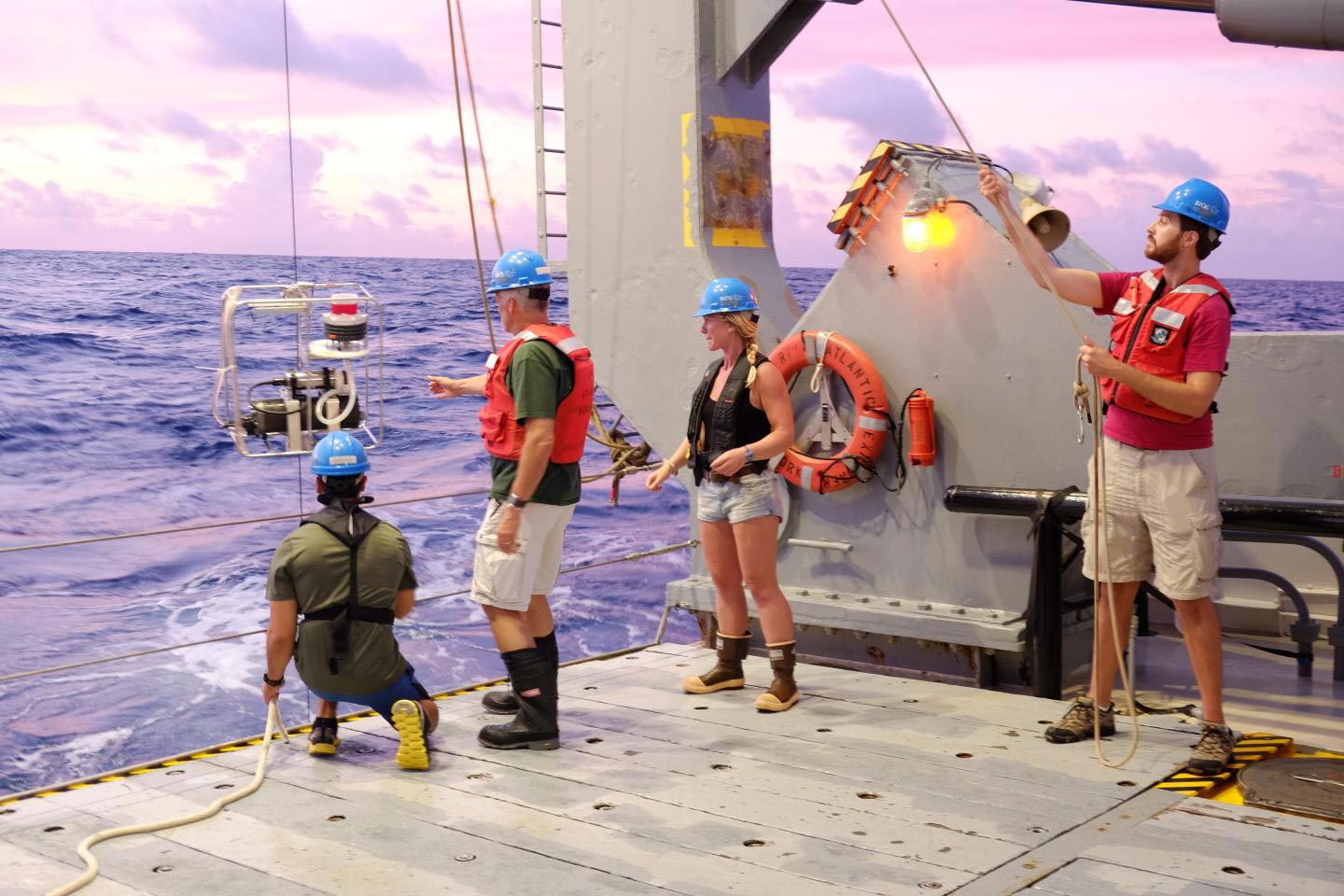 Phytoplankton researchers from Oregon State University on the Sargasso Sea
Microbiologists Kimberly Halsey and Steve Giovannoni discovered a new parasitic cycle, in which ocean bacteria keep phytoplankton on an energy-sapping treadmill of nutrient detoxification, that offers a preview of what further ocean warming will bring.
Chemist Christopher Beaudry patented a method for making anti-leukemia compounds that until now have only been available via an Asian tree that produces them.
Research Funding
Microbiologist Julie Alexander won a $107K award from Alberta Environment and Parks for her project "Tubificid host susceptibility, community competence and whirling disease risk."
Statistician Javier Rojo was granted a $380K three-year renewal from the National Science Foundation for his project, "REU Site: Research for Undergraduates Summer Institute of Statistics at Oregon State University – RUSIS@OSU."
Physicist Davide Lazzati won an $80K NASA grant for his project "Dust from supernovae: formation, resilience to sputtering and explosion, and diffusion in the interstellar medium."
Statistician Lisa Madsen was awarded $49K by the USDA Fish and Wildlife Service for her project "R Package Implementing the Geospatial Population Estimator with Detection Functions."
Research Proposal Support
The College of Science Research and Innovation Seed Program (SciRIS) is currently seeking Stage 2 and 3 proposals. The deadline is April 15, 2019.
Funding opportunities can be found on ECOS. To access a suite of tools and resources available to faculty, visit the College of Science Proposal Support webpage.
Nominations Wanted
The Larry W. Martin & Joyce B. O'Neill Endowed Fellowship, awarded to any graduate student in the College of Science whose research involves computational modeling, is currently seeking nominations. The deadline is April 15, 2019.

Global Honors
Marine biologist Jane Lubchenco was elected to the Pontifical Academy of Sciences (PAS), which traces its roots back to 1603 (Galileo was the leader of the first academy). The PAS is limited to 80 members, appointed by the Pope, elected for their outstanding scientific contributions and high moral character. Congratulations, Jane! She will receive the symbol of her new office from Pope Francis in the fall of 2020 since PAS meets every other year.
Jane Lubchenco is also receiving her 22nd honorary degree, from the University of Antwerp in Belgium, on April 4. While there, she will give students a "master class" in connecting science to policy.
National Honors
Biochemistry and biophysics professor Kevin Ahern, who retired this year and is now a professor emeritus, won a prestigious Fulbright Award to Malta!  
Marine biologist Jane Lubchenco won the inaugural Tethys Award from the Ocean Visions Institute for "her significant achievements as an international leader in science and policy, as well as her untiring efforts to bring a positive outlook on the ocean's future." She will receive her award and deliver the inaugural Tethys Lecture at the Oceans Visions 2019 Summit opening ceremony at Georgia Tech on April 1.
Congratulations! Vanessa Constant, biology doctoral candidate, received the Katherine S. McCarter Graduate Student Policy Award from the Ecological Society of America. The award provides early career ecologists with the opportunity to receive policy and communication training in Washington, D.C., before they meet and interact with members of Congress on Capitol Hill. Vanessa studies coastal ecology and the effects of invasive beachgrasses on coastal dune shape along the Pacific Northwest Coast.
Three College of Science students were named to the Pac-12 Conference Women's Gymnastics All-Academic team this week: Maela Lazaro, junior in BioHealth Sciences; Colette Yamaoka, sophomore in biology; and Mariana Colussi-Pelaez, senior in microbiology, who is one of just two three-time Pac-12 All-Academic First Team selections on this year's academic team.
University Honors
Congratulations to 2019 Distinguished Professor honorees Mas Subramanian and Virginia Weis! The university's highest academic honor recognizes their extraordinary contributions to our university, our state and the world through their scholarship, teaching and mentoring of undergraduate and graduate students. Their contributions to their disciplines advance OSU's land grant mission through their service, outreach and engagement. They each will give a public lecture as a part of the Recognizing Excellence events on May 13 (see below). Read more about Mas and Virginia's fascinating journey and accomplishments online.
In more good news for Jane Lubchenco, the marine ecologist and Distinguished University Professor will serve as the 2019 OSU commencement speaker on June 15! President Ed Ray says her selection as OSU's 150th commencement speaker "underscores the university's commitment to advancing a healthier, prosperous and more sustainable future for Oregon, the nation and the world." Kudos to Jane!
College Honors
The College of Science celebrated our 2019 Winter Teaching and Advising Awards with faculty, advisors and students and recognized excellence in these areas for which of our College is known. We are deeply committed to the success of all our people—faculty, advisors, staff and of course, our students. Congratulations to the winners of the 2019 Teaching and Advising Awards:
Indira Rajagopal, newly retired senior instructor in biochemistry and biophysics,
Olaf Boedtker Award for Excellence in Academic Advising (second time in three years!)
Nate Kirk, biology instructor
Loyd Carter Award for Outstanding and Inspirational Teaching (Undergraduate)
Sandra Loesgen, assistant professor of chemistry
Loyd Carter Award for Outstanding and Inspirational Teaching (Graduate)
Marita Barth, senior instructor of chemistry
Frederick H. Horne Award for Sustained Excellence in Teaching Science

A subtype of influenza A (the H1N1 virus)
Mathematical biologist Benjamin Dalziel's work on influenza outbreak patterns was featured recently in OSU Terra, the university's research magazine.
Mathematics doctoral candidate Sarah Hagen, self-proclaimed "math fanatic," stand-up comic and mother to a two-year-old daughter, discussed her commitment to mathematics outreach in advance of her (now annual) Pi Day presentation at the Corvallis-Benton County Public Library in the Gazette Times article, "Think Too Much: Math 'fanatic' offers another slice of pi."
Chemist Mas Subramanian was interviewed this month about the discovery of YInMn Blue in the Indian magazine, Khabar, in an article entitled "Basking in the Blue Glow." The magazine serves the Asian Indian and South Asian Community in the United States.

A warm welcome to Dylan Schillinger, an incoming biochemistry and biophysics major from North Medford High School who received OSU's prestigious, merit-based Presidential Scholarship, which provides four years of tuition. Outstanding!
The second annual Undergraduate Student Success Summit was a resounding success, attracting more than 425 faculty and staff across campus. The daylong event was designed as way to share ideas, information and experiences about how to help students succeed. The university's goals for student success include raising the six-year graduation rate, raising the first-year retention rate and increasing the percentage of high-achieving incoming freshmen, all by 2020. Thanks to everyone who participated and to the members of the Undergraduate Student Success Initiative Steering Committee led by our own Dean Roy Haggerty.
The new Undergraduate Student Success Initiative Metrics dashboard (SSI0100) debuted at the Undergraduate Student Success Summit and is now available for broad use in CORE. This tool provides an interactive set of dashboards to support USSI efforts and is available to all OSU faculty and staff. If you missed it, check out the video, which was presented at a USSI Summit session by Chrysanthemum Hayes.
Dam Proud Day is nigh! The OSU Foundation, in collaboration with the university, is planning an inaugural 24-hour online Annual Giving Day on April 30, 2019. Stay tuned for more details. Colleges and departments across campus will participate in the event with goals, giveaways and incentives to inspire giving. The College of Science's Giving Day will support undergraduate research, scholarships for first-year students, and student travel for domestic and global experiences. All alumni, donors, students, faculty/staff and friends of the university will be encouraged to give to support and celebrate OSU. Efforts will be driven by social media sharing, on-campus events, matching gifts, challenge gifts and digital communications, including website and email communication. To ensure success, Dam Proud Day must be a collaborative, university-wide effort – that means we need YOU. Get involved – every contribution and social media share matters a whole DAM lot!
Bon voyage to biochemists Kevin Ahern and Indira Rajagopal, both of whom retired this year after a 30-year tenure full of inspired and innovative teaching affecting generations of students. They are headed off into the sunset on a 49-state road trip followed by 10 months in Malta, thanks to Ahern's Fulbright Award. The pair plan to return to Corvallis where Ahern will continue to lead the STEM Leaders Program he founded and teach Ecampus courses and Rajagopal will teach select Honors College courses. Read more about their lives, careers and inspirations.
Advising students? Spread the word about two innovative capstone courses in the fast-growing field of biological data science that are being offered this spring by microbiologist Maude David. Students can gain valuable research experience in bioinformatics analyzing microbiome datasets in MB399 and solve problems in analyzing large datasets with an interdisciplinary team in MB599.
Check out our new video series for prospective students entitled "Meet a Science Major." The short video clips highlight an actual science student all nine majors. We are using the videos for multiple recruitment marketing and promotional purposes. A big thank you to our marketing interns, Jenna Miller (2017-18), Annie Thomas and Megan Nickel, who produced the videos over the last year!
The John and Diane Howieson Scholarship enables zoology students to engage in beyond-the-classroom experiences that build their careers rather than spend their time working minimum-wage jobs. Take an inspiring look at the ripple effects of financial support on these three Howieson scholars.
Nicole Hams, microbiology post-doc and biochemistry alumna (Ph.D. '18) and Johannah Hamilton started an online, organic beauty aids company out of an apartment, breaking barriers and advancing science in surprising and innovative ways.

Upcoming events
April 13
10 a.m. – 4 p.m., Hatfield Marine Science Center, Newport, Oregon
Marine Science Day: This annual open house allows the public to get behind-the-scenes at the Hatfield Marine Science Center in Newport to experience the research, education and outreach in marine science that makes this marine laboratory unique in the Pacific Northwest. Several current biology students will help host the event.
April 18
Memorial Union, Horizon Room
6:30 p.m. – Reception
7-8 p.m. – Lecture
The College of Science 2019 F.A. Gilfillan Memorial Lecture will feature Professor of Chemistry May Nyman who will present a talk entitled, "Scientific discoveries from the alphabet soup of nuclear wastes."
April 19
5 p.m., CHWM Hill Alumni Center, Willamette Room
The Department of Mathematics presents its 34th Annual Lonseth Lecture, featuring Professor Mai Gehrke from the Laboratoire Jean Alexandre Dieudonné at the Université Côte d'Azur in Nice, France. She will present the talk entitled, "Using abstract mathematical structures to study algorithmic complexity questions."
April 30
Dam Proud Day, OSU's inaugural Giving Day, a 24-hour online fundraising event (see above)
May 4
Learning Innovation Center
9-10 a.m. – Student Art Showcase with light brunch
10-11:30 a.m. – Student Talent Show
Spring Family Weekend: Co-sponsored by the College of Science and the Honors College, the event welcomes students, parents and families to a special brunch, art exhibit of student work and a talent show. All faculty are invited to attend. For tickets, please RSVP by April 27.
May 10
8 a.m. to noon, with full breakfast. Memorial Union Horizon Room
Academic Integrity Symposium: All faculty are invited to attend to learn about the common causes of and ways to prevent academic misconduct. Academic integrity and accountability are integral to OSU's standing as an international public research university. Contact Steph Bernell, Associate Dean for the Graduate School, with questions. (Stephanie.Bernell@oregonstate.edu).
May 13
Memorial Union Horizon Room, 1-2:30 p.m. (Subramanian); 3-4:30 p.m. (Weis)
2019 Distinguished Professor Lectures: All 2019 Distinguished Professor will present lectures, including our own Mas Subramanian and Virginia Weis. The day will end with a Recognizing Excellence Faculty Dinner for honorees and invited guests.
May 17
The LaSells Stewart Center, time TBA
30th Annual Physics Yunker Lecture: Kennedy Reed, president of the International Union for Pure and Applied Physics and an atomic physicist at Livermore Lab, will address the growth of Physics in Africa. More details to come.
Recent Events
February 6 and January 30
A graduate mathematics seminar on "Building Inclusive, Equitable, Respectful and Welcoming Mathematical Communities" (MTH 607) was presented by mathematics professor Vrushali Bokil, who also hosted two lectures that were open to the public:
"Advancing Cultural Competency in Learning Environments" by Scott Vignos, Assistant Vice President, Strategic Diversity Initiatives, OSU Office of Institutional Diversity

"Implicit Bias" by Anne Gillies, Search Advocate Program Director at OSU
February 21
The College celebrated its 2019 Teaching and Advising Awards with faculty, advisors and students to recognize exceptional teaching and advising. Dean Roy Haggerty delivered opening welcome remarks, Associate Dean Matt Andrews served as the lively emcee, and several science students offered earnest tributes and presented the awards.

March 5
Troy Sadler, associate dean of research at the University of North Carolina at Greensboro's School of Education, presented the first two guest lectures in a series focused on the intersection of STEM education sponsored by OSU's College of Education:
March 7
The second annual Undergraduate Student Success Summit at the Memorial Union was a successful day-long workshop devoted to sharing ideas, information, and experiences about how to help students succeed.

March 14
Mathematics doctoral candidate Sarah Hagen gave a free public presentation on "Pi Without Circles" at the Corvallis-Benton County Public Library. Accessible to everyone, Hagen's past Pi talks have been extremely popular, drawing a standing-room only crowd.