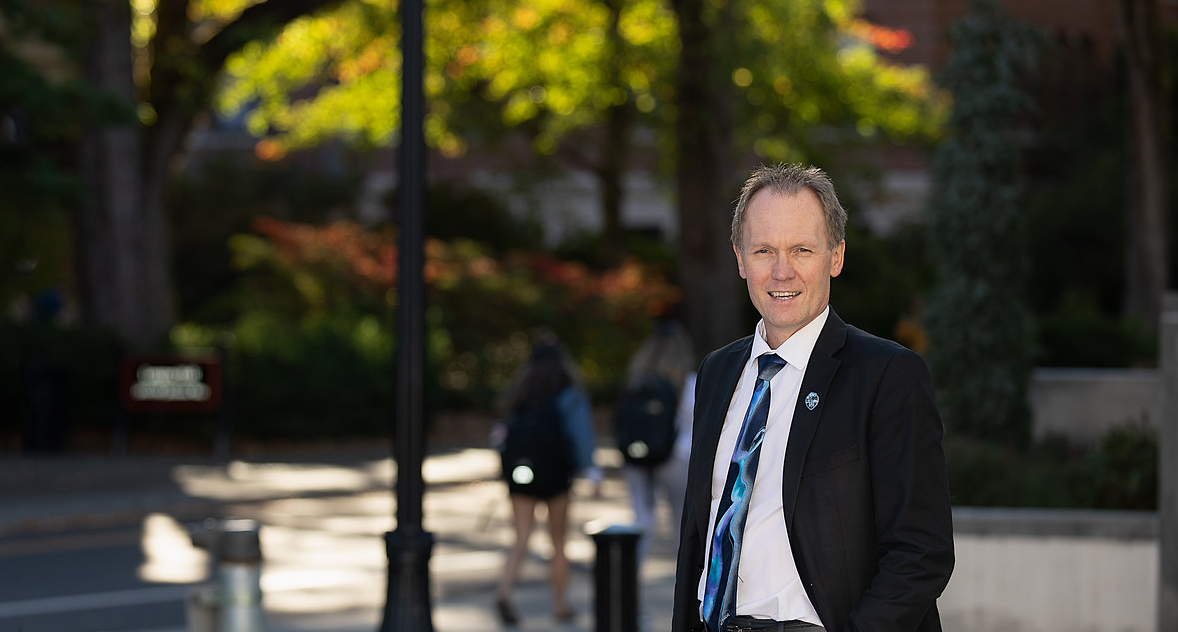 Words from
the Dean
June 2021
Dear Colleagues,
Commencement on June 12 will mark the end of one the longest academic years in memory. As we move forward to a more normal fall term, I want to thank you again for all you have done under very challenging circumstances to teach and support our students.
We will soon say goodbye to 788 new graduates, the latest group of young scientists going out to make an impact in the world. I am grateful that they chose to prepare for their future in our College, and most importantly, that they chose Science – the single greatest force for good in human history.  
Check out our Commencement page to learn how the University and the College of Science will celebrate our graduates. I also encourage you to read the inspiring profiles of our featured seniors. These graduates represent a diverse learning community, and they each share a unique journey as science and mathematics majors.
The College of Science will graduate 670 undergraduate students with baccalaureate degrees this year, including 68 Honors graduates. More than 80% (538) of our graduates are in the life sciences, with Biology having the most graduates at 199. BioHealth Sciences came in second with 152 graduates; biochemistry and molecular biology had 71 graduates; Zoology 63; Mathematics 56; Microbiology 43; Chemistry 42; Physics 34, and; biochemistry and biophysics graduated 10 students.
Of the total baccalaureate graduates, 11% are underrepresented minorities and 26% are first-generation students. In addition, 10 of the 2021 baccalaureate graduates are military veterans.
The College will also award 52 doctoral degrees, 66 master's degrees and seven certificates in online Data Analytics. You can read the breakdown in the Impact graduation story.
This year's graduates include Fulbright and Ford Foundation Fellows, Gilman International Scholars, NOAA Scholars, published scientific authors, future doctors, scientists, entrepreneurs, community leaders, teachers and informed, engaged world citizens.  
All of our graduates have succeeded against all odds as they reach such an important milestone. And they did it while the world around us was changing moment by moment. Their ability to persist is a tribute to them, and to you.
As we plan for the next year, I believe we can look forward with optimism. If all goes well these next few months, the University's goal is to resume full academic and research activities on campus by the start of the new academic year in September. Over the next few months, we will receive detailed updates.
I would like to express, once again, my warmest appreciation and admiration for the exceptional efforts every one of you has made this year. I hope that the coming summer will allow time and space for each of you to rest and recuperate.
Roy Haggerty
Dean, College of Science
All the news that's fit to print.
Please submit news, honors and awards, discoveries, events, research funding, student news, alumni updates and more. Just use this handy ONLINE FORM by the 20th of each month.
A hybrid between two dune-building beachgrasses (Ammophila arenaria above and A. breviligulata) has been found at 12 coastal sites in Washington and Oregon.
Research Highlights
Biochemistry Professor Colin Johnson, Ph.D. student Aayushi Manchanda and other Oregon State University researchers have found a new key piece of the puzzle in the quest to use gene therapy to enable people born deaf to hear.
Integrative biology Ph.D. candidate Rebecca Mostow and Professor Sally Hacker discovered two species of beachgrasses introduced to the Pacific Northwest in the early 1900s are hybridizing, raising new questions about the impacts to coastal ecosystems. Their research was published in Ecosphere.
Research Funding
Biophysicist David Hendrix received $362K from the National Institutes of Health – National Institute on Aging for a project entitled "Understanding the Gene Regulatory Mechanisms That Underlie Age-Induced Changes in the Circadian System and Neurodegeneration."
Biochemistry Ph.D. candidate Isabelle Logan, working under the guidance of Maria Franco, received the Children's Tumor Foundation Young Investigator's Award grant of $89K for a two-year project entitled "Signaling pathways regulated by nitrated proteins as novel therapeutic targets for neurofibromatosis type 2."
Marine biologist Bruce Menge received $474K from the National Science Foundation for a project entitled "LTREB: Testing tipping points in a model rocky intertidal meta-ecosystem - Climate-change, increasing variances, and response mechanisms."
Research Proposal Support
You can find funding opportunities on ECOS. To access a suite of tools and resources available to faculty, visit the College of Science Proposal Support webpage.

University Honors
Biologist Bob Mason was chosen to serve as the Associate Vice Provost for Faculty Development, effective June 15. Mason has been at Oregon State University since 1991 where he has held numerous leadership positions, including the chair of the biology program for 12 years and the associate department head for eight. As Associate Vice Provost for Faculty Development, Mason will focus on the development and oversight of programs supporting the professional success and advancement of a diverse and outstanding faculty; the recognition of faculty excellence and provision of awards; and the development of university academic leaders, among other tasks. Congratulations, Bob!

Marine ecologist and new deputy director for climate environment in the Office of Science and Technology Policy Jane Lubchenco was profiled in E&E News. It's a job that, as she puts it, will require her to "make sure there is good science at the table when the administration is considering important actions."
Chemist Mas Subramanian and YInMn Blue were featured in "Kid Scoop News," a free newspaper distributed to elementary and middle schoolers in the San Francisco Bay area.
Alumnus and College of Science advisory board member Michael Waterman's receipt of the prestigious William Benter Prize in Applied Mathematics in 2020 was featured in the IMS Bulletin. Read more about Waterman's award.
The Giovannoni Lab in the Department of Microbiology created the fun Oligotrophic board game to help educate children about the microbial ecology of the oceans. Published in The Science Teacher journal of the National Science Teaching Association, the marine science-themed board game was developed by OSU microbiology graduate student Quinn Washburn and others.
Future biochemistry and biophysics and business double major, Kaitlyn Kim from Ashland is an Oregon State Presidential Scholar and one of 161 high school seniors nationwide to be named a U.S. Presidential Scholar. Her story was featured in Ashland Tidings.

Check out the newly launched College of Science Commencement page honoring the Class of 2021. On it you will find graduating student profiles, Class of 2021 stats, commencement news and fun, science-themed social media and Zoom graphics for our seniors.
The College will graduate 670 undergraduate students this month, as well as award 66 master's degrees and 52 doctoral degrees. Learn more about this extraordinary class.
Senior profiles from the Class of 2021
Not many undergraduate students get to be listed as co-authors on research papers. But after more than three years doing research as an undergraduate, Honors biochemistry and biophysics senior Seth Harris Pinckney has co-authored two manuscripts, one of which is already published in a prestigious scientific journal.
Biochemistry and molecular biology senior Ilana Gottfried-Lee has spent the past two years performing cutting-edge research under the guidance of biochemistry Professor Ryan Mehl and Research Assistant Professor Rick Cooley in the Unnatural Protein Facility. She has had her work published and presented at conferences. After graduating, she plans to continue to work with Mel and Cooley for another year before applying to graduate schools.
Biohealth Sciences senior Gabriela Cortes hopes to one day become a dentist to help underserved communities who struggle to pay for dental insurance. A determined student, she had only spent two terms on the Corvallis campus before continuing school from her home in Mount Angel. She's proud not to have let any obstacle hold her back.  
Honors marine biology senior Simone Burton doesn't let anything get in the way of her plans. Even during COVID, she competed an internship with the Kachemak Bay National Estuarine Research Reserve in Alaska and a semester with the Hatfield Marine Science Center – all from her home computer.
Chemistry senior Linus Unitan hopes some of the leadership skills he honed as the drum major in Oregon State's marching band will make him a strong medical school candidate. While at OSU, he worked in the Remcho Lab, where his research efforts resulted in a submitted first-author paper, presentations at conferences and a pending patent.
Mathematics senior Jennifer Smucker drove a combine each summer during college to earn money for her studies. Next year, she will head to the east coast to begin a Ph.D. in mathematics at Virginia Tech.
At 36, microbiology senior Kendra Krebs is not the typical student. An aspiring doctor, she hopes to work with underserved and communities and with seniors.
Physics major Rohal Kakepoto balanced a full-time job, his young family and his schoolwork while at Oregon State. "Whether it's my family or my work, or the faculty and classmates," everyone has been there for him, he shared. He will begin a job with HP in Corvallis after graduation.
A member of the Confederated Tribes of Siletz Indians in Oregon, zoology major Devonte Casey hopes to combine traditional conservation practices with the scientific knowledge he learned as a student to help his community. "I just knew I wanted to do science and make a difference. I can say with 100% certainty that the reason I am studying zoology, specifically marine science, is because of my coastal traditions and my coastal tribe," Casey remarked.
Want to download some fun Zoom backgrounds to celebrate the class of 2021? Check out these major-specific graduation zoom backgrounds we developed!
Celebrating Alumni and Faculty
Alumna Molly Cordell (Zoology, '16) has cared for cheetahs in Namibia and worked with hoofed mammals, ranging from wildebeest to antelopes and rhinos at Safari West in Santa Rosa, California, for the last four years! She's now in a master's program with the goal of pursuing a career in wildlife conservation.
Biochemistry and biophysics department Head Elisar Barbar and her daughter, Mary Hare, were featured on the College's social media (Facebook, Instagram and Twitter)  for a Mother's Day post celebrating OSU moms.
Resources and tools
Please help spread the word about the College's feedback form. This tool provides a means for faculty, staff and students to offer feedback related to their experiences, including instances of bias and discrimination in the classroom, in advising, with other students or elsewhere. This tool provides a place to share positive experiences, recognize contributions and propose solutions.
Need to update your College of Science directory profile with your latest publications and awards? Simply scroll to the bottom of your profile page and click the "Log In" button. From there, you will see an "edit" button at the top of the page and can make changes from there. You may also send your requested changes to Cari Longman in the College marketing department.

Upcoming Events
Friday, June 11, 12:30 – 3 p.m.
In-person commencement
Graduates from the class of 2020 and 2021 are invited to participate in an in-person Commencement processional and celebration. Faculty and staff are invited to participate as marshals for the event. If interested, please contact Joanne Bunnage. 
Saturday, June 12, 10:30 a.m.
Virtual Commencement for the Class of 2021!
The virtual events will begin with the university's main Commencement ceremony from 10:30 to 11:30 a.m. PDT, followed by pre-recorded school and college ceremonies.