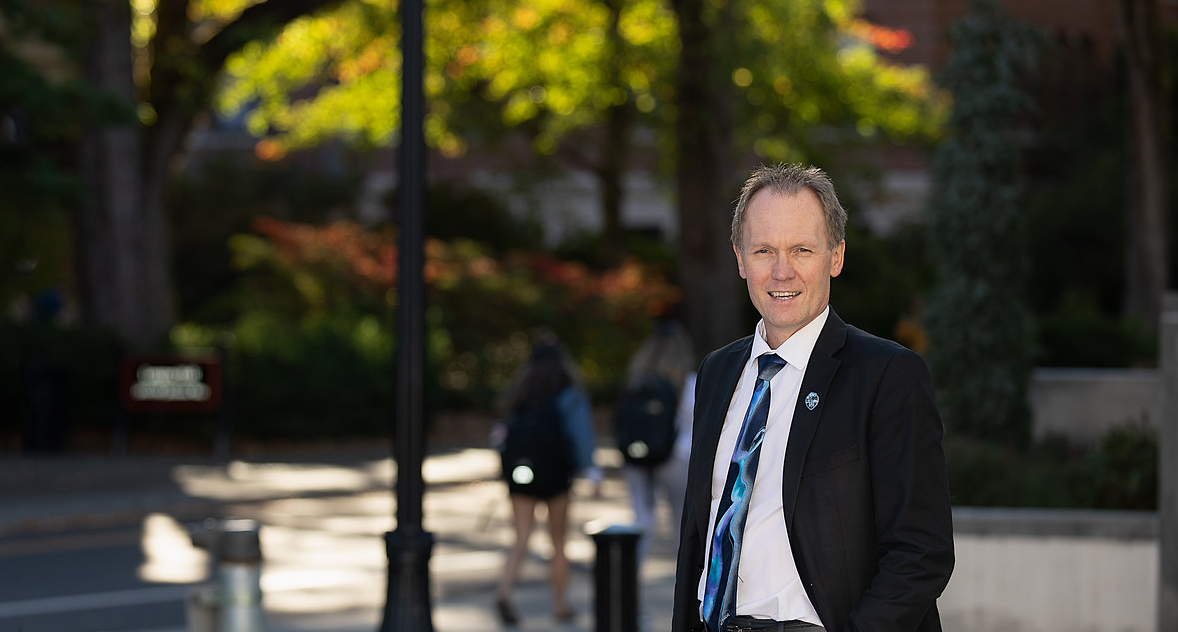 Words from
the Dean
June/July 2020
Dear Colleagues,
The hard work of our task groups over the last few months has led us to a resumption plan that allows Science students to return to campus in the upcoming academic year. While the College experience will certainly be different, students will again be able to experience at least a measure of face-to-face interaction and learning on campus.
The College's plan for the phased resumption of classes and on-site activities prioritizes health and wellness. Like much of the university, we will begin reopening following a hybrid approach – offering a mixture of onsite and remote delivery of services to maximize our community members' ability to practice physical distancing to limit the spread of COVID-19. Our reopening plan outlines instructions for safe resumption of onsite instruction, research, travel and employee activity with modifications that enable physical distancing.
As scientists around the world collaborate at a high rate to address COVID-19, the College and our dedicated TRACE-COVID-19 team of scientists and volunteers continue to play a critical role in enhancing testing in Oregon communities. This project is providing useful information to public health officials about the prevalence of the virus as the state gradually reopens. The groundbreaking TRACE-COVID-19 project has been featured in Oregon and national media.
In addition to the pandemic, the anguished multiracial protests that emerged in response to the murder of George Floyd and other Black Americans by police are echoing in the halls of science. The College strongly supports the Black Lives Matter movement. Our faculty, staff and administrators are deeply committed to providing a safe and inclusive environment where all can learn and thrive. Black students and faculty are very underrepresented in the sciences, and we as scientists and teachers must do the anti-racist work of overturning systemic injustices and racial inequities – i.e., racism – in STEM disciplines.
In the last two years, we have put in concerted efforts to make equity, justice and inclusivity critical and central in every way to the functions of the College of Science. In the coming months, the College will continue our ongoing conversations with undergraduate and graduate students as well as the Office of Institutional Diversity to create a new anti-racism action plan to achieve meaningful change and support initiatives devoted to increasing diversity and inclusion on campus.
While considerable work remains to be done, our graduates from the Class of 2020 give me hope for the future. This year, out of 659 graduates with baccalaureate degrees, 15% are underrepresented minorities and 28% are first-generation college students. The Class of 2020 includes Goldwater and Fulbright scholars, highly accomplished young scientists and engaged global citizens. Read more about the talented and diverse Class of 2020.
I hope you have a healthy, safe and productive summer. Thank you for your work to advance the mission and purpose of the College of Science.
Roy Haggerty
Dean, College of Science
All the news that's fit to print.
Please submit news, honors and awards, discoveries, events, research funding, student news, alumni updates and more. Just use this handy ONLINE FORM by the 20th of each month.

Research Highlights
The TRACE-COVID-19 study expanded into Bend, Oregon in June. The results from two days of door-to-door sampling suggest that one person in 1,000 had the novel coronavirus that causes COVID-19.
The project also expanded into Newport, Oregon in June. Testing was conducted on June 20-21 and July 11-12. The addition of Newport to the study followed the positive tests of more than 120 workers at Pacific Seafood, which operates five processing facilities in the city. Preliminary results from door-to-door sampling by Oregon State University suggest that 3.4% of the Newport community had the novel coronavirus that causes COVID-19.
Research Funding
Biochemist Afua Nyarko received $72K from Radiation Effects Research Foundation to support the purchase of Wyatt's DAWN© Multiangle light scattering detector.
Physicist Bo Sun received $528K from the Department of Defense for a project entitled "Decoding the mechano-regulation of breast tumor organoid invasion – one cell at a time."
Biochemist Elisar Barbar received a two-year $300K EAGER grant from the National Science Foundation to pursue research on the SARS-CoV-2 coronavirus that causes Covid-19. The research project is aimed at understanding how the N-protein of the SARS-CoV-2 performs its essential functions in viral infection and transmission. Associate professor David Hendrix and Rick Cooley, a research assistant professor in the Department of Biochemistry and Biophysics, are collaborators on the project.
Biochemist Colin Johnson received $494K from the National Science Foundation for a three-year project entitled "Establishing a common function for ferlin proteins in membrane fusion using novel genetic code expansion and single molecule techniques."  
Physicist Ethan Minot received $203K from the National Science Foundation for a project entitled "Collaborative Research: One-Dimensional Correlated and Topological Electronic States in Ultra-Clean Carbon Nanotubes."
Chemist Vincent Remcho received funding from Skidmore College for a project entitled "Making Introductory Courses Real while Online (MICRO): Development and deployment of millifluidic based labs in chemistry."
Biochemist Michael Freitag received $125K from the U.S.-Israel Binational Science Foundation for a four-year collaborative project with Shay Covo (Hebrew University) for a project entitled "Influence of chromatin state and mismatch repair efficiency on genetic diversity."
Mathematician Vrushali Bokil received $225K from the National Science Foundation for a project entitled "Computational and Multi-Scale Methods for Nonlinear Electromagnetic Models in Plasmas and Nanocomposites."
Statistician Katherine McLaughlin received $126K from the University of Georgia for a project entitled "Reducing Trafficking Among Children in Sub-Saharan Africa."
Chemist David Ji received $27K from Battelle Memorial Institute – PNNL for his project entitled "Integration of radical scavengers inside nanoporous carbon-based catalysts."
Microbiologist Michael Kent received $46K from the National Institutes of Health – Office of the Director for his project entitled "Control and Impacts of Disease of Zebrafish in Research Facilities."
Research Proposal Support
You can find funding opportunities on ECOS. To access a suite of tools and resources available to faculty, visit the College of Science Proposal Support webpage.

Global Honors
Marine biologist Jane Lubchenco received an honorary Doctor of Science degree from Oxford University. She is one of eight recipients of honorary degrees in 2020, joining former Secretary of State Madeline Albright and Professor Dame Sally Davies, Master of Trinity College, Cambridge and former Chief Medical Officer for England, among others.
University Honors
Biochemistry graduate student Kayla Jara received the Herbert F. Frolander Award for Outstanding Graduate Teaching Assistant. The university-wide award recognizes outstanding teaching and professional involvement, with both faculty and students. Jara is completing her third year as a Ph.D. candidate in the Barbar Lab.
Biochemistry graduate student Isabelle Logan is the 2020 recipient of the P.F. and Nellie Buck Yerex Graduate Scholarship. During her time as a graduate student, she has published two first-author manuscripts. At the start of next school year, she will enter her fifth year of graduate school, at which point she hopes to have submitted her third manuscript.
College Honors
Nine faculty members across four departments received promotions and/or tenure for the 2019-20 academic year. These faculty have achieved excellence in teaching, research and outreach. They have made an impact through scholarly accomplishments and their dedication to exceptional teaching.

We are very proud of microbiology junior Sarah Olson Michel who was featured in a segment with Ira Flatow on NPR's Science Friday discussing her top science book picks for the summer. She has written for Science's Books et al, PLOS SciComm, leapsmag, and The Particle on Medium. Sarah works with microbiology professor Steve Giovannoni's High Throughput Culturing Laboratory on outreach related to OSU's SMILE program.
Oregon Public Broadcasting features a story on the YInMn blue pigment cleared for broad commercial use by the Environmental Protection Agency. The pigment was discovered by chemist Mas Subramanian in an OSU chemistry lab.

Welcoming New Leadership
Steve Giovannoni is the new head of the Department of Microbiology effective July 1. Giovannoni is an internationally recognized microbiologist whose research on microbial diversity, genomics, carbon cycle and ecology in oceanic ecosystems is globally impactful. His research team is deeply engaged in predicting what will happen as the oceans warm and become more acidic.
Dee Denver is the new head of the Department of Integrative Biology, effective July 15. He will bring highly innovative, collaborative and interdisciplinary research strengths, an extensive record of service in the areas of diversity and inclusion, and a proven commitment to graduate and undergraduate education.
Gifts and Gratitude
The College has received a $1M estate gift from Dr. Samuel Wang ('56, '59) for the Betty Wang Discovery Fund, which supports equipment acquisitions and laboratory infrastructure improvements with annual grants of up to $30K to advance fundamental discoveries in science.
The Oregon State University Foundation is raising support for College of Science students experiencing unexpected financial distress due to the Covid-19 crisis. Contribute to this fund.
Bluetiful News
The vibrant blue discovered by Oregon State University researcher Mas Subramanian has cleared its final regulatory hurdle: The Environmental Protection Agency has approved its use for commercial purposes, including in paint for the artists who have long coveted it. The approval was announced by the Shepherd Color Company, which licensed the pigment in 2015.
Student Success
The College of Science graduated 659 bachelor's students, 29 master's students and 33 Ph.D. candidates, who overcame many obstacles to reach this milestone. Learn more about this extraordinary class in IMPACT.
Senior Mai Sakuragi graduated in June with a degree in physics despite not studying physics or mathematics in her high school in Japan. She is now heading to a Ph.D. program in quantum computing at the University of Waterloo in Canada.
Fifth-year chemistry major and math minor Cindy Cedeño has been a key member of Paul Blakemore's lab since 2018. Since fall 2019, she has served as a TA for physical chemistry, and during the COVID-19 shutdown, she helped troubleshoot and structure the course and materials for an online learning environment.
BioHealth Sciences senior Jacob Maynes will start medical school at Lake Erie College of Osteopathic Medicine in June after completing his undergraduate degree in just three years. He volunteered in biochemistry associate professor Colin Johnson's lab.
Honors biology major Mahtab Brar will start medical school at OHSU in the fall to begin his career in medicine. Brar served as a learning assistant in Biochemistry & Biophysics Associate Professor Phil McFadden's class. He helped recruit a group of 20 young people to prepare and serve a meal to Black Lives Matter protesters in Salem, Oregon in June.
Presidential Scholar Mathew Frischman just completed his first year at OSU. The Honors biochemistry and molecular biology major has joined Dr. Alvaro Estevez's lab and looks forward to a future career in neurology.

Recent
On July 13, OSU's Science Pub focused on the influence of the Black Lives Matter movement. OSU political scientist Christopher Stout will analyze the movement, its origins and political impacts.
On Friday, June 5, biologist Ben Dalziel and Jeff Bethel from the College of Public Health & Human Sciences presented a lecture entitled "TRACE: A scalable community-based approach to estimate the prevalence of SARS-CoV-2 infection." Access the recording.
On Thursday, June 25, biology graduate student Rebecca Mostow gave a lecture about the discovery of a hybrid beach grass in the Pacific Northwest. Funded by Oregon Sea Grant, her research aims in part to forecast how it could affect dunes, biodiversity and carbon sequestration.