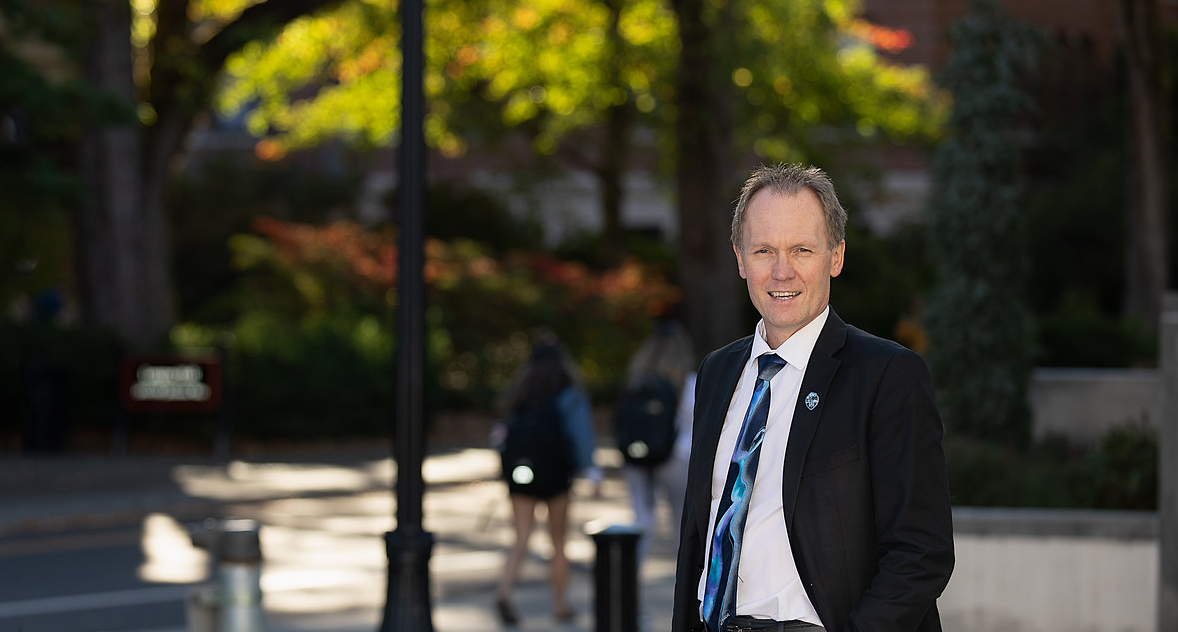 Words from
the Dean
December 2018
–January 2019
Dear colleagues,
In my letter to you two months ago, I informed you about the expected FY19 budget cut. You also received a message from the Provost on January 16 about the cut, including the fact that it would be shared between central administration and the academic units. We now know that the cut to the College of Science is 1.7%, or $773K. This is more than we had hoped, but about what we expected. In addition, the university is continuing to build an important set-aside for capital and infrastructure renewal (CIR) to renovate and rebuild our infrastructure. While Science benefits from the renovation made possible by the CIR funds (for example, the current Cordley Hall renovation is partly paid by these funds), this increasing set-aside is expected to further reduce our budget in the coming years. Altogether, we expect the decreases and cost increases to create a gap that exceeds $1M in FY20. One of the most important elements of these cuts and cost increases is that they are recurring - the funds will not return next year.
We continue to follow the FY19 Financial Plan to increase revenue and have developed an FY20 Financial Plan. Your contributions are essential - including the work you are doing to increase enrollment in the MS in Data Analytics, to roll out the online zoology degree, to offer new Ecampus classes in physics and other areas, to improve student success in mathematics and chemistry, and other similar work in every department in the College. Your excellent research not only improves our world, but brings in revenue that funds our graduate students and improves undergraduate success. Your advising and attention to prospective student visits improves our enrollment and keeps the students on track to graduate.
Nonetheless, increasing revenue will not be sufficient - we will have to make some further reductions in expenses and find ways to economize. We are examining what those could be now, and I am in conversations with central administration to see if anything can be done to increase funding to the College. The College Leadership Team, which includes the department heads and directors, has made a number of important suggestions and is helping me to evaluate the options. I will keep your department heads abreast of developments. Ultimately, choices will be bounded by a combination of expense reductions, central funding, and all of our efforts to increase revenue.
Once I have completed budget conversations with central administration and have evaluated the options for budget reductions, I will arrange a townhall meeting for the entire College. While we will have to make the final FY19 decisions before that townhall meeting, I will make the FY20 (and beyond) budget decisions after that meeting.
As I said before, people who are here now – you – are our priority. It is for this reason that we implemented the raises that you deserve and that reward your hard work in spite of a revenue decline. We will be continuing with programs like SciRIS to support research. We will manage the decline in revenue, to the maximum extent possible, by eliminating or slowing the rate of new commitments.
While the road ahead will have challenges, I am thankful to be walking it with you. Just since I wrote the first draft of this earlier today, I have had two meetings with faculty who expressed their optimism for the future and the good things that all of us are doing for our students and for our understanding of how life and the universe work. Thank you for all that you do to contribute to that future.
Roy Haggerty
Dean, College of Science
All the news that's fit to print.
Please submit news, honors and awards, discoveries, events, research funding, student news, alumni updates and more. Just use this handy ONLINE FORM by the 10th of each month.

Research Highlights
Read more of the most recent research happening on our iMPACT blog site.
Microbiology graduate student Nicole Kirchoff is the lead author of a groundbreaking study of more than two dozen rescued dogs, some aggressive and some not, which shows a clear link between aggressive behavior and the microbes that live in the dogs' guts. The study was co-authored by Thomas Sharpton and Monique Udell, an animal behavior researcher in the College of Agricultural Sciences.
Biochemist and biophysicist Colin Johnson recently published the results of a collaboration with Robert Tanguay in the College of Agricultural Sciences describing the role of a previously uncharacterized gene, Fer1L6. It plays an essential role in the development of the chambers of the heart and in the formation of skeletal muscle in all vertebrates, including humans.
Chemist Xiulei (David) Ji led a research team that found  a chemical mechanism, first described more than two centuries ago, that holds the potential to revolutionize energy storage for high-power applications like vehicles or electrical grids.
Research Funding
Marine biologist Jane Lubchenco is co-PI of a three-year, $860K National Aeronautics and Space Administration grant to develop new algorithms to enable the identification, location – and eventually predictions – of crimes at sea, from illegal fishing to drug smuggling, slave labor and human trafficking.
Microbiologist Thomas Sharpton won a $406K grant from NIH's National Institute of Environmental Health Sciences for his project "Impacts of Benzo[a]pyrene on Microbiome Development across Lifespan and Generations and the Behavioral Consequences."
Biochemist Ryan Mehl was awarded a $371K grant from the NIH's General Medical Sciences division for his project, "Development of an improved core technology for efficient genetic code."
Chemist Dipankar Koley won a $123K grant from Oregon Health and Science University for the project "Pyruvate Oxidase Determines Ecological Fitness of Oral Streptococci."
Biologist Michael Blouin earned a $102K grant from Western University of Health Sciences for his project "Identifying schistosomiasis resistance genes of snail vectors in hotspot transmission zones: Translating from laboratory models to the field."
Blouin also won a $367.5K award from the NIH's National Institute of Allergy and Infectious Disease for his project "Genetic Mechanisms of Snail / Schistosome Compatibility."
Physicist David Craig won a $212K award from the American Physical Society for his project "Changing the Culture: A Guide to Implementation of Effective Practices for Improvement, Assessment and Review of Undergraduate Physics Program."
Astrophysicist Davide Lazzati won a $55K NASA grant for his project "Prompt Gamma-ray Emission from Cocoon Internal Shocks in Binary Neutron Star Mergers."
Research Proposal Support
Funding opportunities can be found on ECOS. To access a suite of tools and resources available to faculty, visit the College of Science Proposal Support webpage.
Innovation Days
The College of Science is launching Innovation Days, an transformative program to support and strengthen innovation and entrepreneurship that will enable us to better identify, validate and develop the commercial impact of basic research. Innovation Days will bring together faculty, faculty research assistants and research associates to discuss and learn about moving basic research ideas and discoveriesfrom the lab to commercial applications and practical solutions.
Co-hosted by the College of Science and the Office of Commercialization and Corporate Development (OCCD), Innovation Days hosted its first session on January 7, 2019. More sessions will follow on February 4, April 1 and April 29, 2019.

Global Honors
Mathematics alumna Nancy Scherich (M.S., '13) is the overall winner of the international 2017 "Dance your Ph.D." contest. The 10-year-old competition is a challenge laid down by Science Magazine and the American Association for the Advancement of Science for researchers to explain their work with dance moves. In all, 53 scientists from around the world submitted dances.
National Honors
Chemistry doctoral candidate Ana Arteaga was awarded the 2018 SACNAS Graduate Student Presentation award. She was also the lead writer of the application that garnered the OSU SACNAS chapter the 2028 Outstanding Community Outreach for Native American Activities award.
Mathematics alumnus Michael Waterman ('64, '66) was elected a 2018 fellow of the National Academy of Inventors! Raised in eastern Oregon, Waterman was a trailblazer in computational biology and a pioneer in genomics. He is a professor of biological sciences and mathematics at the University of Southern California. Waterman also supports student scholarships in the College of Science.

Chemist Mas Subramanian was listed in the SocialPost news article, "India's Contributions to the World of Science & Technology: 17 Less Known Innovations You Must Know," for the discovery of YInMn Blue.
The YInMn Blue discovery was also featured in Les Echoes, the French version of the Wall Street Journal in an article entitled "Le genial chasseur de couleurs de l'Oregon," (roughly translated, the amazing color hunter from Oregon).
Physicist Oksana Ostroverkhova, a leading expert on organic electronics, is the editor of the second edition of Elsevier Publishing Company's "Handbook of Organic Materials for Electronic and Photonic Devices." This 911-page handbook provides an overview of the materials, mechanisms, characterization techniques, and structure property relationships of organic electronic and photonic materials and describes the latest advances in the field.
Mathematician Vrushali Bokil, a member of the Society for Industrial and Applied Mathematics (SIAM) Career Opportunities Committee, published a review in SIAM News of a professional development event for graduate and postdoc students at the annual SIAM meeting in summer 2018. The event highlights the importance of an honest "inside-out" self-analysis of one's strengths, weaknesses and passions in addition to building strong professional soft skills such as communicating and networking. A useful read for all job-seekers and career-builders!

A planned gift by mathematics alumnus Thomas Cavaiani will establish the first endowed professorship in OSU mathematics. Cavaiani earned four degrees from Oregon State: two bachelor's degrees ('71, '74), a master's degree ('79) in math education and a Ph.D. ('89) in mathematics.
A warm welcome to Wendy Rose Aaron, the new Coordinator of the Math and Statistics Learning Center (MSLC). Wendy will build upon strengths of the MSLC to help students succeed in mathematics. She will promote a welcoming and inclusive environment, oversee daily operations and provide professional development to graduate students and learning assistants in their work with undergraduates. She will also serve as department liaison to other student success initiatives across campus and teach one course per quarter.
A fond farewell to alumnus and Distinguished Emeritus Professor of chemistry Ken Hedberg ('43), who passed away on January 5, 2019, just a month shy of his 99th birthday in Corvallis. Hedberg lived a life of science, spending more than seven decades advancing science as a chemist at OSU with 30 of those years coming after his retirement in 1987. He kept regular office hours, conducted research, mentored undergraduate students and inspired everyone who met him. He will be sorely missed by all of us. A celebration of his life will be held on Saturday, February 2, 2019 (see Upcoming Events, below).
A fond farewell as well to William (Bill) Sandine, Distinguished Emeritus Professor of microbiology, who died on November 28, 2018 at the age of 90 in Allen, Texas, with his wife Susan at his side. Sandine received his doctorate in food microbiology from OSU in 1958, studying the physiology and taxonomy of lactic acid bacteria. A fellow in the American Academy of Microbiology, Sandine joined the Department of Microbiology as faculty in 1959 and served for 35 years, becoming a distinguished professor before retiring in 1996.
Science Pro, the first-ever half-day of career-focused experiences to help science students connect with employers, build professional skills and network with alumni, employers and community partners, was held on January 14. A resounding success, the event drew over 200 students, including 50 graduate students, who networked with 13 different for-profit and non-profit employers across a wide variety of science-related fields. The students were able to explore both immediate opportunities such as internships and job shadows as well as future career moves. The event is part of the College's yearlong series of opportunities for both undergraduate and graduate students to foster professional skills and to explore career paths.  
Microbiology alumnus James Winton (Ph.D. '81) remains grateful for how a single microbiology course changed his life when he arrived on campus in 1971 after serving as an officer in the U.S. Navy during the Vietnam War.
Recent biology graduate Sean Trobaugh ('18, Weis Lab) won a 2018 SURE Science award to continue his research on the symbiotic relationship between algae and their anemone hosts, and the broader impact this has on our ocean at large.
Honors BioHealth Sciences junior Mikayla Pivec might be best known for her stellar basketball career with the Oregon State Beavers (she made the headlines for leading her team to victory against La Salle). But she's also the winner of a SURE Science award to advance the scope of her honors college thesis on the challenges homeless people encounter. Pivec gave $1,000 of her $5,000 award to homeless shelters in Corvallis.
In case you missed it, this interactive holiday card celebrates the year's achievements at the  Student Success Center.
The College of Science recently launched its 2019 digital marketing yield campaign, consisting of four ads that will be strategically placed to prospective students and drive them to our recruitment microsite, which engages both prospective and admitted students up until the time they enroll. Over the last three years, the online recruitment campaign has proven to be an effective way to increase our yield rate, or the percentage of students who enroll after admission to the College of Science. As the Provost highlighted in his recent communication on budget rescission, yield rate is increasingly critical in a national landscape of flat to decreasing high-school graduates and declining international students. The College recently won a Silver CASE (Council for Advancement and Support of Education) Award for our 2018 recruitment campaign. Congrats to our talented marketing team!
The College of Science is also running an online international student recruitment campaign, in partnership with Study International. Countries targeted include India, Indonesia, Malaysia, South Korea, Colombia, the Philippines, Brazil, Japan, Nigeria and Bangladesh. Study International is featuring us as a top innovator in science and a pathway towards a great career.
Missed a Science Pub? Podcasts of previous Corvallis Science Pub events on topics such as "Technology in the Fields" and "From Wolves to the Warning to Humanity: Facing the Environmental Crisis through Science" are now available.
Opportunities for students: Spread the word!
Hundreds of science scholarships, one application: The College of Science and OSU scholarship one-application deadline is February 15, 2019. Current freshman, sophomore and junior students are invited to submit one application to compete for close to $1 million in science scholarships and over $50 million in Oregon State scholarships.

Upcoming events
February 2
2 p.m., OSU Foundation, 4238 SW Research Way
Celebration of Life for alumnus and Distinguished Emeritus Professor of chemistry Ken Hedberg ('43) on what would have been his 99th birthday. All COS faculty, staff, students, and administrators are invited to attend.
February 5
6-8 p.m., CH@M Hill Alumni Center, Willamette Room
5 Under 5: Connect with five science alumni who are all within five years of graduation and learn about their life after graduation. Includes an interactive panel discussion and opportunity to network over appetizers. The event is free – please come and encourage your students to attend! Register here.
February 11
6 p.m., Old World Deli, 341 2nd St., Corvallis
Biologist Benjamin Dalziel will discuss his research on a timely topic, how the flu virus is transmitted, at the next Corvallis Science Pub. Due to the continuing popularity of Science Pub, attendance will be limited and advance registration will be required. Register here. People who arrive without a ticket are welcome but will not be admitted to the reserved seating area until 6 p.m.
February 21
4:30 - 6:30 p.m., Memorial Union, Horizon Room
College of Science Teaching and Advising Awards: Please join us to recognize exceptional teaching and advising, hallmarks of faculty excellence and the foundation of student success. We look forward to seeing everyone at this annual winter event followed by a reception of wine, beer, hors d'oeuvres and good cheer!
Recent Events
November 29
The Finals Succ(ulents) event hosted by the Science Success Center, a creative new spin on the traditional COS finals study break, was a big success. Over 100 science students enjoyed hot cocoa, tea and biscuits while unleashing their creative side and painting a pot for one of the 100 baby succulents. The strong response to this event as well as the October 25 "Midterm De-Stress Fest" echo both national trends on the need for more mental health support for college students and the potential for creative, fun, collaborative events to help them relax and recharge.
November 30
Retirement Reception was held for Indira Rajagopal and Kevin Ahern, both in Biochemistry and Biophysics, to celebrate their respective 29 and 30 years of service to the College of Science and OSU. #TwoOfAKind #Priceless
December 4 and 13
Sexual Misconduct Training Sessions: The final two Sexual Misconduct training sessions of 2018 were hosted by the College of Science for all its employees, including graduate students, faculty, dean's office staff and the dean.
January 14
Grand Opening of the OSU Portland Center: A gathering of alumni, faculty, students, donors, friends and partners gathered at a gala open house to learn about our new Portland Center's innovative hybrid academic programs, professional development opportunities and ways to engage with OSU in the Portland region.