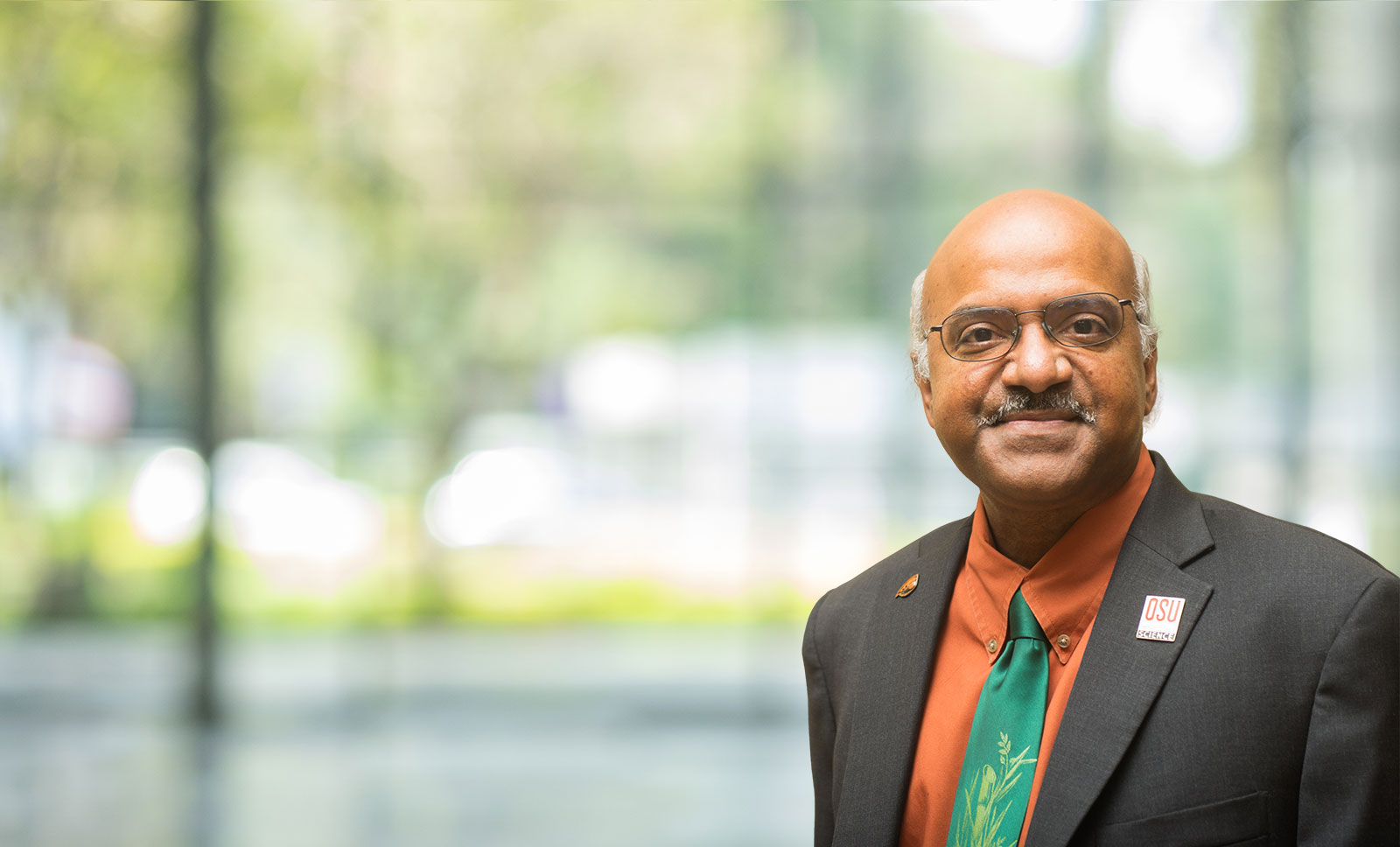 Words from
the Dean
January 2017
Time is flying by and the new year is already well underway with midterms just around the corner. It hardly seems possible. I have some key updates and news to share with you as we kick off another productive and successful new year. In particular, the Budget & Fundraising section has some interesting nuggets of information so please be sure to scroll down.
First, let me start by announcing that we had 777 students—about 25% of our students—make the Dean's list fall term! This represents an increase of 9% since 2014.
We are providing increased support structures and research resources for faculty to be more successful in terms of grants and funding opportunities, in many ways:
Bettye Maddux has been helping many of our faculty with grant proposal development and other support services. If you haven't met her yet, please do so soon.
Twenty-three faculty are participating in the NSF CAREER Proposal Workshop next month held in partnership with the OSU Office of Research. You can read below.
The College is investing in communication training through OMSI and the Alan Alda Center for Communicating Science this spring.
Our College is recruiting faculty through the BIG program in bioinformatics.
We are generating more revenue through increased offering of ecampus and summer courses.

We also have a number of ongoing student success initiatives in our College:
Our Mathematics and Statistics Departments are modifying lower division courses, and making use of adaptive learning technologies and developing multiple pathways.
Our faculty are using high impact practices in their classrooms. We are proud of our outstanding teachers.
Our faculty are engaging with undergraduates in hands-on research through the OSU STEM Leaders program, among others, to increase the diversity and success of students in STEM.
We are proactively working to enhance diversity through student and faculty recruitment. I am leading efforts to recruit the best candidate for OSU's new Vice President/Chief Diversity Officer.
We are recruiting peer advisors to increase student retention and success in our College.
We are working to better support the success of science students with academic difficulties through STAR advising with Jennifer McKee, the new Academic Advisor in our College who works exclusively with this population to improve their success and improve retention. During fall term, we had 365 students who are either on academic warning, probation, or academic probation, keeping Jennifer and our advisors busy.
Thank you for all you do to help all of our students reach their full potential.
To help our students become more career-ready, we are hosting regular alumni career panels led by Claire Wu, a full-time employee in OSU's Career Development Center. She spends 50% of her time in our office and provides career advice to many science students. This month she hosted another "5 under 5" event, a career panel dinner featuring five Beaver alumni who graduated within the past five years to share their experiences at OSU, highlight the exciting and difficult parts of their jobs and provide advice to science students. These panels also help students develop communication and networking skills as well as build connections within our community for career advice and mentoring opportunities.
Thanks to the stewardship by our department heads and the hard work of Anne Murphy and others in the OSU Foundation, our College has exceeded its fundraising annual goal of $3 million with five months left to go. You can read more below.
In a couple of weeks, we will host an exhibit at the President's annual State of the University Address at the Portland Convention Center for more than 600 alumni. Our booth will highlight how our College is impacting climate change by informing policy, mitigating risk and sustaining our materials.
Finally, even in challenging budget times, our College and OSU are committed to our faculty and students' success and to making our campus a welcoming and inclusive place for students and faculty from diverse backgrounds.
Thank you for your efforts to increase revenue and provide students with opportunities to stay on track for graduation.
I acknowledge that the road ahead is not smooth and easy, but I want us all to be proud of the hard work we have done and are doing, and more importantly, what we will do in the near future. We have accomplished an extraordinary amount. I don't want us to lose sight of that. Success often comes in small steps.
I am very proud of all of you and of our students and alumni. And I am very excited to be working together to ensure our future success as we build a diverse and inclusive science community focused on excellence, continue to be a global leader in scientific research and scholarship, and excel in outreach, engagement, economic development and increased visibility.
Thank you for all that you do, day after day and year after year, to make our college the best it can be.
Sastry
Sastry G. Pantula
Dean, College of Science
Coming to you monthly
Please send news, honors and awards, discoveries, events, research funding, student news etc. to Debbie Farris and the marketing team by the last day of the month.

Research Highlights
Environmental toxicologist and chemist Staci Simonich and a team of international researchers recently solved an atmospheric mystery that has serious implications for human health worldwide. To date, field samples of polycyclic aromatic hydrocarbons (PAHs), the toxic byproduct of all organic combustion, have been more abundant than previously predicted. The researchers demonstrated that under actual atmospheric conditions, PAHs are often coated by organic aerosol, effectively shielding them from ozone exposure. The higher concentrations of PAHs points to a fourfold increase in global lung cancer risk, with the highest risk found in East Asia, South Asia, Russia, and Africa. The findings were published in the Proceeding of the National Academy of Sciences this week.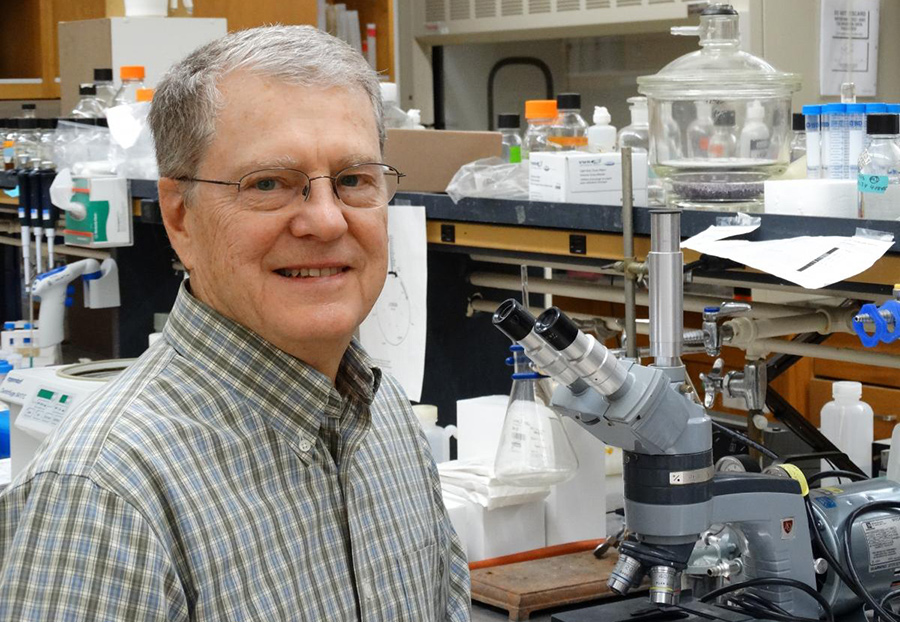 Bruce Geller is battling antibiotic resistance
Microbiologist Bruce Geller, collaborating with an international research team, has developed a new weapon in the battle against antibiotic-resistant germs—a molecule that neutralizes the bugs' ability to destroy the antibiotic. The news has already been heralded by many as our best shot at ending antibiotic resistance to date. The molecule, a form of PPMO, binds to the bacteria's DNA and inhibits the expression of a protein that would otherwise allow the bacteria to elude attack. Geller proved that the PPMO restored the effectiveness of the antibiotic meropenum, an ultra-broad spectrum drug, to fight antibiotic-resistant bacteria both in vitro and in mice infected with a resistant strain of E. coli. Geller says the PPMO will likely be ready for testing in humans in about three years.
Distinguished Professor of Microbiology Steve Giovannoni, working with an international research team, discovered two phytoplankton groups—unlike any known species—in climate-sensitive areas around the world. Relatively rare compared to other varieties, the two planktons' prevalence in warm, low-nutrient surface waters suggests they could be important in future ocean ecosystems.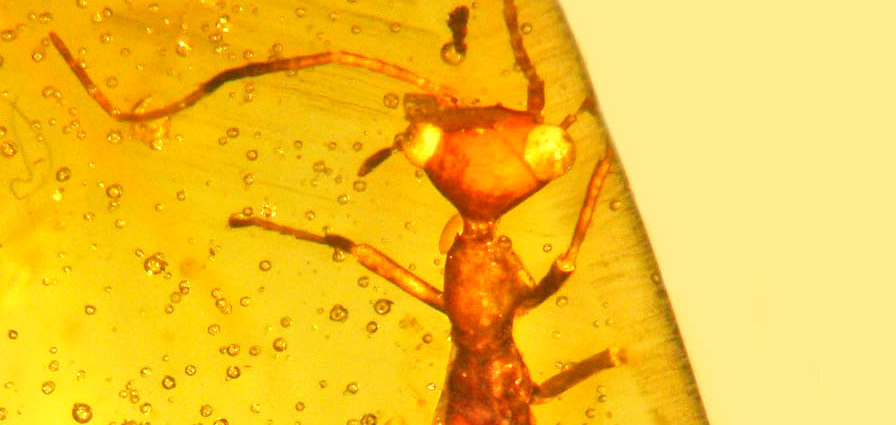 A new order of insect discovered in amber by George Poinar, Jr.
Entomologist George Poinar, Jr. has discovered a 100-milion-year-old insect—a scary and alien-looking specimen—preserved in amber from the Hukawng Valley mines of Myanmar, with features so bizarre that it has been placed in its own scientific order, an incredibly rare event! The insect's unique feature is her head, an isosceles triangle with bulging eyes allowing her to swivel her gaze 180 degrees, that is attached to the neck by the apex.
Associate Dean Matt Andrews' research on blood loss therapy that began back in 2005 while at the University of Minnesota-Duluth is helping to expand the window for life-saving medical treatment by giving patients more time to reach the emergency room. The treatment is designed to be delivered by IV into the veins of someone suffering from hemorrhagic shock — when the body loses a severe and potentially fatal amount of blood — to help stop their organs from shutting down.
Physicist Weihong Qiu, leading an international team, used high-sensitivity light microscopy to reveal a totally unexpected behavior about the "motor" protein KlpA in a recent Nature Communications article. Surprisingly, KlpA, which works to help segregate chromosomes during cell division, has a gear-like component that enables it to switch directions. Not only are KlpA-like motors crucial to cancer cell proliferation and survival, but understanding how they work may lead to novel cancer treatment approaches.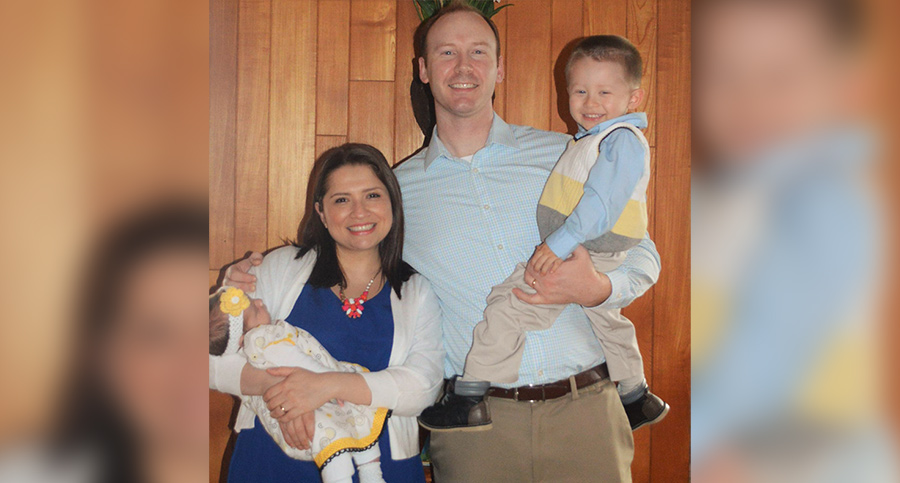 Alumni Nathan and Luisa Snyder and family
Nathan and Luisa Snyder (Biology '09), a husband-wife dentist team who currently run and own their own clinic, recall their three years in OSU's biology program as the best time in their lives as students. "We were the annoying students who showed up frequently during office hours and went to all the additional study and tutoring sessions," joked Luisa, originally from Guatemala. Read more about their story here — including how Luisa triumphed (graduating first in her dentistry program at Western Washington University) despite a counselor who advised her early on that dental school would be "too competitive" for her.

Congratulations to Paroma Chatterjee, a biochemistry and biophysics grad student, whose thesis research project was selected recently for Thermo Fisher Scientific's promotional posters on Molecular Probes brand reagents. The poster will be part of a traveling airport display and depicts her research on hearing and deafness using zebrafish as a model organism.
May Nyman's research on the phase-changing of uranyl peroxide clusters in nuclear power plant cooling towers was featured on the January 2017 cover of the European Journal of Inorganic Chemistry!

As you may have read in the Oregonian recently, universities across the state have responded to Gov. Kate Brown's recommended budget plan for public universities with a dire message. Thirty-three public university representatives, including Pres. Ray and the presidents of all seven universities, signed a letter asking state legislative leaders and Gov. Brown for additional funding. OSU has submitted a 10-year budget plan using various scenarios.
Certainly there are a number of challenges facing our College and OSU and higher education in Oregon and beyond. You may have heard some of these challenges and opportunities in Dr. Brit Kirwan's special lecture Tuesday, Jan. 24. I would like to take a moment and highlight significant ways we are investing in our strategic areas, and ultimately in you, our faculty and staff, and certainly in our students and their success. Some of these are highlighted above in the "Words from the Dean" section.

You can read below about the NSF CAREER Proposal Workshop that 23 faculty are participating in next month in partnership with the OSU Office of Research.
Our College has experienced increased grant success, in large part to these efforts as well as to the support and guidance from our Associate Dean of Research Doug Keszler. Please take advantage of the workshops, information and service provided by our College. It is a good investment in (y)our future.
We are making use of tactics the Distance Education Working Group recommended in terms of workshops, training and fund distribution to increase both revenue to the college through eCampus as well as to enhance student access and student success. Thanks to all of you for your hard work to increase revenue through Ecampus, summer sessions, MS and graduate certificate in data analytics as well as other student success initiatives.
OSU is investing in our Mathematics and Statistics Departments for modifying lower division courses, and making use of adaptive learning technologies and developing multiple pathways.

We continue to bring national thought leaders such as Carl Wieman, Brit Kirwan and later this spring, physicist Jim Gates to help us develop new and creative thinking to address current challenges facing science education in the 21st century. Similarly, we are providing professional development opportunities for our department heads on our campus. Thanks for your participation in these seminars and discussions.
We are investing in a Science Success Center in Kidder 109 to provide more access to our students and offer them more support and additional meeting space for Science. We have reorganized our offices in 109 and 128 Kidder to support faculty research proposals, our new professional development programs, career support, peer advisors and academic advising.
We invested in developing a comprehensive professional development program. Chris Larson has been meeting faculty to build courses and programs that meet their students' needs and help them become more career ready, which supports retention goals and student success.
We are currently enhancing our fundraising efforts by growing our Board of Advisors.

Finally, even in challenging budget times, our College and OSU are committed to our faculty and student success, and making our campus a welcoming and inclusive place for students and faculty from diverse backgrounds. OSU is investing significantly in student success. The Board of Trustees is reviewing a budget proposal of $5 million toward student success initiatives at OSU, and our College will play an important role in those efforts.
I am happy to share the good news that we have raised 106% of our annual fundraising goal to date: $3.2M! And we have five more months to go before the end of the fiscal year June 30.
Thank you for all you do to raise the impact of our College and to steward our donors. Our students, faculty and staff all benefit from the incredible generosity of our alumni and friends whose investments not only advance our strategic goals and mission but also advance science.
I appreciate all of your hard work and your making time to write thank you notes and talk and engage with our alumni and friends at events. This all has a cumulative and powerful impact. THANK YOU!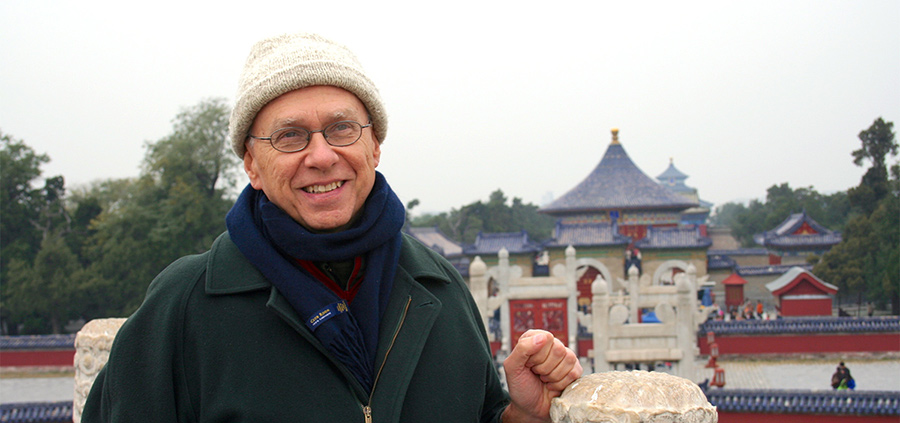 Alumnus Michael Waterman
A legacy gift for generations
We are very grateful to alumnus Michael Waterman ('64, '66) for his generous legacy scholarship gift for science students, the second largest in the College's history. From his humble beginnings on an isolated livestock ranch in southern Oregon to becoming an internationally celebrated mathematician and biologist at the University of Southern California (USC), Waterman has shattered all expectations. Waterman has a special interest in supporting first-generation students, and his gift has the ability to transform students' lives in a deep and profound way.

We will miss our friend, Doc Storm
For those of you who knew Robert "Doc" Storm, he was a formidable force in zoology who influenced generations of biologists and made a tremendous impact in science. Doc passed away January 16, 2017, in Albany at 98+ years old. Read the announcement in the Corvallis Gazette-Times.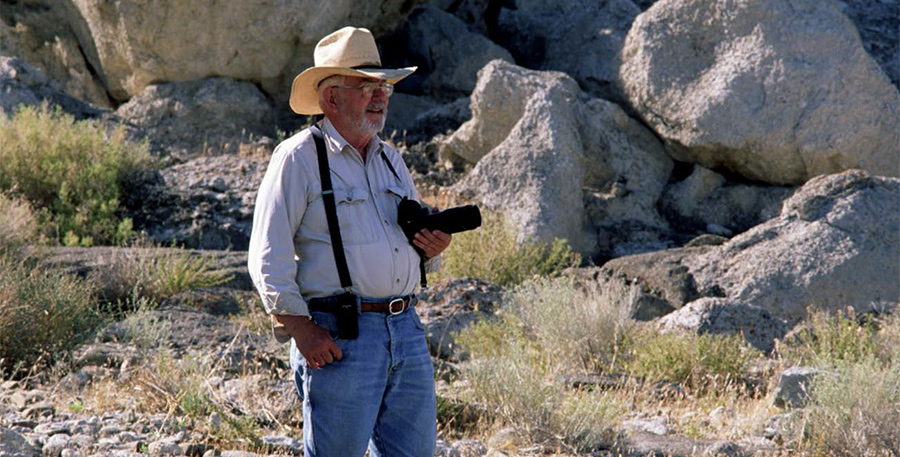 Doc Storm in the field
Called "Doc" by his friends and colleagues, he arrived in Corvallis in 1939 to pursue his master's degree in zoology and never left except to serve in World War II. Doc was a member of the our Zoology Department from 1948 to 1984. Famous for his open door policy and always being available to talk with students, Doc advised 71 graduate students, including 37 who completed their Ph.Ds. Those students produced at least another 50 doctorates, most of them herpetologists who made profound and important contributions to the field.
Last year, alumnus Bill Lovejoy, a former student of Doc's, created the Robert M. Storm Distinguished Lecture in Integrative Biology, an endowed series to promote excellence, advancement and inspiration in biology, particularly vertebrate biology, to the OSU and Corvallis communities.
A memorial service to honor all of Doc will be held at 1:00 p.m. Saturday, January 28 at McHenry Funeral Home, 206 NW 5th St., Corvallis. In lieu of flowers, donations may be made to Malheur Environmental Field Station in Burns, Oregon.
For more than 15 years, COS has pioneered online chemistry courses that have proven popular among students from around the world, providing flexible scheduling, access to courses previously unavailable and an alternative way to learn. Since 2007, online credit hours in chemistry have quadrupled to more than 9,000 today, with about 15% of all credit hours in chemistry now delivered online.
The College of Science is proud to announce that approximately 25% of our students—777 of them—made the Dean's list for fall term 2016. This reflects a 9.4% increase in the number of students who have made the Dean's Honor Roll since 2014.
As part of our 2017 SURE Science program, all faculty are encouraged to identify summer research projects that can provide transformative experiences to help our students with their training and success. SURE Science is funded through the Undergraduate Research Frontiers Fund in the College with generous philanthropic contributions from friends and alumni of the College.
ESTEME@OSU
The ESTEME@OSU project, led by Milo Koretsky and an interdisciplinary team including mathematics professor Tom Dick, is transforming the very culture of scholarship, supported by a $2 million grant from the National Science Foundation. The College of Science is leading OSU in number of faculty trained as ESTEME Action Research Fellows, who are engaged in implementing evidence-based instructional practices in calculus-based freshmen- and sophomore-level courses in biology, chemistry, engineering, mathematics, statistics and physics.
New NSF CAREER Proposal Workshop
Good luck to those faculty who are participating in OSU's comprehensive NSF CAREER Proposal Workshop February 8-10. Of the 28 participants, the majority are from our College (15), eight from Forestry and five auditors from Engineering. This 12-15 hour workshop is sponsored by the OSU Office of Research and will help faculty win an NSF CAREER Award and learn to write more competitive research proposals of all types at all stages of your careers.
Prior to the workshop, participants will have:
Completed a 1-page writing assignment
Written bullets onto a few slides explaining why you consider your research transformative.
Formed a four-person CAREER Proposal Committee (I.e., your mentor, your Department Chair, another expert in your field who may represent another institution, and an expert in education) whose members will meet to review your proposal concept, read and comment on two drafts, and complete two brief 1-page evaluation forms.
Called the contact person from your NSF Division to determine that Division's specific requirements for the CAREER competition. 
During the class, participants will discuss writing assignments and the transformative nature of their research.
NSF's most prestigious awards for junior faculty, the Faculty Early CAREER Program continues to be highly competitive with just 10% of applicants receiving funding. Please contact Doug Keszler if you need more information.
Other faculty are welcome to join "the peanut gallery" and participate or observe, even if you haven't signed up for this training.
Stay in the KNOW
Sign up to automatically receive news alerts about our faculty, students and alumni via iMPACT updates. To sign up for "Impact in your Inbox," just go to impact.oregonstate.edu and register at the bottom right of the page.
The beaver gets mapped
A fall 2015 crowd-funding drive to sequence the 26,200 genes of the beaver, OSU's beloved mascot, has finally been completed, and OSU can now brag that it's the only university in the Pac-12 to have sequenced its mascot. Instructor Kevin Ahern even wrote a song about it.
YInMn goes viral
The Tech Insider video featuring chemist Mas Subramanian's discovery of YInMn blue pigment has received 14 million views and counting! Thanks, Mas, for raising the visibility of Science at OSU in such a profound and far-reaching way.

Save the Date
Jan. 28, The Dark Café, 6-9 p.m. ViewPlus Technologies, 1965 SW Airport Ave, Corvallis. The College is sponsoring an EDUCATION FUNDRAISER AND DINNER benefiting the Linn-Benton Chapter of the National Federation of the Blind. Attendees will don sleep shades and learn how to move about safely in the dark, manipulate common household objects, and begin to read Braille. Former OSU physics professor and friend of the College John Gardner is a major sponsor of the event. After going completely blind after an eye operation in 1988, he invented a new high resolution embossing print technology so he and others like him could access graphical information.
Jan. 31, 3:45 pm, Carmike Theatres. A NIGHT AT THE MOVIES: HIDDEN FIGURES. The College is sponsoring a very special evening of movie watching and math history for all students, faculty and staff. "Hidden Figures" is an engrossing drama based on the true story of the triumph of three female African-American mathematicians who overcame bigotry and helped propel NASA's space program. Numerous issues raised by the film go beyond NASA and the field of mathematics and connect with the student success, diversity and inclusion initiatives in our College and at OSU. There will be a post movie discussion afterwards where delicious pizza will be served. To RSVP, email Michael Lopez at lopemich@oregonstate.edu.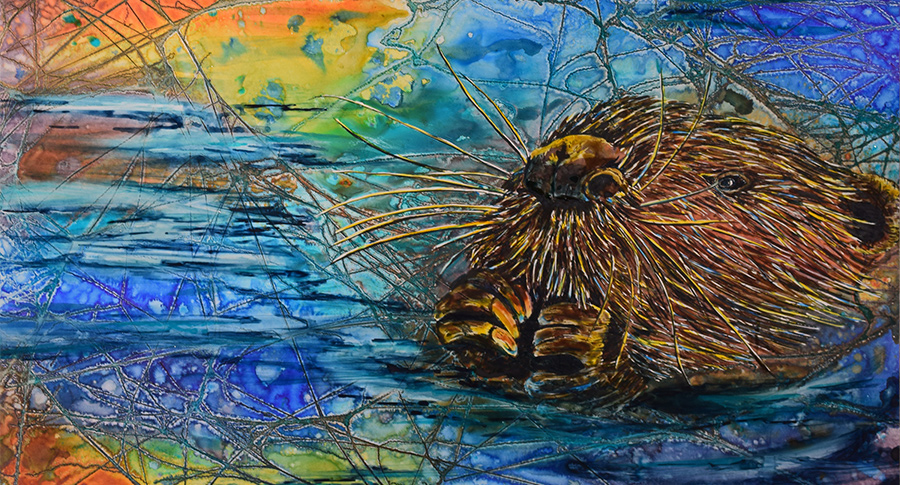 Resting a Moment by Angi Grainger
Feb. 9, 6–8 p.m. LaSells Stewart Conference Center. Join us for a "Meet the Artist Reception" as part of the BEAVER TALES:  A CELEBRATION OF BEAVER ART. The exhibit continues throughout February and features more than 150 artists' renderings of OSU's beloved mascot—in painting, sculpture, photographs, and beyond—as well as interdisciplinary presentations of the beaver's uniqueness.
Feb. 25, 9 a.m.–4 p.m. OSU Learning Innovation Center. 75th ANNUAL OREGON ACADEMY OF SCIENCE CONFERENCE. A rich day of science for undergraduate and graduate students, postdocs and faculty in OSU's new four-story, technology-rich facility.
Feb. 27, 4:30–6:30 p.m. Memorial Union Horizon Room. COLLEGE OF SCIENCE TEACHING & ADVISING AWARDS. Student-nominated instructors and faculty are celebrated for their teaching and advising excellence in this annual, invitation-only winter ceremony.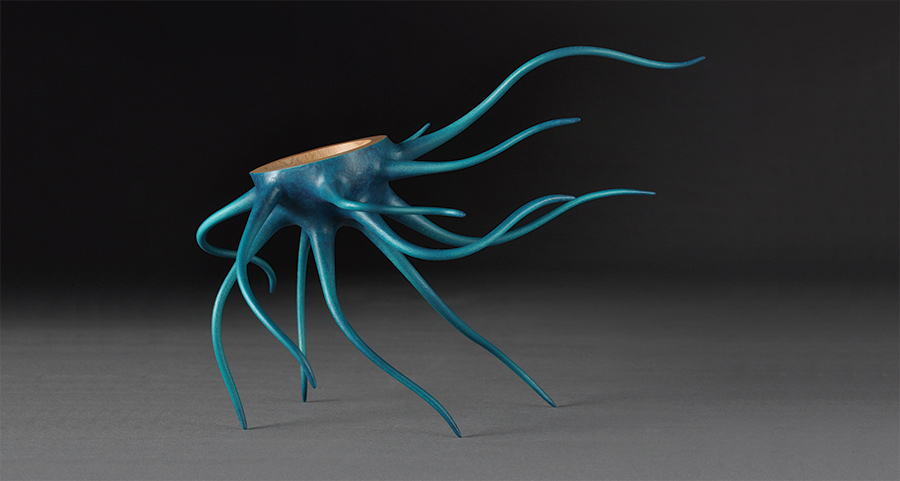 Endulata Bas by Kristin Levier
April 13–May 27. MICROBIOMES: TO SEE THE UNSEEN EXHIBIT. Opening Reception, April 20, 4–8 p.m. The Corvallis Art Center. A groundbreaking new exhibit brings art into one of the hottest zones of current scientific research, namely: how do microbiota influence life within ourselves and on our planet?
Past events
The College of Science hosted a special lecture featuring national leader in mathematics reform William "Brit" Kirwan January 24. Kirwan presented evidence-based strategies and pedagogies, on both a university-wide and classroom-level, that offer hope for greater and more diverse student access and success, even in a time of diminishing public investment in higher education. A video of the lecture will be available next week.
The OSU STEM Leaders program featured a year's worth of students' original research at a day-long symposium Saturday, January 21, with topics ranging from whether drinking milk from goats fed poison oak provided immunity to how to program robots to walk. At the symposium, students eagerly shared what they discovered, showcasing their newly acquired skills of present information to the public and delivering the perfect "elevator pitch" for a new product, research idea, or start-up concept in need of funding or greater public awareness.
The Mathematics Department hosted an alumni reception during the 2017 Joint Mathematics Meetings in Atlanta on January 6, and honored mathematics professor Tevian Dray, winner of the Deborah and Franklin Teppo Haimo Award for Distinguished College or University Teaching of Mathematics.