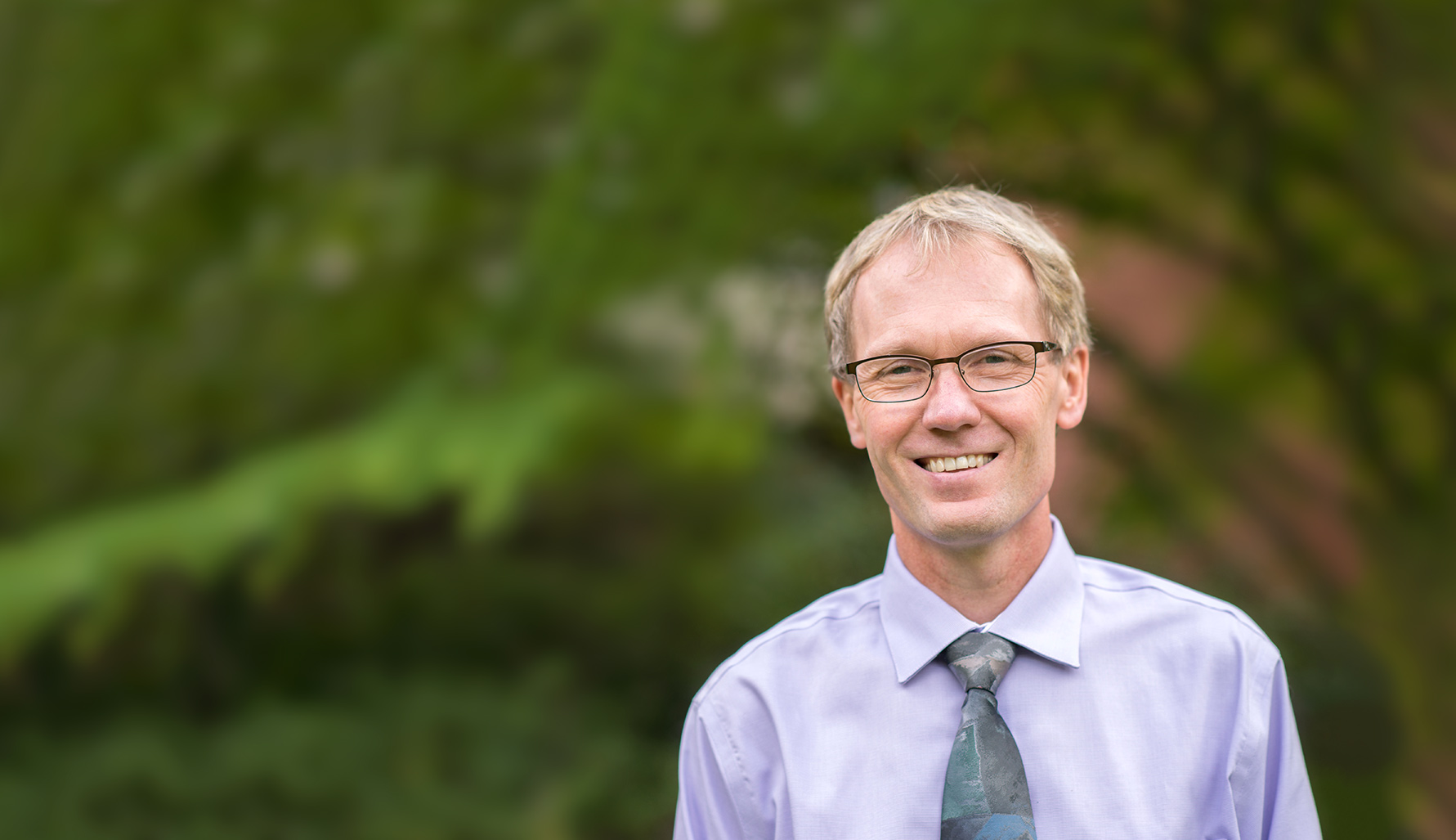 Words from
the Dean
August 2017
Science is at the heart of the modern university. For OSU to do our best to promote economic, social, health, cultural and environmental progress for the people of Oregon, the nation and the world, it is essential that the College of Science be strong in all respects. We (you!) have done an excellent job in delivering on our mission of advancing scholarship and educating students in our majors and across the university. You have made good progress in advancing equity and inclusivity and you have been great promoters of science. However, we have a structural deficit and some associated internal divisions that prevent us from reaching our potential.
The College has been running a deficit and has depleted most of its reserve funds over the past few years, closing FY17 with only about $100K reserve (well under 1% of our $43M budget). Most departments are running deficits, and those that aren't have delayed important investments.
Therefore, my priorities are initially centered around repairing the structural deficit while continuing our mission of scholarship, teaching and outreach. It requires a combination of revenue growth, careful use of resources and obtaining additional investment from the university.
OSU's new budget model, once implemented, will help us. It recognizes that the College is underfunded for its mission. However, the university needs to be certain that investments will be wisely used by a College that is pulling in the same direction before allocating additional funding. I am confident that if we can demonstrate good stewardship of resources and a united College, the university will assist us as we make the College of Science the best ever.
My priorities this year are:
First, we need to improve student recruitment, success and retention. More than 70% of our budget comes from student tuition, and much of the rest is tightly tied to student success. For a healthy College, we need to work together to improve these areas, with a particular focus on first generation and underrepresented minority students. This is not only the right thing to do, but also the fiscally sound thing to do, especially as we move toward a new university budget model that allocates funds based in part on these metrics. Our student credit hours (SCH) are down quite a bit - 4.8% overall from AY2014-15. Undergraduate SCHs have declined 5.4%, with a drop of about 8% in lower division courses and an increase of 1% in upper division courses. In contrast, OSU SCHs are up 3.5% overall for the same period. Our first-year retention has dropped from 65% to about 60%. Fixing these will take all of us—faculty, staff, everyone—to make strong and swift progress. We need more science majors. We need to ensure they are successful, feel welcomed, and are supported through difficult times. The bottom line is that the most important thing we can do to improve our budget is to retain students—those in our classes and in our majors.
There are a few things you can do to help move the dial on student success:
Increase student recruitment, especially among high achieving and underrepresented students. The College will help by hiring a Transfer Advisor, with support from the Division of Undergraduate Studies, to recruit transfer students to science, and help their transition to OSU Science.
Boost our retention rates among science majors. You can help: make sure our teaching and advising is positive, create a welcoming place for first generation and underrepresented minority students, support women in STEM, integrate professional and training opportunities into your courses, connect more students with research opportunities, and encourage students to make use of our science tutor centers. In our classes, let's make sure we communicate in word and in action that a science degree is valuable.
Improve our six-year graduation rates. You can help: Advise students proactively, motivate students through professional and career development to decrease attrition, and develop and promote internship opportunities by connecting students with our 27,000+ alumni.
Second, I will work with departments to grow our revenues through extended campus and other offerings. Extended campus—including Ecampus, PACE and summer classes—allow us to grow our revenues to support our broader mission. While our offerings have been growing, and we have learned a lot about what is successful, we need to fill holes: offer fully online degrees and capitalize on opportunities to transition students into professional programs and to transition professionals into different careers as a result of an economy with increasing disruptions. We need to expand our 4+1 and related offerings that take students through the master's level or provide professional certification.
Third, we need to operate within our budgets. Over the past few years, the College and some departments have been challenged to stay within budget. While some of the challenge may have been caused by unrealistic budgeting, we need to make fiscally responsible decisions for GTA numbers, teaching overloads, and startup commitments. I will be placing safeguards on some of these this year to make sure that we keep our budgetary commitments to each other.
Fourth, the College leadership and I will look at research and teaching productivity. We are committed to excellence in research. We know research funding is changing dramatically at the national, state and institutional levels. We need to be mindful about these changes and to make certain our structures and expectations align with trends. Currently, significant funds flow from the educational part of our mission to support research. While some research support is necessary, many evaluate the quality of a research enterprise by its ability to support its own mission and we need to make certain that we are supporting our research through extramural funding. At the same time, students and taxpayers are paying us to have good access to classes that are taught by excellent researchers. I will work this year to develop a robust and fair college policy around teaching loads, teaching buyouts and faculty leave. We will make efforts over the long term that enhance our research productivity.
Fifth, in light of the four priorities above, I will work with the university to balance the level of support for the College of Science, so that we can continue to be the excellent, high-achieving College that the university needs and deserves. As I mentioned in the opening of this letter, the new university budget model will help us. I will work with the university to transition us to a budget model that better supports and rewards our teaching as well as our recruitment and retention of students.
These are my priorities as I see them now. As I get to know the College better, and as circumstances change, I may need to make adjustments along the way. I am looking forward to working with you and the department heads to build the strongest, most successful College of Science that OSU has ever had.
Sincerely,
Roy
Roy Haggerty
Dean, College of Science
All the news that's fit to print.
Please submit news, honors and awards, discoveries, events, research funding, student news, alumni updates and more. Just use this handy ONLINE FORM by the 10th of each month.

Research Highlights
Read more of the most recent research happening in our College online.
Microbiologist Martin Schuster demonstrated that microbes that produce important secretions for use in a community suffer a blow to their own fitness for supplying the non-producing cheater bacteria, depending on the availability of certain nutrients. The research has important implications for understanding how cooperation evolved.
Associate Professor Rebecca Vega Thurber and doctoral student Ryan McMinds contributed to a new study, the microbiological version of the "Anna Karenina principle," that suggests the bacterial communities that live inside everyone are quite similar and stable when times are good, but when stress enters the equation, those communities can react very differently from person to person. Renowned science writer Ed Yong featured the research in an article "A Grand Unified Theory of Unhealthy Microbiomes" in The Atlantic last week.
Erin Abernethy, a biology Ph.D. student in David Lytle's Lab, published research shedding fresh light on how vertebrate scavenging ecology is related to size, habitat and temperature.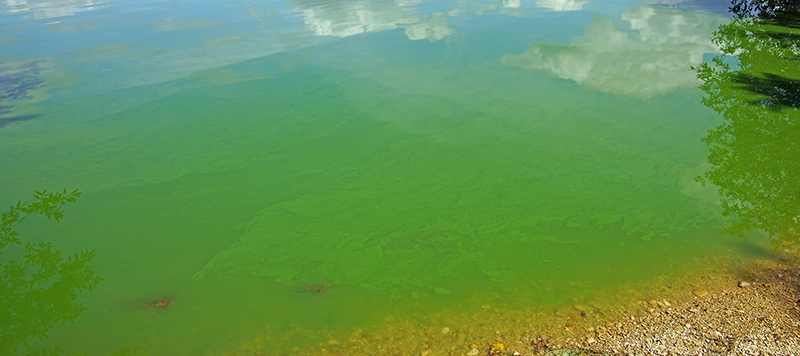 Cyanobacteria (blue-green algae) forming a bloom on a lake.
Biochemist  Colin Johnson along with graduate student Nicole Hams, former biochemistry doctoral student Murugesh Padmanaryana and biophysicist Weihong Qiu developed a new technique to understand and treat human deafness.
Microbiologist Theo Dreher has identified that a blue-green algae outbreak in an Oregon reservoir was the culprit behind the sudden death of 32 cattle.
Research Funding
Yuan Jiang has received a $194K grant for his project "Network-based statistical methods to decode interactions within microbiomes."
Chemist Wei Kong received a $354K NIH award for her project "Serial single molecule electron diffraction imaging: atomic structures of biological macromolecules without crystals."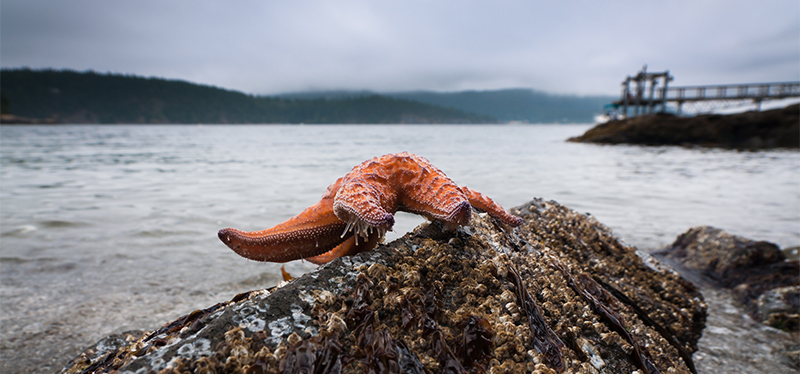 Intertidal keystone predator Pisaster ochraceus
Biologist Bruce Menge received $175K, the first installment of a three-year NSF grant, for his project "Collaborative Research: Mechanisms of resistance and resilience to system-wide loss of a keystone predator in an iconic intertidal community."

Student Honors and Programs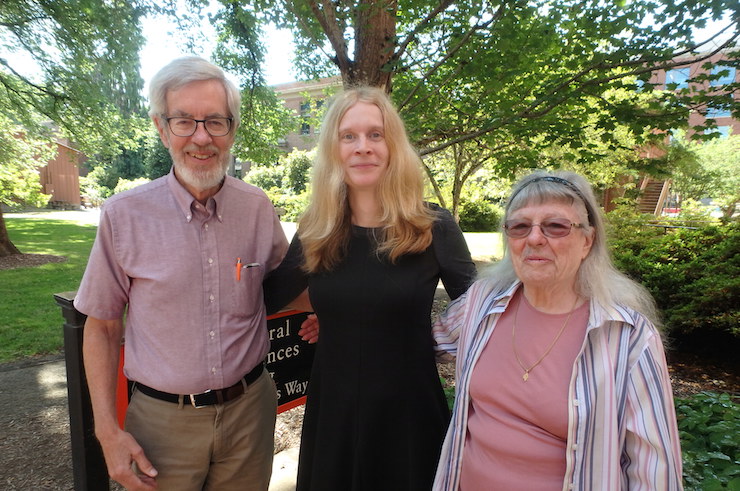 Mathews Graduate Fellow Isabelle Logan (center) with Christopher and Catherine Mathews.
Congratulations to doctoral student Isabelle Logan, who was selected as the 2017-18 Christopher and Catherine Mathews Graduate Fellow in the Department of Biochemistry & Biophysics. She was chosen among many talented first year students and is the third woman scientist to receive the honor.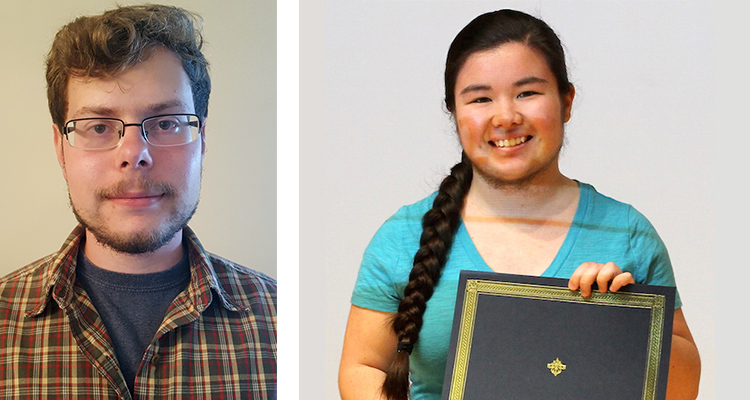 Gabriel Nowak (L) and Celeste Wong (R)
Gabriel Nowak, who is double majoring in mathematics and physics with a chemistry minor, was selected for a summer internship at the prestigious Lawrence Berkeley National Laboratory in Berkeley, California.
Recent mathematics alumna Celeste Wong ('17) has received the 2017 Gary L. Musser Award, which recognizes outstanding mathematical achievement for a prospective elementary or middle school teacher.

New online marketing project form
Need marketing help? Due to an increasing volume of marketing needs, the marketing team is moving to an intake system for new projects. This is critical in managing projects and streamlining our work. Please submit all requests for projects and consulting using this online form. Our services include marketing consultation, digital communications, project management, writing and editing, graphic design and more.
College visibility
OSU Statistics faculty and students were well represented at the Joint Statistical Meetings, one of the largest statistical conferences in the world, from July 29–August 3 in Baltimore, MD. Faculty presenting at the conference included Sastry Pantula, Jeff Kollath, Sharmodeep Bhattacharyya and Katherine McLaughlin. Students presenting talks and/or poster sessions included Heather Kitada, Faraz Niyaghi, Jeremy Groom, Miao Yang, Laura Gamble, Chunxiao Wang and Nima Dolatnia.
In June, 55 high schoolers clad in beaver-orange tees from rural Oregon came to OSU for a four-day sleepover camp to tour campus, learn about financial aid options, experience college life—and dissect a salmon in the John L. Fryer Aquatic Animal Health Lab—all part of the Pathways Summer Academy. The event was organized by Jerri Bartholomew in our Department of Microbiology and Director of the Lab and the Oregon Pacific Area Health Education Center, a federal and state-funded organization that supports rural and diverse communities.
Opportunities
The Department of Statistics is currently hiring for a Data Analytics Program Director. Applications are due September 15, 2017.
Join our Science Success Center team! We are recruiting a Transfer Student Support and Recruitment Advisor. Applications due by September 15.
The Office of Global Opportunities invites faculty to submit Faculty-led Study Abroad Program Proposals for new or renewing programs beginning Summer 2018 through Spring (Intersession) 2019. Note: Deadline is August 31 to initiate a proposal in time to recruit fall students.

Save the Date
September 14
The annual Undergraduate Summer Research Symposium will showcase student research with 3-minute lightning talks and poster sessions. Time and location TBD. Come and learn about the work of tomorrow's leaders in science!
September 18
OSU University Day, 9:30 a.m. – 2:00 p.m. LaSells Stewart Center
Come out and support three faculty in our College who will receive OSU awards: Henri Jansen will receive the Dar Reese Excellence in Advising Award and Kenneth (KC) Walsh will receive the Teaching Faculty Excellence Award, both in the Department of Physics; and Kevin Ahern in the Department of Biochemistry & Biophysics will receive the Elizabeth P. Ritchie Distinguished Professor Award.
September 19
Fall Welcoming Social, outside Kidder Hall, 1-3 p.m.
Sponsored by the Student Advisory Board in the College of Science. All faculty and staff encouraged to attend this ice cream social with Peer Mentors and science student organizations!
September 20
First day of classes
October 5
2017 College of Science Faculty and Staff Awards, Horizon Room, Memorial Union, 5 – 8:00 p.m. Refreshments, music, fun and awards.
October 6-8
The Department of Microbiology is hosting the 2017 Crown Gall Meeting, a premier international conference that attracts more than 100 researchers from top universities, industry, teaching colleges and research institutes who are interested in agrobacterium biology and plant biotechnology. Microbiology professor Walt Ream is co-organizing the annual event along with others in the College of Agricultural Sciences. Postdoctoral, graduate and undergraduate students and senior investigators are encouraged to present talks.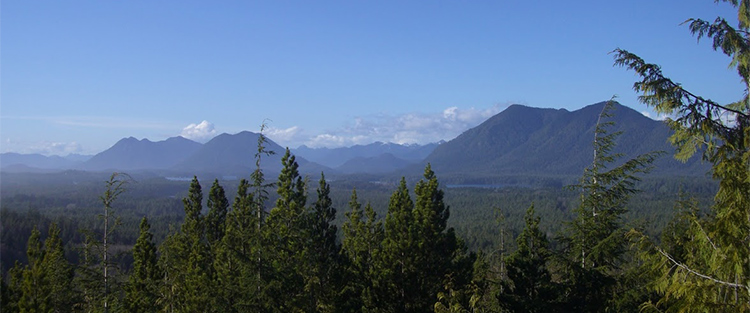 Oct. 27–29
The Department of Mathematics will host the 1st Biennial Meeting of the Society for Industrial and Applied Mathematics Pacific Northwest Section (SIAMPNWS).
Recent Events
August 19–21.
Solar Eclipse Celebration: OSU's 150th anniversary (called OSU150) kicked off with a three-day Space-Grant festival celebrating the eclipse! The celebration was free and open to the public and included several College of Science supported events:
August 19-20: Afternoon public lecture series included talks by astronomer and physicist Randy Milstein, "There Goes the Sun: An Overview of the 'Great American Eclipse of 2017'" and astrophysicist Davide Lazzati "The Violent Universe: Waiting for Starlight."
August 19-20: The Physics Department hosted a "Fun with Physics" workshop where people could try an "angular momentum chair" to experience the principle of angular momentum with their own body.
Aug 19-20: Evening stargazing sessions were led by Davide Lazzatti on Peavy Field.