Waxy breakdown of stored garlic
Cause
Waxy breakdown is a physiological condition, not one due to infection by microorganisms.
Occurrence
No one knows what causes this. The appearance of garlic cloves with this problem was thought to be similar to translucent scale of onions, which prompted some to suggest the same cause: high temperatures during growth and/or after harvest. However, this has not been confirmed. Some researchers have said waxy breakdown may be associated with poor ventilation and low oxygen levels during storage. .
Symptoms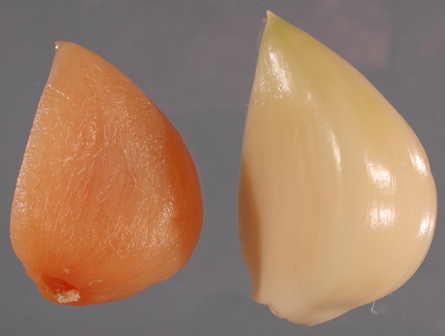 The symptoms are not apparent until the skins surrounding the cloves are removed. Affected cloves are often on the outside of the head, and initially show slightly sunken yellow areas. The entire clove eventually turns amber colored, but remains firm, if slightly shrunken.
Management
Good ventilation during storage may help prevent this problem, but that isn't certain.
References
UC Davis Postharvest Technology Research and Information Center . http://postharvest.ucdavis.edu/Produce/Producefacts/Veg/garlic.shtml
Schwartz, H.F. & Krishna Mohan, 2006. Compendium of onion and garlic diseases and pests, 2nd Ed. APS Press