Ernest and Pauline Jaworski established the Ernest and Pauline Jaworski Fund for Summer Research Experiences for Underserved Undergraduates in Plant Science through the Oregon State University Foundation. The fund, established through an outright gift in 2000, is administered by the Department of Botany and Plant Pathology. Additional contributions may be added to this account at any time.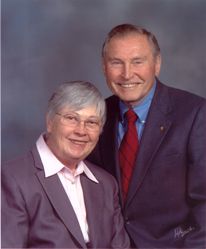 The Jaworskis have established this fund in recognition of their strong interest in plant biology and their interest in providing opportunities to encourage students to pursue careers in the plant sciences. Ernie and Pauline have worked with plant biology and science outreach programs for precollege students. They have a special interest in providing opportunities to help and sustain education, and changing learning environments so that more students have opportunities to learn.
"Ernie" received his MS and Ph.D. in Biochemistry in 1950 and 1952 respectively and Pauline earned her BS in Botany in 1950, at Oregon State University. Ernie had a distinguished career at Monsanto for 40 years and held the title of Director of Biological Sciences when he retired in 1991. In the 1980's, Ernie led a team of scientists at Monsanto that engineered the first "transgenic" plant - a petunia containing a bacterial gene. This work helped launch the age of agricultural biotechnology. In recognition of his pioneering work, Ernie and three other Monsanto scientists won the 1998 National Medal of Technology for their efforts in developing and commercializing genetically engineered crops.
The Ernest and Pauline Jaworski Fund for Summer Research Experiences for Undergraduates in Plant Science will bring talented and promising students to OSU for ten weeks. The program will be directed so that students participate in an ongoing research project under the supervision of a faculty mentor and other activities that will help to prepare them for graduate school.
The goal of this program is to increase the level of diversity among students who enter Ph.D. programs to pursue careers in university teaching and research by providing research opportunities to undergraduates that have been underserved. Program objectives include: to provide students with the preparation to become research scholars; to stimulate serious consideration of graduate study; and to increase the number of successful underserved applicants and subsequent enrollment of these students in graduate school.
This program affords students an opportunity to conduct selected research under the direction and guidance of an OSU faculty member. Special consideration will be given to applicants that have shown potential for success, but may have had limited access to graduate research or other preparatory opportunities. The program strongly encourages applications from: Alaskan Natives, American Indians, African Americans, Mexican Americans (Chicanos), Puerto Ricans, Latinos, and Filipino Americans.
The 2009 Summer Research Scholarship was awarded to Matthew Groberg to work with Dr. Bob Meinke.
2008 Summer Research Scholarships are awarded to Tammy Winfield (to work with Dr. John Lambrinos) and Wade Holman (to work with Dr. Lynda Ciuffetti).
---
2007 Summer Research Scholarships were awarded to Brooke Peterschmidt (to work with Dr. James Myers) and Nicole Marshall (to work with Dr. Ed Peachey).
---
The 2006 Summer Research Scholarship was awarded to Shannon Williamson to work with Dr. Andrew Ross
---
2005 Summer Research Scholarships were awarded to:
Andrea Garcia who worked in Dr. Joseph Karchesy's laboratory
Lauren Osborn who worked in Dr. John Fowler's laboratory
Jing Sun who worked in Dr. Hiro Nonogaki's laboratory
---
2004 Summer Research Scholarships were awarded to:
Malem Gutema who worked in Dr. John Fower's laboratory

Sara Hamilton who worked in Dr. Lynda Ciuffetti's laboratory
Katherine van Wormer who worked in Dr. Terri Lomax's laboratory
---
2002 Summer Research Report
by Chelsea Samaniego Meltzer
I am a senior in microbiology and I am honored to be the recipient of the 2002 Ernest and Pauline Jaworski Undergraduate Scholarship. This award makes possible the continuation and expansion of research that I began this summer as a recipient of the Howard Hughes Medical Institute fellowship. I have had the privilege to be in the Dr. Joyce Loper laboratory, working under the outstanding guidance of Dr. Virginia Stockwell.
I began the summer analyzing samples from pear orchards in Southern Oregon afflicted with fire blight. My research focused on the prevalence of antibiotic resistant strains of Erwinia amylovora, the causal bacterium of fire blight. I find the antibiotic resistance displayed by some strains of E. amylovora fascinating. Antibiotic resistance intrigues me because it is a dynamic and very immediate problem. I was fortunate my research this summer integrated my background in microbiology with my interest in public health. In addition I learned substantially about plant physiology, ecology of bacterial populations in orchards, and factors in disease management. I presented my project at the HHMI symposium on August 28th.
This fall I shall continue to examine the development of antibiotic resistant strains of E. amylovora. I will also begin a new project characterizing several strains of epiphytic bacteria that I isolated from orchard samples. I shall investigate the interaction of these epiphytes with E. amylovora. The epiphytic bacterial strains are remarkable, because they produce a pigment that turns pink in the presence of iron. The diffusible pigment also is absorbed by the pathogen E. amylovora resulting in a pink coloration of bacterial colonies. I will focus on characterizing this pigment and determining its significance.
The experience of working in an academic laboratory through the awards program has extended my education far beyond my coursework. I learned a great deal about science and research as a result of Dr. Stockwell's guidance and instructions. In the past several months, I have discovered the importance of the research process, from asking the right questions to researching the appropriate literature. The exceptional and thorough training I received in laboratory techniques and procedures will be fundamental in my future work. My experience working with Dr. Stockwell in a research lab has inspired me to pursue a career in research beginning by applying to graduate school. I hope to continue to study antibiotic resistance genes in bacteria. Looking forward, my goal is to be a clinical researcher in an academic setting.
2001 Summer Research Report
by Denise Ptacek
Receiving the Jaworski Scholarship gave me an outstanding educational experience, for which I am indebted to Ernest and Pauline Jaworski and Dr. Terri Lomax. The research I pursued in the plant sciences revolutionized my concept of how science is done, why I want to be involved in research and also taught me about the complex beauty of plants. As a student returning to school after a secretarial career, participating in research allowed me to discover that the scientific field was right for me and gave me the confidence to pursue further education.
Specifically, I performed research in the lab of Dr. Thomas Wolpert with Dr. Jennifer Lorang as my mentor. I could not have hoped for more knowledgeable or inspiring teachers. The lab's research centers on the unusual phenomenon that all oats resistant to crown rust are susceptible to Victoria blight. To help unravel this curiosity, I was working to identify the location of the gene involved in resistance/susceptibility. Because of the complexity of the oat genome it is difficult to study genetically. However, the lab had discovered a possibly similar susceptibility in Arabidopsis thaliana. This small mustard had the significant advantage of a recently sequenced genome. We hoped to locate the gene in Arabidopsis and later apply the information to oats. The mapping project continued beyond the summer and provided not only a terrific summer opportunity but one that lasted throughout my senior year.
The Jaworski Scholarship experience helped me bridge the gap between being a student who learns facts as if they are handed down on tablets, to being one who sees knowledge as hard won understanding and best fit explanations. It was enlightening to see how researchers ask questions and form hypotheses, fascinating to see how the answer to one question leads to another question and finally, very sobering to see how much work is involved.
The Jaworski Fellowship helped me develop many practical skills including the ability to read and understand scientific literature. Also, in collaboration with the Howard Hughes Summer Research Program, under the keen guidance of Kevin Ahern, I had the chance to present the research I had undertaken.
Reflecting on my experiences at Oregon State, the Jaworski Summer Research opportunity ranks as one of my most important and formative. My sincere appreciation goes to all those who made it possible.
Virginia Slater also won a scholarship in 2001